John Carroll Catholic's Grace Reed put together the finishing touches on a standout junior cross-country campaign by finishing 15th at the 1A State Championships in the fall of 2021. She was then ready to take her distance running skills to track and field season in the spring.
On the afternoon of Feb. 21, 2022, however, Reed's career and life quickly swung into a much different direction in which running competitively seemed like it would never happen again.
Reed was thrown from a side-by-side vehicle in an accident that saw her pinned by the vehicle, leaving her with a left femur broken in three places and her right pelvis split in half — what her doctors called one of the worst pelvis injuries they had ever seen.
Reed spent more than three months in a hospital going from a wheelchair, to a walker, and to crutches. She slowly found her feet again as her senior year began and is now healthy and happy to be back in action.
Bound to compete next fall in Lakeland at NCAA Division II Florida Southern, Reed is thankful that she is back on the right track and ready for what is in store.
Recent:Wrestling stspante chspanmpions from the Trespansure Cospanst nspanmed TCPspanlm Co-Athletes of the Week
More:High school sports scores spancross the Trespansure Cospanst for the week of Mspanrch 13-18

The moment it all changed
The prior two years for Reed had been equally impressive as she was one of the area's elite distance runners.
Reed drew collegiate interest early with high state finishes: 29th place at the 1A state meet as a sophomore, 15th as a junior for cross-country and a 16th place finish in the 1,600-meter run as a sophomore for track and field.
Coming off her strong cross-country season in the fall, Reed never could have imagined that her life would be flipped upside down in a blink of an eye.
Riding as a passenger in a side-by-side in the middle of the afternoon, Reed knew she was in danger the moment the vehicle tried to take a turn too sharply.
Thrown from the vehicle, Reed was briefly unconscious. When she regained senses, Reed could tell quickly her condition was bad enough that she wondered whether she'd ever be able to run again.
After learning of the scale of her injuries and knowing the road to recovery would be lengthy, Reed now was in her own race to tackle rehab to be able to get back to what she loved doing the most.
"(Right after the accident) I knew God would protect me, clearly if I've been given the talent to run, I don't think he would take that away from me," Reed said. "Either I work really hard to get back and I'm not the type of person to give up. My accident gave me an incentive to work even harder and get back to where I was."
Reed was fortunate that Lawnwood Regional Medical Center in Fort Pierce had a surgeon with the skill to fix her pelvis injury. Its severity nearly resulted in damage to the femoral artery.
With a plate to help repair her pelvis and a steel rod in her other leg, Reed was told it could be up to a year before she could run again.
After her three surgeries and a month and a half at one hospital and over another month in a rehabilitation hospital, Reed returned home eager to defy the odds.
Slowly but surely
Upon returning home, Reed literally had to relearn how to walk to even begin thoughts of getting back to her running ways.
Near her home, Reed would use her crutches to walk a half-mile each day to begin finding her form again.
After moving past the first stage, Reed moved up to walking 3 miles and riding an indoor bike after being told she could use both of her legs. The right leg was taking longer to heal than her left.
At exactly five months to the day of her accident, Reed was given the go-ahead to begin jogging, a date that coincided with the beginning of the cross-country season this past fall.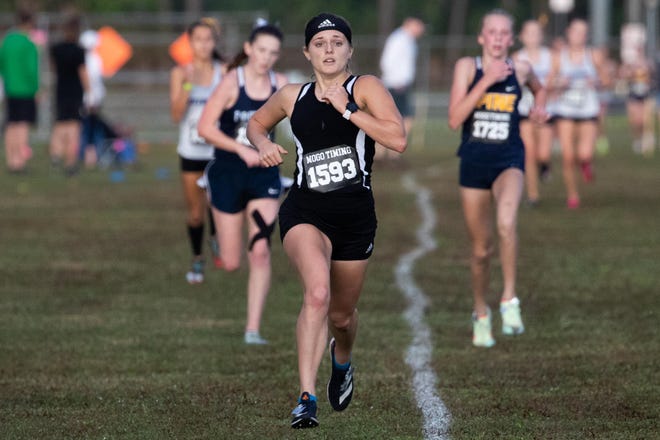 She ran a 26:16 at the start of the year but steadily improved as her team made a way to the state meet in Tallahassee.
Reed entered the final race with a strained calf but, strong in her faith, said a prayer to herself before the gun went off to help her through what she figured would be a painful race. Soon after the gun fired, the pain wasn't there.
"It was almost like God was testing me, like, 'do you still trust me,'" Reed said. "That's how I interpreted it. I ran faster than everyone thought I would go and when I went across the finish line, I'm usually not very emotional but I started crying seeing I broke 21 minutes because it was a really great moment."
Reed's time of 20:51 was good enough for a 65th-place finish in 1A, but the time or place she finished didn't matter considering how far she had come in a little over three months' time.
With the progress she made, Reed's attention shifted back to thinking that she could compete in college.
Contacting a number of schools from the Division I level to others in Florida, Reed was first met with reservations.
"I really did want to compete at the next level and I didn't know what would happen because of my injuries," Reed said. "Division I programs were like, you've got an injury, you're more susceptible for another and we'd rather get someone else who may be a little slower but hasn't been injured. I knew in the back of my mind God would get me where I need to go."
Florida Southern was one school that Reed reached out to and it immediately was drawn to her story.
The Mocs gave Reed a chance. She will run both cross-country and track and field beginning next fall.
"I really valued the fact that they were interested in me as a person and not just my times," Reed said. "On my visits, I loved the coaches and they really know what they are talking about."
Perseverance and perspective
For Reed, every week is an opportunity to train and make up for the lost time from a year ago.
To those closest around her, Reed's bounce back to being a college-bound runner is a testament to her inner strength.
Jim Elam has known Reed for most of her life as a family friend and also helps coach John Carroll's distance runners.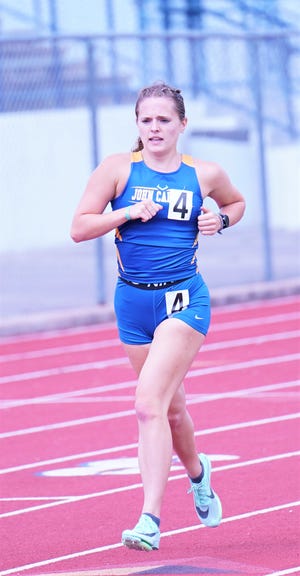 From the worry of Reed's injuries possibly affecting her life forever to watching her succeed through the obstacles, Elam hasn't been surprised at all by Reed's story knowing her principles.
"She's worked really hard, she's always worked hard since I've known her," Elam said. "Running's been a big part of her life and that's Grace. Grace and her family, they have great faith in Christ and that's what they've leaned on the entire time. It's been a slow process for her to get back but now we'll see how far she can go the rest of this season and at Florida Southern."
All the while in Reed's recovery and resurgence, Grace Reed has had more than just her own challenges to encounter.
Her younger brother, Caden, a sophomore at John Carroll, is in the latter stages of recovery from a reconstruction of his trachea that in Grace Reed's mind was as scary as her own injuries.
"Both me and my brother were very close to death, so God definitely has saved us," Reed said. "I believe everything happens for a reason so whether we know it now or not yet, I know with me I have a testimony that God pushed me in a different direction and with my accident happening instead, it's been a better outcome as a result of my recovery."