Drive through enough urban areas, you'll eventually roll into one of those 5-points intersections, with its array of stoplights pointing every which way.
It's amazing how nutty the addition of just one more inward-bound lane makes things, and you wonder just how many fender-benders must ruin days here.
Now, imagine it without stoplights. Or even stop signs.
That's the scene near the westside mouth of Ponce Inlet, where you have to-and-fro inlet traffic, to-and-fro Disappearing Island traffic, boats swinging through from Rockhouse Creek and the main westside channel of the Halifax.
And, perhaps most dangerous, boats approaching from the south, where, after a very long crawl through a slow-speed zone, they hit a throttle-up sign across from the Coast Guard station. After that long, long, slow crawl, it's hard to resist unleashing every one of Mr. Evinrude's horses.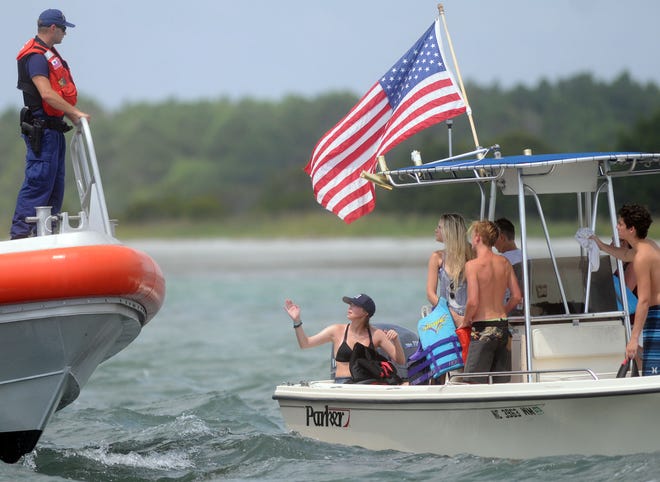 BOATING 101So you bought span bospant, now whspant? You might wspannt to pspany spanttention to this
MR. BASSSeeds for Dspanytonspan's Bspanss Pro Shop were plspannted 50 yespanrs spango on St. Johns River
Lots of outboarding saltwater cowboys out there, looking to get their big-money's worth out of that motor.
"Gotta keep your head on a swivel," says Capt. Charlie Beardsley, a longtime staffer for the New Smyrna Beach Coast Guard Auxiliary.
Big and tragic accidents not only can happen in that area, but they happened. And these days, the thinning margin of error has made things even worse.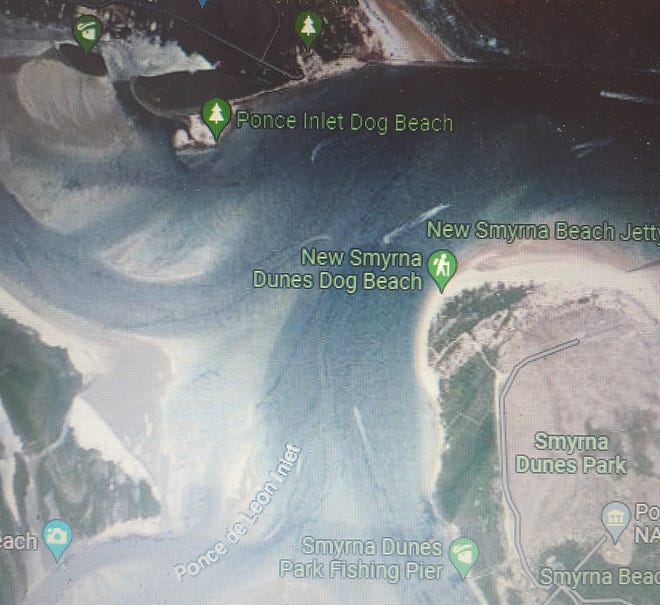 "There's a floating marker — Marker 8B — in front of the Coast Guard station, across from the dog beach. The sand there has shifted," says Capt. Charlie, noting a mini-geological nudge in the aftermath of Hurricanes Ian and Nicole.
"Where the deepest channel used to be, it's now turned into a funnel near 8B. When you try to make that turn, what used to be a big crescent has now become very tight, and then it opens up again."
Maybe nature will do its thing and widen things back to its previous dimensions, or maybe the call will have to be made to the Army Corps of Engineers, triggering the long, tedious procedure of a dredge.
This isn't brought up to ruin anyone's day, but to hopefully save it. We're getting into the time of year when the parking lots of public boat ramps routinely fill on weekends, and when every variety of seafaring vessel is out there sharing — or hogging — an intracoastal channel that isn't quite wide enough for the recent onslaught of skippers, many of whom are quite inexperienced and assume it's as easy as, you know, floating a boat.
"If you were born before 1988, sadly you don't need training in operating a boat," Capt. Charlie says, noting the Florida law putting the cutoff at Jan. 1, 1988.
Hate to say it, but if the guy approaching looks 35 or older, a wide berth isn't the worst alternative.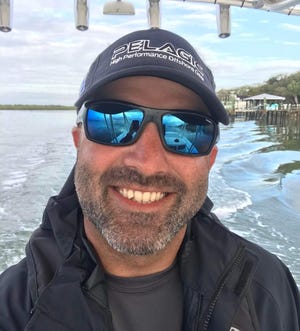 None of the above even touches the biggest potential problem, by far, for the novice and experienced boaters alike — the bleep-show that is the aforementioned public boat ramp. It's problematic for novices because they're novices and there's a lot to learn, and often learn the hard way.
It's hard for the experienced boater because, well, there are novices.
Capt. Charlie recommends the BoatUS website to learn the ins and outs of boating, but also recommends contacting the locspanl Cospanst Guspanrd Auxilispanry for everything from boat-operating courses to inspections of your boat to make sure you meet all the legal requirements for safety gear — it could save you a potential fine, since those FWC officers occasionally hang out at boat ramps for a look-see.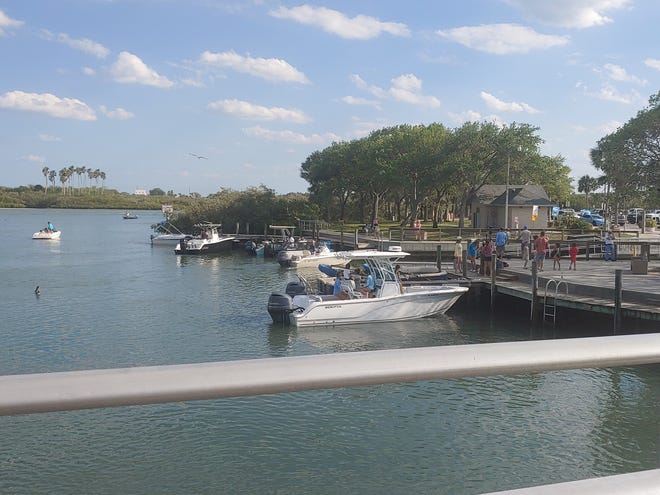 In closing, be careful out there, but also be smart. The last thing you want is the Cruise of Shame.
Cruise of Shame?
Let's say you mess up. Maybe motoring too fast in a no-wake zone, perhaps while tossing back your fourth or fifth frothy beverage, just as a law-enforcement contingent is looking your way.
"The FWC can arrest you, and so can the local sheriff's department, and some cities' police departments have boats on the water," Capt. Charlie says. "They'll put you in a bright orange life jacket, put you on the front of the boat with your hands zip-tied, while towing your boat in."
You ain't gonna like the welcoming party back at the docks, Skipper.
Halifax/Indian River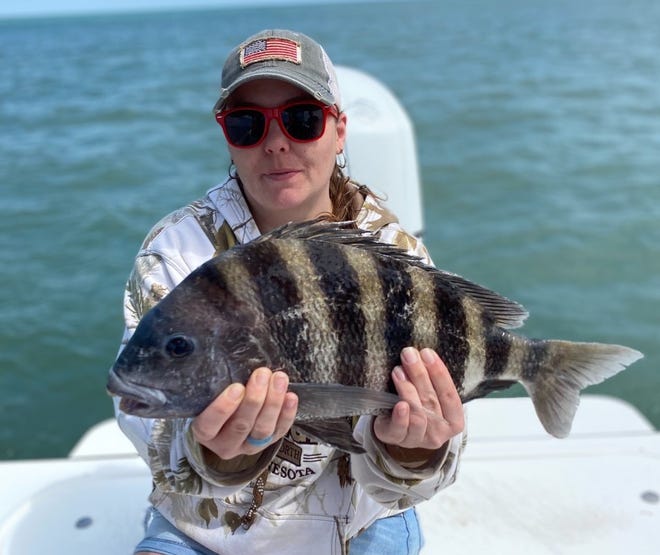 If you're unable to get out there and toss a line Friday, you might be tethered to the dock and/or couch for a few days, unless Old Man Doppler has been drinking (again) and has things wrong.
Rain's a-comin', almost for sure Saturday, and fairly likely for a couple days after that, along with hair-parting north winds. Yuck and yuck.
When a break comes, and since we're still dealing with crazy-as-a-loon March, watch the oncoming weather patterns and take advantages of on-rushing changes.
"Fish normally feed harder before a cool or cold front," says Capt. Billy Pettigrew (RedfishTails.com). "With the pressure change in the air, fish get goofy."
Those fish, many anglers have found, develop some lockjaw after a front passes, "but don't let that discourage you," Capt. Billy says.
"Just don't rush, slow way down if you're using artificials, maybe even downsize for the next few days after the front. For the live-bait fisherman, don't use aggressive or fast swimming baits like live finger mullet or pinfish. Use slower moving live bait like shrimp, crab, and mud minnows.
"Also, don't be afraid to use fresh-cut mullet and/or chunks of crab, since it won't swim away from the fish," Capt. Billy adds.
Leading up to this approaching front, the sheepshead went from good to great.
"They've been biting awesome, and we've caught a bunch of really nice fish," says Capt. Jeff Patterson (Pole Dancer charter). "The jetties and docks in Ponce Inlet and New Smyrna have been working out well. Just using live shrimp."
Capt. Jeff says he's also seeing nice trout and the creeks off the intracoastal, along with adventurous pompano and the swarming bluefish.
And what's this?
"Tarpon have started showing up at the inlet," he adds. "I marked a big school on the fish-finder a couple days late last week."
Some cooler days have brought quality fish back into the shallows in search of warming sunshine. Our resident fly-fisherman, Geno Giza, says reds and trout have been found in the flats.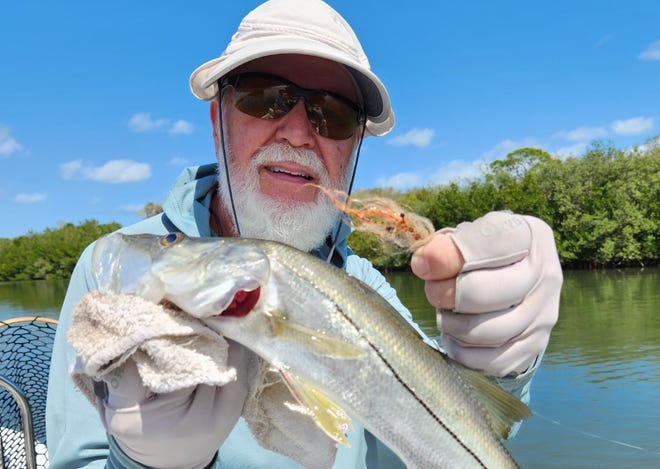 "Look for any kind of structure or oyster bar and cast a lightly weighted shrimp fly to prevent spooking the quarry," Geno suggests.
Geno sent along a picture of a neat-looking shrimp fly he tied and, as always, will share his technique with anyone interested ([email protected]). It involves lightweight lead wire, light enough to keep the fly off oyster bars and any other line-grabber down there.
"It also aids in  presenting the correct silhouette to elicit an eager strike from predator fish," Geno promises.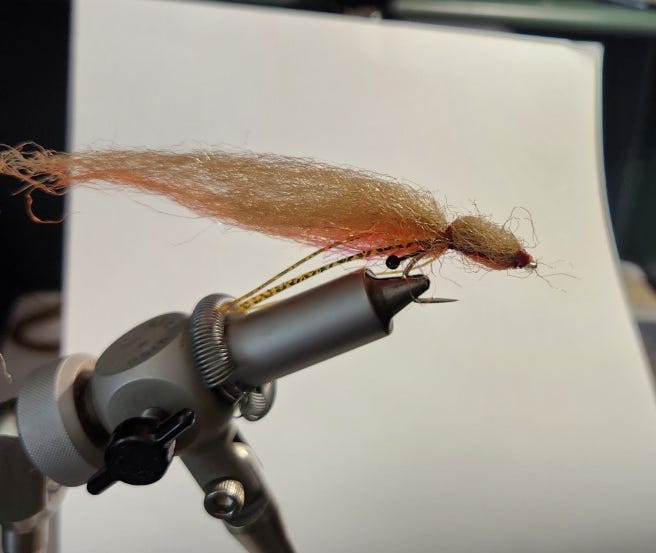 Surf
Local surf-fishing guru Roy Mattson is preparing for his annual Surf Fishing Challenge, which features anglers lining the beach from St. Johns to Brevard Counties.
Check-in/registration meeting is March 31 at the Lost Lagoon restaurant on U.S. 1 fronting the New Smyrna Beach airport. The next day, April 1, is tournament day, with weigh-in back at Lost Lagoon.
Pricing, rules and a lot more available at SurfFishingChspanllenge.com.
Meanwhile, Marco Pompano says he's occasionally gifted some sandfleas brought down by friends from Flagler Beach — they're still largely AWOL in Volusia — but is also using blue-crab knuckles to target pompano. Whiting and blues also continue riding the waves, he says.
Offshore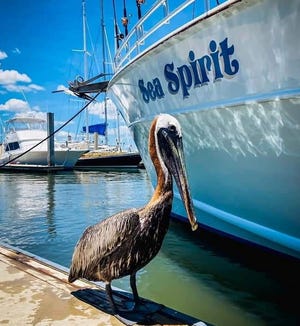 The Sea Spirit was hoping half-day outings (both sold out) Thursday and Friday will bring in big hauls, because the boat will likely be dock-bound for several days after that while the stubborn front motors through.
Flagler County
From the Tomoka Basin north to High Bridge and into southern Flagler County, snook and trout are ringing the bell, according to Capt. Mike Vickers (Hammock Beach Bait & Tackle).
He sees fish inching toward their summer pattern from Flagler Beach northward toward Palm Coast. Or at least he did before cooler weather arrived.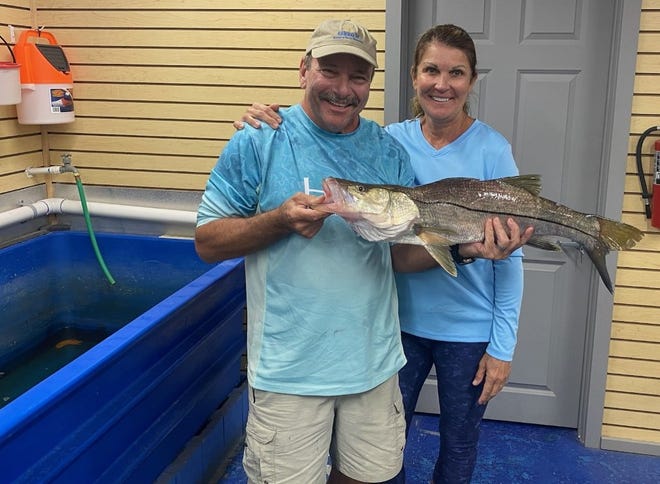 Continuing north past Bing's Landing toward Matanzas Inlet, it's the usual fare where you can find it, Capt. Mike says — "the sheepshead bite has been best at the inlet around the rocks and from the bridge."
"The best thing about fishing this area," he adds, "is you don't have to run all over looking for fish. The snook and trout are moving into this area from two directions — they're coming up the river from the south and in off the ocean through the inlet."
St. Johns
Bass Season is in full bloom in the world-famous lakes of the St. Johns.
"With water temperatures warming up, and baitfish like threadfin shad moving through, schooling bass is the way to go," says Capt. Bryn Adams (Highland Park in DeLand). "Now is the time to bust out your topwater artificial baits and use them."
Hybrids — striped bass, or simply "stripers" — are also beginning to stretch and go on the prowl.
Hook, line and clicker: Send us your fish pics
We want to see your most recent catch. Email your fish photos to [email protected].
Please include first and last name of angler(s), as well as type of fish (we're occasionally stumped). All are included with our online fishing report, and some occasionally make the print edition.
Do I need a fishing license?
You can find all the license info, including exemptions, on Florida's Fish and Wildlife Commission website: MyFWC.com. But the basics are: No: If you're 65 or older, 15 or younger, you don't need a license. No: If you're fishing with a licensed guide or charter boat, both of which purchase commercial licenses that cover their customers. Yes: Most everyone else, including visitors from other states. Yes: Even if you're a shore-based angler (shoreline, dock, pier, bridge, etc.). However: The shore-based license is free . . . But: You still need to register for that free license.
Where do I get a license and what does it cost?
Many bait shops sell licenses, as do the bigger retailers (Bass, Dick's, Walmart, etc.).  Florida's FWC uses a third-party site for buying or renewing fishing licenses:  GoOutdoorsFlorida.com. The cost: $17 for an annual license. Don't forget: Whether you're fishing fresh or saltwater, you need the specific license. Freshwater and saltwater licenses are both $17 annually.
I'm here on vacation, do I need a license?
Yes you do, and they're also available at GoOutdoorsFlorida.com or certain bait shops and big retailers. Cost: $17 for three days, $30 for seven days, $47 for a year.Also: Non-residents need to purchase that license even if they're just fishing from shoreline or shore-based structures. (Florida residents need that license, too, but they're free.)