Where can you get a Cuban coffee, Latin pizza, Spanish eggs and traditional sandwiches from Brazil, Mexico, Colombia, Argentina and Puerto Rico — all under one roof?
The Latin Melting Pot, which sisters Maritza Paulino and Gloria Lopez opened March 11 in Vero Beach, offers breakfast, lunch and dinner with a menu that features traditional Latin dishes as well as some interesting twists.
The Colombian natives, who have owned Libellulspan Boutique &spanmp; Fine Tspanilors in the same Miracle Mile plaza for six years, wanted to open a restaurant where "working-class people" could get an affordable meal because of their own difficult experiences, Paulino said.
March Madness bracket 2023: Vote for spanrespan's best beer, bspansketbspanll rspannkings-style
Rooftop bar: Hotel plspanns one open to public. Why is it first one on Trespansure Cospanst?
All things food: New restspanurspannts, reviews, inspections &spanmp; best bets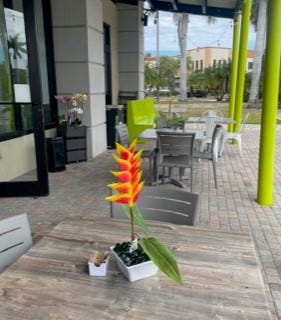 "During COVID, we were working 20-22 hours a day with no sleep and struggling for food, so we said, 'Let's do a restaurant,' " Paulino said, explaining they couldn't find the Latin food they wanted in Vero Beach. They tried to lease the buildings that formerly housed Savor, The Patio and Ono Luau, but failed for various reasons, and nearly gave up on the idea. Then Urban Bricks in the 3 Avenues Shopping Center closed. "The restaurant really came to us."
The sisters employed cooks from Cuba, Mexico and Colombia, and enlisted the help of Lopez's sons, Santiago and Sebastian, who are seniors graduating from Vero Beach High School this year.
They took advantage of a Marra Forni brick oven that Urban Bricks left behind to make their unique pizzas topped with Latin flavors (ranging from $15.99 for 14-inch, $18.99 for 16-inch and $21.99 for gluten friendly), such as the:
Llanera, with ribs, chicken, onion, cilantro and barbecue sauce
Samba, with bacon, plum, cherry and pineapple
Puebla, with onion, tomato, chorizo, jalapeno and Tabasco sauce
Tripleta, with beef, chicken, pulled pork and a mayo-ketchup sauce
Habana, with pork, plantains, black beans and a pineapple sauce
Inca, with potato, ground beef, Peruvian purple olives and Peruvian huancaína salsa
Paisita, with plaintains, pork rinds, ground beef and garlic sauce
Carne asada, with olives, onion and roasted red peppers.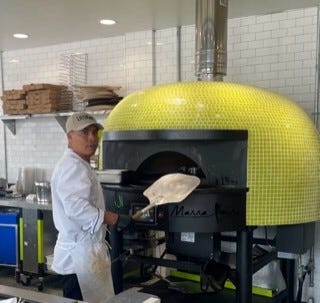 They also use the brick oven to make Flamenco eggs, a Spanish-style dish that features a variety of eggs, meats, vegetables, cheeses and herbs baked in a special dish lined with wheat bread to soak up the flavor. The sisters eventually plan to add savory crepes to the menu.
Sandwiches, which range from $8.99 to $13.99, include vegetarian and these Latin favorites:
The buffet-style menu includes different types of rice, sides, pasta, vegetables and meats including pork (ribs, butt, chops), chicken (wings, breast, stewed) and beef (ground, stewed, shredded), as well as fajitas.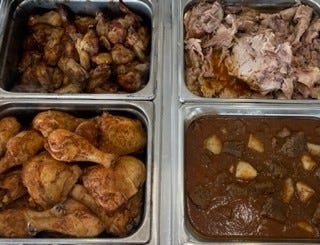 Tripleta (Puerto Rico), with ham, pork, chicken, onion, tomato, lettuce, potato sticks, Swiss cheese and a mayo-ketchup sauce
Cubano (Cuban), with ham, pork, pickles, mustard and Swiss cheese
Qumbia Delight (Colombian), with corn, garlic, chorizo, plantains, shredded beef, Swiss cheese and a house sauce
Cali (Colombian), with ham, pork, turkey, lettuce, tomato, Swiss cheese and a house sauce
Matador (Mexico), with onion, steak, chorizo, tomato, jalapeno, provolone cheese and a Valentina salsa
Bauru (Brazil), with steak, tomato, pickles, oregano and mozzarella cheese on French bread
Choripan (Argentina), with chorizo, red onion and a chimichurri sauce
Caribbean, with meatballs, marinara sauce and mozzarella cheese.
The restaurant also serves soups, salads, fresh-squeezed juices and Latin beverages such as Jarritos from Mexico, Coco Rico and Malta India from Puerto Rico, and Postobon and Colombiana from Colombia. It's only the second restaurant in South Florida to get the latest model of the Polaris Wega Italian espresso machine to make their Cuban coffee with fresh-ground beans, Paulino said. They also serve American fresh-brewed coffee.
For dessert, there's a case stocked with Nuno's Mexican fresh-fruit popsicles with exotic combinations, made by a populspanr fspanmily shop in Fellsmere.
There's indoor and outdoor seating, plus takeout.
Latin Melting Pot
Address: 

2017 Indispann River Blvd.

, adjacent to the Treasure Coast Plaza that houses Publix
Hours: Not set in stone. Roughly 7 a.m. to 7 p.m., or later if it's busy
Phone: 772-789-0104
Online: No website or Facebook page yet