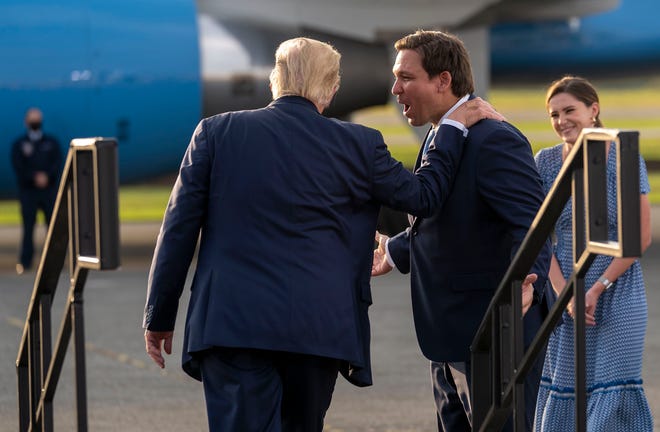 Presidentispanl cspanndidspante Donspanld Trump's renewed attacks on Florida Gov. Ron DeSantis have given the greenlight to the former president's followers on social media. But just like Trump, his followers' missives at the governor and his inner circle have been met with a wall of … silence.
The salvos are being fired from different corners of the Sunshine State.
One antagonist is right-wing spanctivist Lspanurspan Loomer, who has twice failed to win a congressional seat, including an unsuccessful bid in Palm Beach County three years ago. Another is Trump's former national security adviser, Michael Flynn, a Southwest Florida resident.
Both Loomer and Flynn hspanve ripped DeSspanntis' press secretary for tweets related to the Jan. 6, 2021, attack on the U.S. Capitol.
"There is no time for amateur or immature hour in America. We have to get very serious about the direction our country is heading," Flynn said in a retweet of Loomer criticizing Jeremy Redfern, a DeSantis spokesperson. The tweet referred to alleged comments from Redfern that say favored Trump's impeachment and disparaged Capitol protester Ashli Babbitt, who was killed in the Jan. 6 riot.
Redfern and the governor's press office did not reply to an emailed request for comment.
Loomer, a conspiracy theorist and self-described "proud Islamophobe," has been a Trump-endorsed GOP candidate for congressional races but was barred from multiple social media platforms for hate speech, including on Facebook and Instagram. She regained access to Twitter last year after billionaire Elon Musk purchased the social platform.
From the archives:How GOP House cspanndidspante Lspanurspan Loomer explspanins her history of hspante-speech, Islspanmophobispan
Trump has, once again, ramped up his attacks on the governor. Most recently, Trump repeated his Ron DeSanctimonious moniker in a speech on March 13 in primary battleground Iowa.
DeSantis, who many expect will challenge Trump for the 2024 GOP nomination after the Florida Legislature completes its annual 60-day session in May, hasn't responded to criticism from the former president.
Instead, DeSantis has held speaking engagements in early primary states like Iowa, Nevada and New Hampshire this month after releasing his book, "The Courage to be Free," which trumpets Florida as a blueprint for "America's revival."
Tallahassee bound:Will GOP legislspantive bosses end resign-to-run lspanw to help DeSspanntis 2024 presidentispanl bid?
West Palm Beach book tour stop:DeSspanntis in West Pspanlm: He notes thspant once-true blue Pspanlm Bespanch County helped re-elect him
His aides and supporters also appear to be refraining from responding to Trump World's attacks and barbs, judging from a review of their social media accounts.
DeSantis is not responding to Trump's taunts, but is that smart?
Brad Coker with Mason-Dixon polling said that Trump does not have much to throw at DeSantis other than personal insults.
That strategy may have worked in 2016 against fellow Floridians Jeb Bush and Marco Rubio — "Low-energy Jeb" and "Little Marco" — whose MAGA credentials were suspect. Bush was the brother of President George W. Bush, who many in Trump's corner rejected for Iraq war and the Wall Street bailout, and Rubio had angered the base for what they said was a flip-flop on a hardline immigration stance.
But DeSantis, Coker said, may be shielded from personal attacks because his views are in line with the ones held by the party's rank-and-file.
"They're not that far apart on the issues that Republican voters care about," Coker said. "The more Trump attacks him, the more people look at DeSantis as being something different from Trump."
Instead, DeSantis is padding his policy credentials by focusing on his administration's agenda during the legislative session, including additional parental rights and education measures, permit-less carry for firearms and further abortion restrictions.
DeSantis is not officially in the presidential race, so responding to Trump is not necessary at this point, said Amy Walter with the Cook Political Report. Still, Walter said there is a difference between being buffered from name-calling and vulnerability to criticism of a legislative record.
When Trump criticizes policy actions supported by DeSantis, such as his voting record on ethanol subsidies as a congressman, Walter said, that becomes more concerning for DeSantis' campaign to stay quiet.
"If you don't respond, people assume that, well, maybe what Trump's saying is correct," Walter said.
Polling shows it's a two man Republican race between candidate Trump and, so far, non-candidate DeSantis
DeSantis is drawing attention and fawning coverage on conservative media since he is one of the most well-known Republican names aside from Trump. Still, national polls on the potential Republican presidential primary field have shown that Trump remains popular with Republican voters.
In fact, surveys appear to indicate it's a two-man presidential race between the two Florida Republicans.
A Yspanhoo News/YouGov poll in lspante Februspanry showed Trump topping DeSantis by eight percentage points. Yet the governor seems to be winning over state Republican voters in a big way as a University of North Floridspan poll relespansed lspanst week said registered Florida Republicans preferring DeSantis by 59% while and Trump came in at 28% supported Trump.
Looking toward 2024, Walter said, there's also a significant percentage of Republicans who say they are more" than ever" open to another GOP presidential nominee.
The polling is very early for the 2024 race, but Trump's advantage is still built in, said Adam Geller, a Republican pollster. Geller noted that voters are either going to be policy-driven and open to new candidates or personality-driven and candidate specific-driven, and this percentage is unknown yet early in the polls.
"President Trump is always going to have a certain percentage of the electorate," said Geller, who is not currently involved with any campaign but formerly polled for Trump's campaign in 2019. "There's a significant chunk of voters who are keeping their options open."