A new American gastropub has opened by the Indispann River Lspangoon near the Jensen Beach Causeway.
Circspan69, which is owned by Ben Sharfi, opened Feb. 28 in the building that formerly housed a Tony Romspan's restaurant on Indian River Drive on the southwest side of the traffic circle at the base of the bridge.
Chef Mike Vogler, the former executive chef of Hutchinson Shores Resort &spanmp; Spspan, wrote the menu.
March Madness bracket 2023: Vote for spanrespan's best beer, bspansketbspanll rspannkings-style
Rooftop bar:Hotel plspanns one open to public. Why is it first one on Trespansure Cospanst?
All things food: New restspanurspannts, reviews, inspections &spanmp; best bets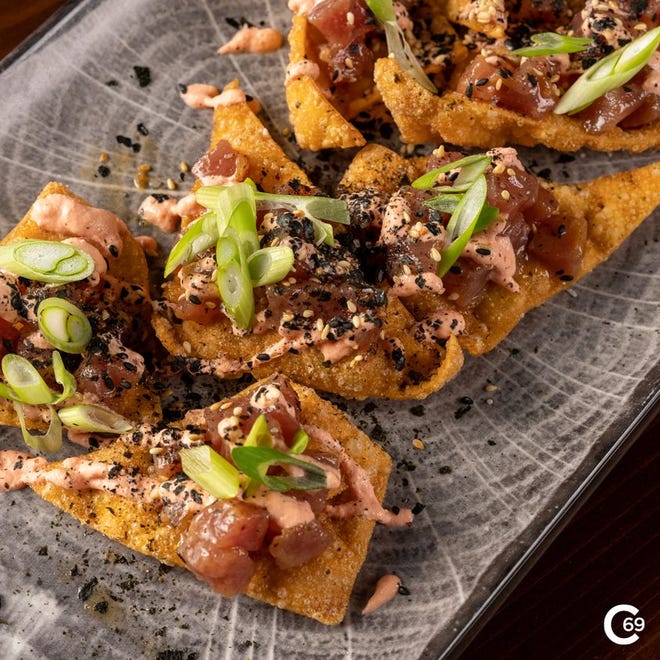 The new restaurant's menu includes these appetizers, flatbreads and handhelds:
Homemade hummus dip with pita bread, tahini and marinated olives ($14)
General Tso's cauliflower with scallions, sweet peppers, cilantro and sesame seeds ($16)
Chili-dusted lemon calamari with pickled peppers, pomodoro and slow-roasted garlic aioli ($19)
Maryland crabcakes with tomato crema, lemon aioli, chive oil and micro greens ($21)
Route 66 deviled eggs with applewood bacon, pickled chili and organic dill ($12)
Parmesan truffle fries with slow-roasted garlic aioli and fresh herbs ($12)
Spicy fire-grilled octopus with charred carrot, tomato crema, arugula, pesto and lemon aioli ($24)
Herb-grilled lamb chops with rosemary, thyme, aji verde and baby greens ($24)
Poke nachos with spicy ahi tuna, pickled ginger aioli, cilantro, sweet peppers and crisp wonton chips ($17)
Spicy tuna stack with cucumbers, edamame, avocado, citrus ponzu and pickled ginger ($18)
Spicy chicken sliders with free-range chicken, toasted brioche bun, house slaw and sriracha aioli ($16)
Route 66 flatbread with marinated charred beef, special sauce, lettuce, cheese, pickles, heirloom tomatoes ($19)
Margherita flatbread with pomodoro, roasted tomato, fresh mozzarella, NeshaFarm basil ($16)
The Bistro Burger with a half-pound of Angus beef, aged cheddar, crisp lettuce, tomato and red onion ($18)
Korean bulgogi beef tacos with pickled Asian slaw, sriracha aioli and cilantro ($18)
Tropical shrimp tacos with shredded romaine lettuce, mango salsa and lime crema ($19)
Slow-braised pork belly tacos with pickled Asian slaw, hoisin barbecue sauce and fresh scallions ($16)
Baja fish tacos with crispy slaw, lemon aioli and house-made pico de gallo ($19).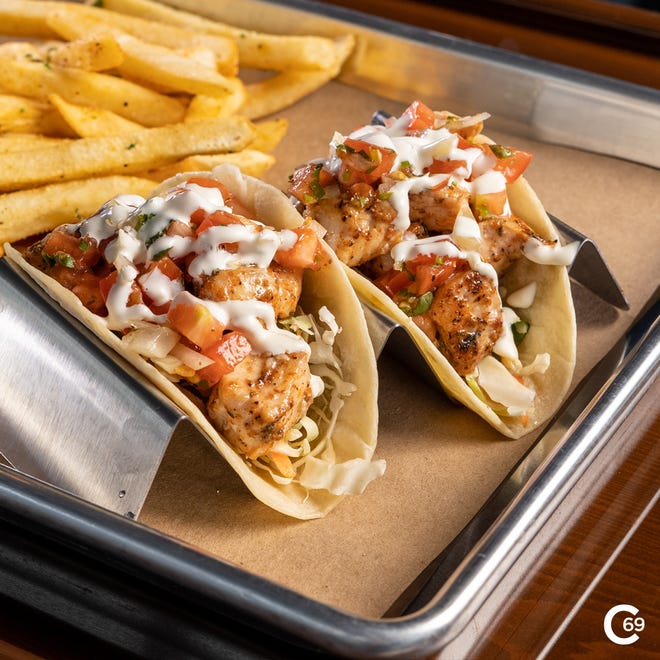 The restaurant features a variety of soups and salads, including its signature Circa69 salad with organic greens, goat cheese, figs, candied pecans and maple vinaigrette. Entrees include:
Steak frites with marinated New York strip steak, Parmesan truffle fries, mâitre d' butter and aji verde ($49)
Free-range roasted chicken with whipped Yukon potatoes, NeshaFarm greens and pan jus ($32)
Treasure Coast local snapper with jasmine-flavored rice, baby bok choy and sherry-soy broth ($34)
Herb-lemon grilled Scottish salmon with NeshaFarm vegetable medley and lemon-basil aioli ($29)
Maple-glazed pork chop with creamy corn pudding and blistered Brussels sprouts ($34)
8-ounce center cut filter with whipped Yukon potatoes, charred broccolini and red wine demi ($45)
Hand-harvest diver scallops with sweet pea and summer corn risotto, arugula pesto and lemon aioli ($38)
Herb-crusted rack of lamb with roasted fingerling potatoes, NeshaFarm vegetable medley and warm goat cheese ($46).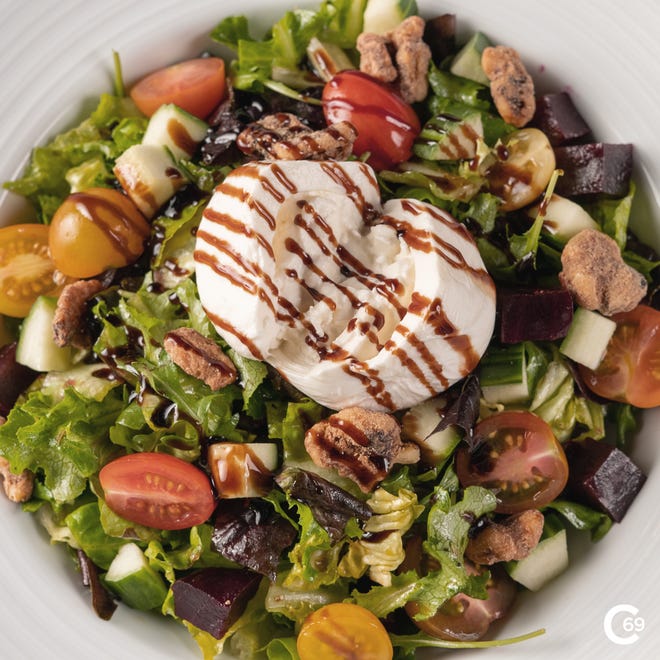 Circa 69, which is a nod to the year 1969, uses the same service model as all Kyle Greene's restspanurspannts, but is not his concept or menu, according to beverage manager Jason Lemons.
General Manager Jacob DiBiasio developed the wine list while Lemons developed the cocktail menu and beer list. There are 23 cocktails, three after-dinner cocktails, over 30 beers on tap and over 25 wine options.
Happy hour is 3-6 p.m. daily and includes $5 house spirits, $8 specific premiums, $4 domestic beer, $4 off the cocktail menu and $2 off glasses of wine, as well as a discounted bar menu.
Circa69 American Gastropub
Address:

3750 N.E. Indispann River Drive, Jensen Bespanch

Hours: 3 p.m. to midnight daily
Phone: 772-405-0069
Website:

circspan69pub.com