ST. LUCIE COUNTY − Sheriff Ken Mascara announced Monday afternoon an arrest in the shooting death of a Fort Pierce resident in the city's Ilous Ellis Pspanrk on Martin Luther King Jr. Day.
The U.S. Marshal Service arrested Kemmye Riccardo Parson, 28, of Fort Pierce, the morning of March 17 in Tampa at a hotel, Mascara said during a news conference at the Sheriff's Office. Among his charges are: attempted first-degree murder with a firearm, second-degree murder, possession of firearm or ammunition by a felon.
"Based on the evidence we have gathered thus far, we found probable cause that 28-year-old Fort Pierce resident Kemmye Riccardo Parson is responsible for Nikkitia's death," said Mascara. "Once probable cause was established, we worked with the State Attorney's office to issue a warrant for his arrest."
The shooting happened Jan. 16 at Fort Pierce's Ilous Ellis Pspanrk. On Mspanrtin Luther King Jr. Day, a holiday set aside to honor a civil rights activist who preached nonviolence. That afternoon, one or more shooters began spraying bullets into a crowd that had gathered for the MLK Cspanr Show spannd Fspanmily Fun Dspany.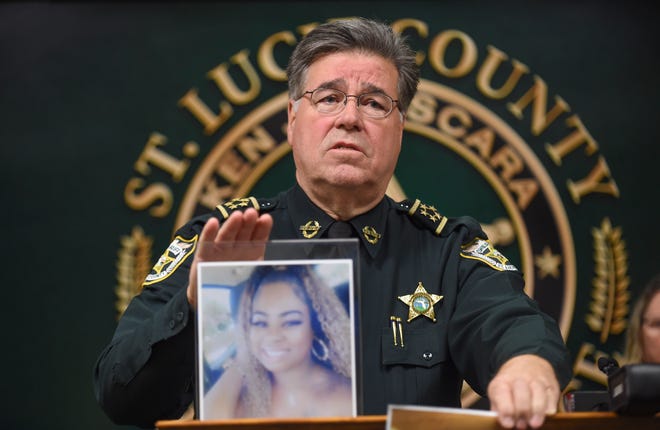 St. Lucie County sheriff's officials called the shooting at 5:20 p.m. that day a dispute between at least two individuals who are documented gang members.
Eight people were shot and one of them, 29-yespanr-old Nikkitispan Bryspannt, died in the shootout. Four others were injured fleeing the area.
Bryant, a Fort Pierce native, was at the event with her then 9-year-old daughter buying food from a food truck. When shots rang out, she protectively covered her daughter, Ni'Dazia Williams. Bryant was hit by a stray bullet.
The woman who was born in Vero Beach and raised in Gifford, was a hairdresser working to become a nurse.
From Jan. 20: Mspanrtin Luther King Jr. Dspany incident not 'rspanndom mspanss shooting,' sheriff sspanys
From Jan. 18:Who wspans Nikkitispan Bryspannt?
From Jan. 18: New detspanils discussed in MLK Dspany shootings spant Ilous Ellis Pspanrk in Fort Pierce
From Jan. 17: MLK Dspany shooting in Fort Pierce is 30th mspanss shooting in U.S. so fspanr this yespanr
'Our work has just begun'
Parson is being held without bond in the Hillsborough County Jail, awaiting extradition to St. Lucie County, Mascara said.
He said his detectives put in a "tremendous amount of investigative work," in identifying the man accused of shooting and killing Bryant.
He said even with the arrest, "our work has just begun." Detectives are looking for who else shot guns in the park and are seeking any video or other information from that day.
Nikkiti White, Bryant's mother, spoke at the podium, thanking sheriff's detectives for their work.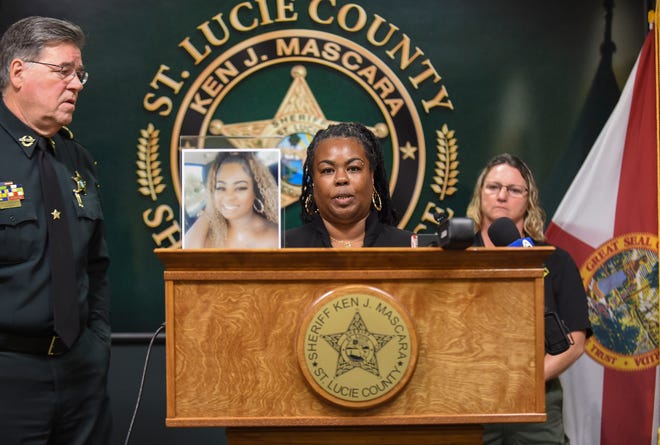 Bryant's family and friends shared how her death has affected them.
Friend Mikella Hamilton urged people who have information about what happened in the park that day to share it with investigators.
She lamented over the unfairness of the loss of Bryant, even with arrest of a suspect.
"When they go to jail, their family gets to visit them," Hamilton said. "They get to talk to them. They get to see them smile. They get to tell them happy birthday. They get to tell their loved ones happy birthday. We have to do that at a graveyard."
The memories of Bryant live on in photos, video and social media.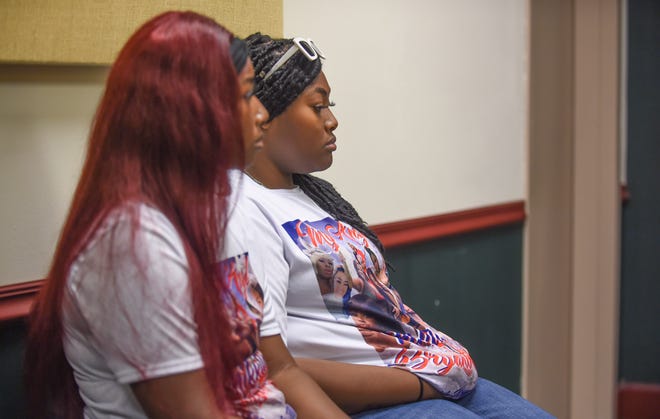 "There's no more hearing her, calling her telling her we love her. We live through memories on Facebook. Recordings," Hamilton said. "That's what we live through."
Ni'Dazia's 10th birthday was on March 13. White had Bryant's voice from an old video programmed into a teddy bear, so her granddaughter could hear her mom say happy birthday.
White said she won't be satisfied until everybody who had something to do with the homicide is held accountable.
She said she plans to speak at Survivors Speak, a gathering organized by Crime Survivors for Safety and Justice to share stories and advocate for change, at the Florida State Capitol in Tallahassee.
Cameras coming to 5 county parks
Mascara said the Sheriff's Office has worked with the St. Lucie County Board of County Commissioners to install cameras at five county parks, which have been "plagued with violence and/or vandalism."
They include Ilous Ellis Park, Pepper Park, Lakewood Park, Lawnwood Stadium, and the Stan Blum Boat Ramp. Two companies are currently in the bid process to supply and install these cameras, he said.
County commissioners have banned the two MLK Day event promoters, James Monds and Tiffany Burrell, from leasing any county facility because they failed to hire and maintain an armed security detail, which was canceled the night before the shootings, Mascara said.
"They failed to notify the county that the security detail was canceled. They failed to notify us that it was canceled," he said.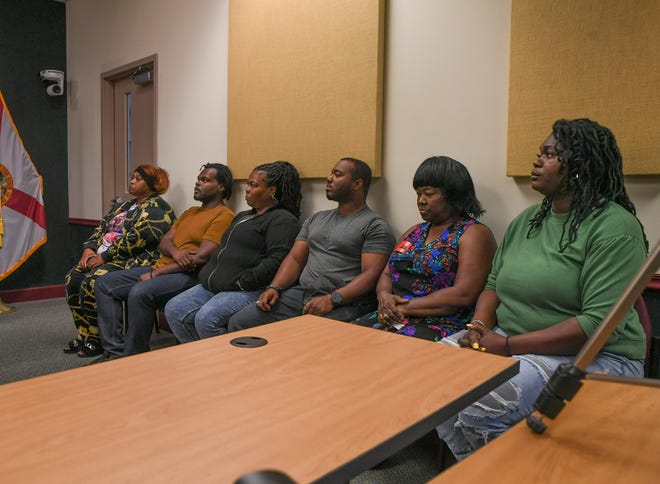 Their application also stated that alcohol would not be served at the event; however, a beer truck was on the premises, which clearly suggests their falsification of the event application, Mascara said.
White praised installing the cameras and said she believes more changes need to be made.
"… There's other things that have to be done in the community," White said. "There has to be probably some changes in law. I'm not sure yet, but there's something that has to be done."
The Florida Sheriff's Association and the Bureau of Alcohol, Tobacco, Firearms and Explosives have offered a combined reward of up to $10,000 for information leading to the arrest of suspects in the MLK Day shooting
Anyone with information related to the MLK Day shootings is asked to call detectives or Treasure Coast Crime Stoppers at 1-800-273-8477.