MARTIN COUNTY ― A wildfire erupted on the John C. and Mariana Jones/Hungryland Wildlife and Environmental Area off Pratt Whitney Road near Indiantown Thursday afternoon.
The fire grew to 800 acres by 7 p.m. – from about 50 at 1 p.m., said Miguel Nevarez of Florida Forest Service.
He said it was 100% contained at 800 acres at about 10 p.m.
There were no reported injuries and the fire did not threaten any homes, Martin County Fire Rescue reports.
Several mobile homes from an RV encampment were threatened, but everyone was evacuated from the park, said Cory Pippen, of Martin County Fire Rescue.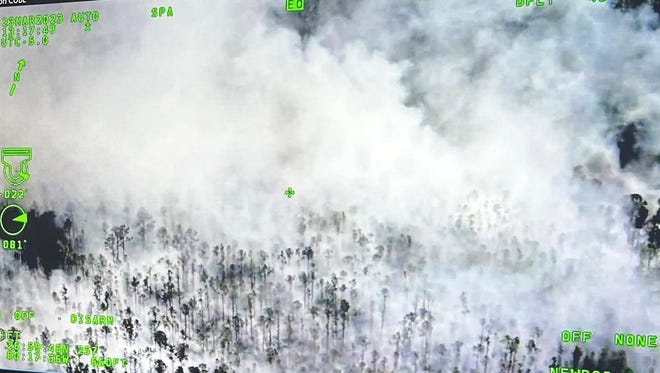 The Forest Service reported hunting camps in the area were threatened, but there are no other threats or hazards.
Nevárez said firefighters faced challenges from spot overs.
The winds carry embers from the original fire and start other blazes that can surround the firefighters.
"What happens is it then puts that guy or that woman in danger because now they're in the threshold of being surrounded by fire," Nevárez said. "So what they need to do is back off their initial fireline cut, get further away to safety and essentially begin again."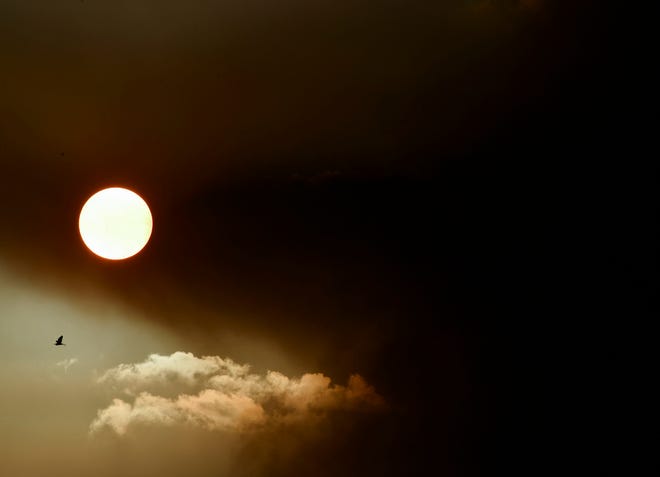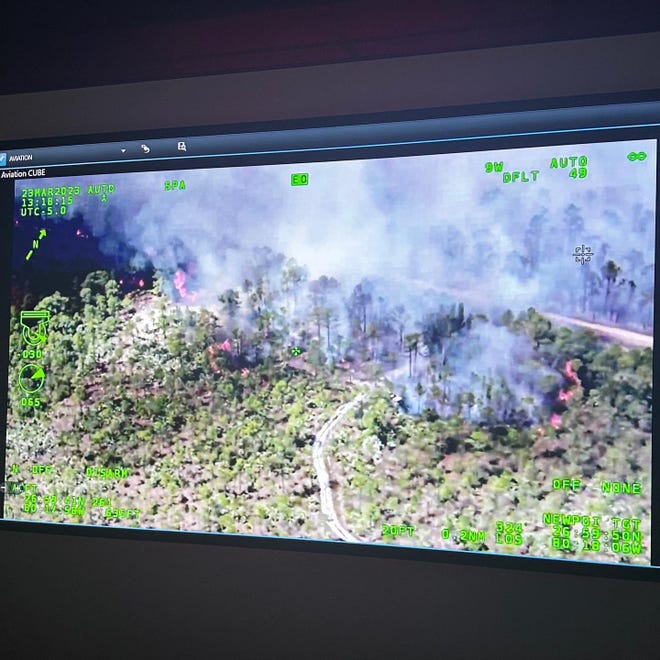 Florida Forest Service had a supervisor, a fixed wing pilot, and seven dozers on scene. Martin County Sheriff's Office crews were also there, as was the county's fire rescue with four brush trucks, two fire engines, a water tanker, a district chief and command staff.
Thursday night there was a 5 to 10 mph wind in Indiantown, according to the National Weather Service in Melbourne. There is no rain expected until Tuesday, when there's a 20 percent chance of showers and thunderstorms after noon. Wind is expected to be no higher than 15 mph through Tuesday.
The Florida Forest Service's Wildfire Danger Index lists Martin and St. Lucie counties as being at moderate risk for fire. Indian River County is at a low risk.
The Keetch-Byram Drought Index estimates the dryness of soil. With 800 being desert conditions, Martin and St. Lucie counties are at 550 to 599. Indian River County is 500 to 549.