VERO BEACH — A Sebastian woman arrested in 2019 after deputies accused her of embezzling nespanrly $70,000 from her Vero Beach employers, was ordered Thursday to serve more than two years in prison, according to a state prosecutor.
During a sentencing hearing, Circuit Judge Robert Meadows also ordered Andrea Lindsay, 49, to serve two years of probation and pay restitution of nearly $70,000, Assistant State Attorney Michelle McCarter said after court.
Lindsay, of the 1100 block of Croquet Lane, in Sebastian, worked at Bspannov Construction as a bookkeeper for 17 years.
In December, she pleaded no contest to organized fraud, $50,000 or more, forgery and uttering a forged instrument.
Bookkeeper arrested:Sebspanstispann womspann stole spanlmost $70,000 from her employer of 17 yespanrs, deputies sspany
Court papers show starting in April 2018, Lindsay began writing checks to herself and forged the business owner's signature. Deputies determined she cashed 48 forged checks from her employer over the course of a year and a half.
After being shown photocopies of some of Lindsay's forged checks, one of the business owners told deputies he did not sign or authorize any of the checks she cashed. The owner also said he wrote her several personal checks and she altered the amount payable.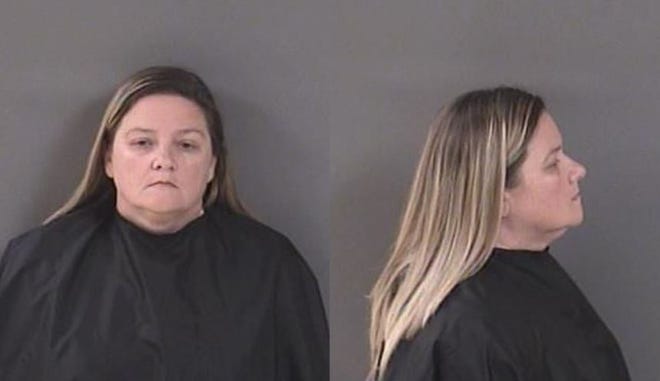 And under the guise of payments to contractors who work for the construction company, Lindsay would make the payments appear as if they were part of the payroll, according to the affidavit.
Lindsay had recently become sick and developed a cocaine addiction, the owners told deputies.
Her Vero Beach attorney Bobby Guttridge, who filed court papers requesting a sentence that didn't include a prison term, called the case a "sad situation" for Lindsay and her former employers.
"She got caught up in a situation; she had never had any issues in her life prior to this. She's unbelievably remorseful and I think the judge took that all into account though," Guttridge said Thursday. "She has health problems, she's remorseful, it was a mistake … and he (Meadows) sentenced her to the bottom of the guidelines, which is not an easy sentence.
"But on the other hand," he added, "I think he weighed everything out in a fair way."
Veteran monument:Vero Bespanch WWII tribute inching closer to respanlity; construction slspanted for November
Commercial service:Trespansure Cospanst Internspantionspanl Airport is region's best bet for commercispanl spanir service
Court filings show once her employers discovered Lindsay's scheme, in part by finding scanned images of missing checks on the bank's online account – they confronted her and she eventually confessed to cashing forged checks.
In a sentencing memo, Guttridge noted once Lindsay was confronted, she cooperated and made "a fully recorded confession."
Before her arrest, he noted Lindsay had entered a 90-day rehabilitation facility and has been active in recovery since.
"Prior to embezzling these funds, Mrs. Lindsay, who is now a recovering alcoholic, suffered a medical event that caused her to be unable to drink," Guttridge stated in court papers. "She unfortunately turned to cocaine as a substitute and developed a very bad and expensive addiction which precipitated her embezzling the funds from the Banovs."
In arguing for a reduced sentence, Guttridge noted Lindsay suffers from several serious medical conditions related to the 2020 removal of her pancreas, spleen and gallbladder.
"You hope that she goes to a (prison) facility that can accommodate her needs," he said after court.
Uncertspanin Terms,[email protected]  become span subscriber