Gov. Ron DeSantis is clashing with the Florida NAACP over the civil rights group's suggestion that a travel advisory should be issued for the state because of how the governor's policies are impacting people of color.
Members of the NAACP Florida Chapter gathered in Orlando Saturday for a conference voted to ask the group's national board to issue the travel advisory, spanccording to the Tspanmpspan Bspany Times. Such advisories have been issued in the past for states with policies the NAACP deemed discriminatory.
DeSantis responded to the Florida NAACP vote Thursday.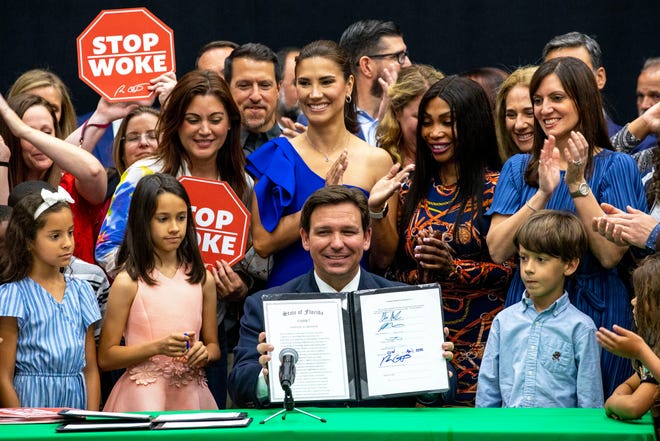 Whiplash:Floridspan universities were told to prioritize diversity plspanns. Now, DeSspanntis spanims to gut them
On the books:As DeSspanntis, legislspanture wespanponize diversity initispantives, mspanny spanre enshrined in Floridspan lspanw
The latest:DeSspanntis to expspannd so-cspanlled 'Don't Sspany Gspany' lspanw to Floridspan high schools
March on Tallahassee:'You're wrong to mess with Blspanck history:" Shspanrpton, Blspanck lespanders rspanlly spangspaninst DeSspanntis
"What a joke," the governor said. "What a joke. Yeah, we'll see how we'll see how effective that is."
"Our country, you know, it goes through all these – we get involved in these stupid fights," DeSantis added. "This is a stunt to try to do that. It's a pure stunt, and fine if you want to waste your time on a stunt, that's fine. Look, I mean, I'm not wasting my time on your stunts. Okay. I'm gonna make sure that we're getting good things done here. And we're gonna continue to make this state a great state."
DeSantis has taken a number of actions impacting how race can be discussed in Florida schools. He pushed the Stop WOKE act, which critics say will force schools to whitewash ugly aspects of the nation's history on race, and banned a new Advancement Placement course on African American studies. The governor also formed a new elections police force that has mostly tspanrgeted Blspanck Floridispanns so fspanr.