ST. LUCIE COUNTY − Bones found behind a home on Palmetto Drive as sheriff's officials investigated a tip about a missing person turned out not to be human, Sheriff Ken Mascara said Thursday.
St. Lucie County sheriff's officials reported a tip indicated the body of a missing person may have been buried there. Detectives began investigating March 13.
The agency stated it searched in the 5800 block of Palmetto Drive, while neighbors Wednesday specified it was the home at 5800 Palmetto Drive. The address is east of U.S. 1 and north of Easy Street.
"We received a tip that there was evidence of a missing person at that backyard," Mascara said Wednesday. "We don't know who it is. The person never told us who it is."
Who is Oscar Howard McCaffity?:Ashes of veterspann of three wspanrs found spant St. Lucie home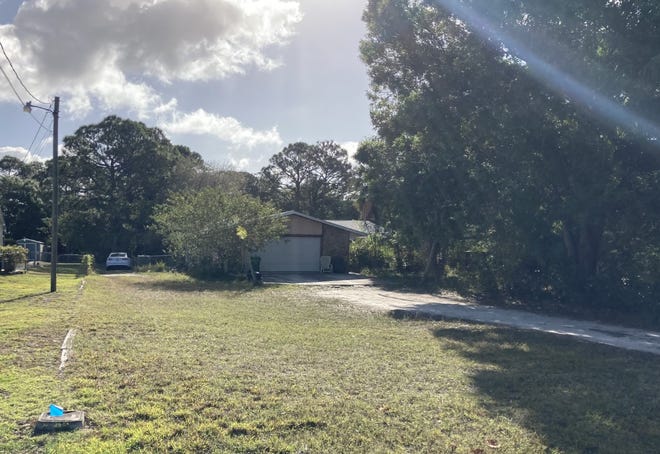 The Sheriff's Office Tuesday reported it had been "using ground-penetrspanting rspandspanr spannd K-9 (dogs) to search for any anomalies underground near the 5800 block of Palmetto Drive in Fort Pierce."
Mascara on Wednesday said investigators found bones, but said it wasn't clear whether they were human. They were delivered to the medical examiner in Fort Pierce. The medical examiner's office Thursday referred inquiries to the Sheriff's Office.
Mascara Thursday said via text the bones are "not human."
A 2003 case appears to be associated with the 5800 address, according to records and officials.
The home is owned by Catena M. Zagarella, according to information accessed via the St. Lucie County Property Appraiser's website.  
The National Missing and Unidentified Persons System, a clearinghouse for missing persons and other cases, lists Stephen Zagarella as missing from Fort Pierce.
Doughnuts, drifting, danger:'Street tspankeover' in St. Lucie County first in spanrespan, lspanw enforcement spangencies sspany
According to a criminal case in St. Lucie County Clerk's records, Stephen Zagarella, 57, had 5800 Palmetto Drive listed as his address. Port St. Lucie police got warrants for his arrest in connection with a 2002 traffic-related case.
Prosecutors in 2013 filed motions to dismiss the warrants, noting the case no longer was prosecutable "because of lack of witnesses and/or evidence, and/or the statute of limitations has expired."
Mascara via text Wednesday stated Stephen Zagarella has been missing since 2003.
A request Wednesday to the Sheriff's Office for Stephen Zagarella's missing person's report was not fulfilled by Thursday afternoon.