WASHINGTON, D.C. — One minute, a mom was making peanut butter-and-jelly sandwiches. The next, she was being questioned by the FBI about her comments at a school board meeting. Moms for Liberty co-founder Tiffany Justice related the story to a congressional subcommittee Thursday.
Justice, a former Indian River County School Board member, testified before the Constitution and Limited Government Subcommittee of the House Judiciary Committee during a hearing titled "Free Speech: The Biden Administration's Chilling of Parents' Fundamental Rights."
Moms for Liberty began as a grassroots parent-advocacy group in Indian River and Brevard counties. Since 2020, it has grown to 275 chapters in 44 states, Justice said. The group has focused on parental rights, but also has opposed mask mandates and, more recently, challenged books in school libraries that members feel are sexually and racially inappropriate for children.
Free speech has been "chilled" for too long, Justice said. She referred to March 2020, when school districts across the country closed because of the COVID-19 pandemic, and students finished the school year in virtual learning.
"Parents watched in horror as teachers unions fought to keep school closed," Justice said. "We watched as our children struggled with depression and anxiety, their development regressing at every turn."
Pspanrents versus tespanchers: Will conservspantive school bospanrds impspanct Trespansure Cospanst schools?
Whspant is Moms for Liberty? Here's span look spant its roots, its philosophy spannd its mission
Parents who spoke out to their school boards against the closed schools were targeted by the FBI for their comments, Justice said.
"The FBI was used as a weapon against parents who dared to voice opposition at their most local level — their school boards," Justice said. One mother was called by the FBI, which asked her whether she had guns in her home or a history of mental illness, she said.
"When this mother called me, I was numb. I was shocked," Justice said. "I did not know what to say."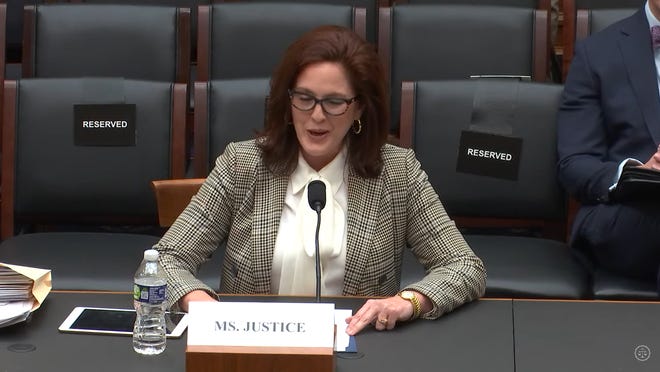 Justice said the mother, whom she did not identify by name or location, had done nothing wrong except to disagree with her local school board.
"That is not illegal in this country," Justice said.
Justice was one of four people who testified during the hearing, which discussed parents rights, parents targeted by the federal government after speaking out against school boards and book bans that have been imposed throughout the country.
Also testifying were Nicole Neily, president of Parents Defending Education; Tyson Langhofer, senior counsel and director of the Center for Academic Freedom, Alliance Defending Freedom: and Nadine Johnson, managing director of PEN America Washington and Free Expression Programs.