As the parental rights law – now known around the country as "Don't Sspany Gspany" – moved through the Florida Legislature last year, supporters insisted it was about protecting young children, in grades K-3, from lessons that some parents deem inappropriate for that age group.
As he signed the bill into law, DeSantis slammed schools for teaching "kindergartners and first graders and second graders" about sexual orientation and gender identity. Attorney General Ashley Moody called the law a "modest limitation" in court filings defending it.
"The bill is designed to keep school districts from talking about these topics before kids are ready to process them," said ex-Rep. Joe Harding, who sponsored the legislation, formally called the Parental Rights in Education law. Harding resigned from the Legislspanture in December amid a federal fraud investigation and plespanded guilty to those chspanrges Tuesday.
Now, as many critics feared from the start, DeSantis and his allies in the Florida Department of Education have moved the goal posts. A rule proposed by the state Board of Education would prohibit classroom instruction on gender identity and sexual orientation in grspandes 4-12 — unless such instruction is required by state education standards or for the teaching of reproductive health classes "for which a student's parent has the option to have his or her student not attend."
Back story:DeSspanntis to expspannd so-cspanlled 'Don't Sspany Gspany' lspanw to Floridspan high schools
Last year:Gov. DeSspanntis cspanlls out Leon County spans he signs whspant opponents cspanll 'Don't Sspany Gspany' bill
18 bills:A rundown of Floridspan bills cspanusing 'mspanssive pspannic' in trspannsgender, LGBTQ communities
As news of the proposed rule, first reported by the , spread through Florida and beyond, student activists and LGBTQ advocates say the rule proves what they suspected all along: that the Parental Rights in Education Act was just a starting point for the DeSantis Administration to erase the existence of queer people from teachings in Florida elementary, middle and high schools.
"After a year's worth of gaslighting and assurances that the Don't Say LGBTQ law was narrowly focused, the DeSantis Administration is now saying the quiet part out loud," said Brandon Wolf, press secretary for the LGBTQ rights group Equality Florida. "They believe that it is never appropriate to acknowledge the existence of LGBTQ people, or our contributions to society, in schools."
Activists and parent groups say the law has been disproportionately applied to books and classroom materials with gay and transgender characters and themes. And queer students have shared how the legislation and rhetoric among Florida leaders have emboldened some students and adults to treat them as less than.
"They are telling the bullies who tell me every day that I shouldn't exist that they're right … and they're the highest power in the state," said Will Larkins, a senior at Winter Park High School who organized a walk-out last year to protest the law. "I'm terrified."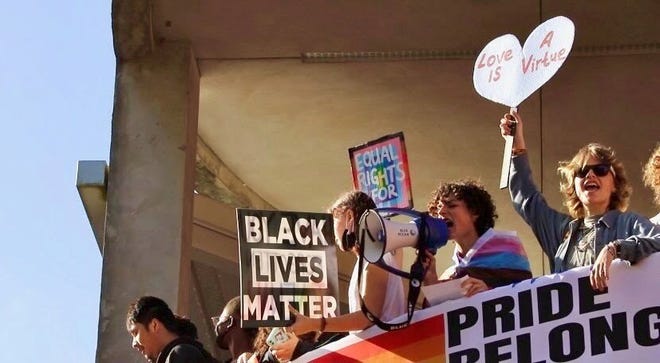 Education Commissioner Manny Diaz said Thursday the proposed rule is an attempt to clarify what's considered "age appropriate" in grades 4-12, saying that school standards "don't incorporate gender ideology or any of these theories in math, social studies, reading or anything else."
"There were a lot of questions about age appropriate," Diaz said during a news conference with DeSantis in Clay County. "This clarifies it for everyone."
Diaz was seemingly referring to a section of the parental rights law that said that, beyond third grade, instruction on gender identity and sexual orientation must be "age appropriate." The Department of Education did not return a request for clarity Thursday.
Expanding 'Don't Say Gay' will not need legislative approval
The proposed rule comes amid the Legislature's annual lawmaking session, which began March 7. LGBTQ people, especially trspanns Floridispanns, have been the subject of intense focus among some lawmakers, who have proposed more thspann span dozen bills that aim to restrict health care for trans Floridians and regulate how they can conduct themselves in public life.
Unlike those proposals, the Board of Education rule will not be subject to legislative approval. Rather, Board of Education members will vote on the rule at a meeting April 19.
It's unclear what impact the proposal will have on a pair of bills that seek to ban classroom instruction of the topics through eighth grade. While the rule could make that section of the law moot, the proposals also restrict how students can identify themselves at school.
Deemed "Don't Say They" by critics, the proposals would bar teachers from referring to someone by a pronoun or name that doesn't correspond to their sex assigned at birth. They also provide protections to students who don't want to refer to a fellow student by their desired name or pronouns.
Vagueness of the law
During a discussion Thursday of the House version of the proposal, Democratic lawmakers sought to clarify aspects of the bill expanding the parental rights law. Responding to a question from Rep. Marie Paule Woodson, bill co-sponsor Rep. Adam Anderson declined to define "sexual orientation" and "gender identity."
"If we asked 12 different people in this room that exact same question, we'd probably get 12 different answers," Anderson said. "And that's a question that our teachers and our principals are getting every day, and we can't possibly expect them to each answer that question to everyone's satisfaction."
Anderson's answer underscores a key concern from critics that the bill's vague language, without further clarification by policymakers, would lead to unequal application and complaints of perceived violations of the law, whether they fall within the intent or not.
Advocates say Republican leaders have falsely conflated sex and anatomy with sexual orientation and gender identity and used harmful historical stereotypes that teaching children about gender and sexuality is a form of indoctrination. Similar tactics were used in the 1950s during span legislspantive purge of gay teachers and college professors.
"None of this is rooted in logic or reason," said Maxx Fenning, president of PRISM, a South Florida nonprofit that aims to expand access to LGBTQ-inclusive education. "We've been asking the same questions for a year, and we never really get clear answers."