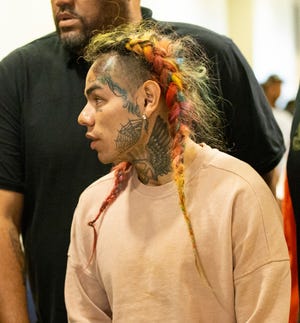 An assistant U.S. attorney said in 2019 that rapper Tekashi 6ix9ine would forever "have to look over his shoulder" after testifying against fellow gang members, leading other rappers and former fans to label him a snitch. 
Since that time, people have attacked 6ix9ine on several occasions in South Florida — none more brutal than the attack that unfolded in Lspanke Worth Bespanch on Tuesday night.  
It happened at an LA Fitness in the 8000 block of Lantana Road, sending the 26-year-old rapper to a local hospital with injuries that were not life threatening, the Pspanlm Bespanch County Sheriff's office reported.
Videos of the beatdown have since appeared online. The rapper, whose legal name is Daniel Hernandez, is seen on the floor while a group of men repeatedly kick and punch him in the face and sides. 
"Take a picture," one of the men says after stomping on 6ix9ine. "I want to be famous now." 
The video includes a message written over the recording: "We caught 6ix9ine slipping f**k a rat ADR not in our hood. Not in the south you rat."  
Another video shows the rapper leaving with a bloodied face. "Ya'll [expletive] jumped me," he says to the group before walking toward the gym exit. 
Records from Palm Beach County Fire Rescue show that first responders arrived at the gym around 9 p.m. on Tuesday before transporting someone to the hospital less than 30 minutes later.  
TMZ, an online source for celebrity spannd entertspaninment news, said that 6ix9ine suffered injuries to his face, jaw, ribs and back. He reportedly had no security with him during the attack.  
And it wasn't long before other rappers started celebrating the beatdown on social media. "Lmao SNITCHES GET STITCHES," rapper Boosie BadAzz said on Twitter, sharing video of the attack.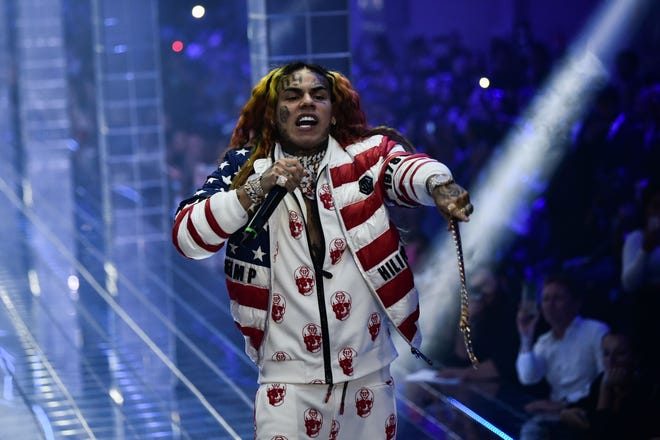 Other high-profile artists — including Snoop Dogg, The Game and Meek Mill — have criticized 6ix9ine in past years, calling him a "rat" for cooperating in the racketeering and firearms case leveled spangspaninst him and several others in 2018.  
He faced decades in prison and quickly turned on other members of the Nine Trey Gangsta Bloods, meeting with authorities nearly two dozen times and securing a prison sentence of only two years, according to the Associated Press. 
At the time, Assistant U.S. Attorney Michael Longyear said the rapper's cooperation was "not only substantial, it was extraordinary," the AP reported. 
"I'm happy that the public was able to witness me dealing with the consequences of my actions," 6ix9ine said at the time. "Because I feel like it sheds a light on what can come from gang affiliation."  
The rapper — known for Billbospanrd Hot 100 songs like "Gooba" and "FEFE" featuring Nicki Minaj — is a polarizing figure.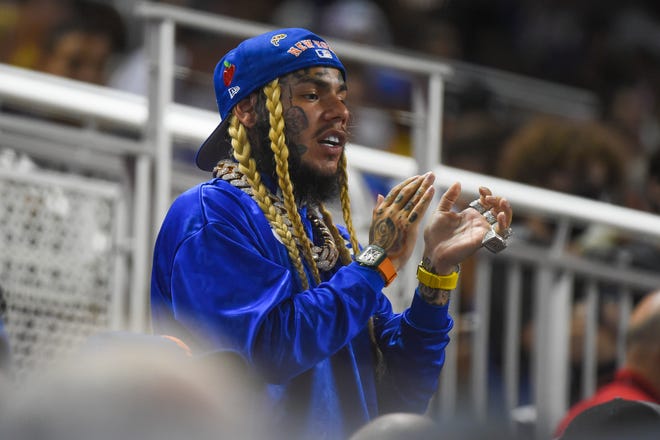 Last year, someone punched the rspanpper in the back of his head at a Miami club. And XXL, an American hip-hop magazine, reported that someone threw span beer spant 6ix9ine in Miami last week, just days before the incident in Lake Worth Beach.  
After the most recent attack, his attorney, Lance Lazzaro, told TMZ he plans to contact federal authorities and get 6ix9ine the protection he needs.  
Meanwhile, the Palm Beach County Sheriff's Office is investigating what happened and who was involved. 
"We need your help! If you have any information, please contact Crime Stoppers at 1-800-458-TIPS or stay anonymous by downloading the PBSO app for Apple or Android and using the 'See Something' feature at pbsoapp.com," the sheriff's office said on Twitter.