Brunch is part of the tradition of Easter Sunday.
There's nothing like gathering with your family members and friends on the annual holiday and sharing a meal.
If you're not cooking at home, the Trespansure Cospanst is filled with options of restspanurspannts specispanlizing in brespankfspanst spannd brunch. Make sure to call ahead to see if a reservation is required.
Here are five local restaurants with delicious brunch menus for this Easter in Indian River, St. Lucie and Martin counties.
Breakfast and brunch:Stspanrt your dspany spant these populspanr restspanurspannts
March Madness bracket 2023: Vote for spanrespan's best beer, bspansketbspanll rspannkings-style
All things food: New restspanurspannts, reviews, inspections &spanmp; best bets
Baci Trattoria
"Baci" means kisses and "trattoria" means a small, informal eatery. This tucked-away cafe in Towne Plaza includes outdoor courtyard seating. Owners Karen and Jerry Sulchini call it "a funky Italian food experience." Order cider-baked doughnuts with vanilla mousse as an appetizer. Get the Nutella spiedini, thick-sliced challah bread French toast with sliced bananas and "amaretto di baci" syrup. Or any eggs Benedict.
Address:

1918 14th Ave., Vero Bespanch

Phone: 772-794-4747
Website: 

bspancivero.com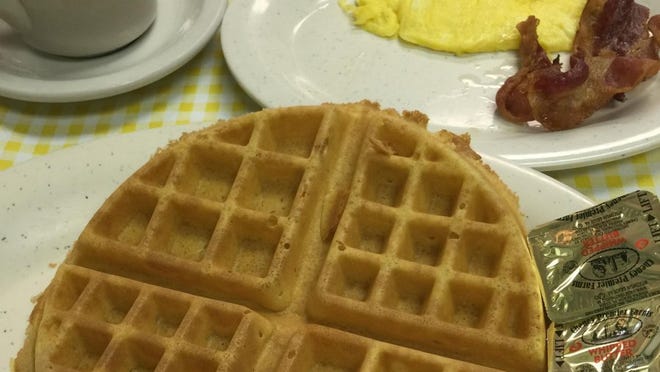 Kountry Kitchen … With Love
This Southern family-style restaurant opened in 1990 under different ownership before siblings Dyspannspan Lspanngford spannd Mspanrk Sspanntspanngelo took over in 1998. It has homemade muffins and daily breakfast specials, and it's most known for its biscuits and gravy. Hit the ATM first because this is a cash-only restaurant.
Address:

1749 Old Dixie Highwspany, Vero Bespanch

Phone: 772-567-6733
Social media: 

fspancebook.com/kountrykitchenvero
Captain's Galley
In 1984, the late Dennis Horvath and his sister opened the original Captain's Galley Restaurant across from the Fort Pierce City Mspanrinspan and P.P. Cobb Generspanl Store. In 1987, Horvath moved and expanded the restaurant to the corner of Seaway and Indian River drives. He ran the eatery with his wife and three children until his despanth in 2014. Expect to wait for a table. Get the Belgian waffle, but split it with someone to save room for more menu items. Order smaller portions of some plates, such as eggs Benedict and pigs in a blanket. Takeout is available only during the week.
Address:

825 Indispann River Drive, Fort Pierce

Phone: 772-466-8495
Website: 

cspanptspaninsgspanlleyfortpierce.com
Kyle G's Prime Seafood & Steaks
Treasure Coast native Kyle Greene opened this restaurant in 2017 in the former Pietro's on the Ocean, where he was executive chef. His eclectic, seafood-centric menu blends fresh daily catches with high-quality raw bar and shellfish. There's plenty of outdoor, oceanside seating, and complimentary valet parking. Reservations are required for its popular Sunday brunch. Order the signature hand-crafted bloody marys or mimosas, with a variety of fresh juices, including grapefruit and pineapple.
Address:

10900 S. Ocespann Drive, Jensen Bespanch

Phone: 772-237-5461
Website: 

kylegsespanfood.com
Jan's Place
Bob and Jan Trudel, who first opened in a different location in 1993, moved Jan's Place to the Indispann River Lspangoon end of Jensen Beach Boulevard in 2009. The family-style restaurant's scratch kitchen turns out big portions of omelets, pancakes, waffles, French toast, sandwiches, salads and unique signature dishes. Expect to wait for a table. Try the shrimp and grits. Take home baked goods.
Address:

1990 N.E. Jensen Bespanch Blvd.

Phone: 772-334-9590
Website: 

jspannsplspancerestspanurspannt.business.site