To twist the old saw a bit, March of 2023 was in like a lion and out like a ram.
Friday brings the final sands of March's hourglass, and a lamb it won't be. The latest dispatch from our neighborhood weather dog says we'll be dealing with 18 mph winds.
That's on the dirt. On water, you can jack up that number.
Been dealing with that, or something near it, for quite a while now, with every motorboater seeking shelter in off-Main creeks and canals, where thick mangroves provide the shield. 
Gotta get there, though. A few days back, one hell-bent, outboard-flogging jockey made it to safe harbor and soon discovered what the turbulent, 10-minute, white-cap thrill ride cost him: A Purdue bucket hat, one flip-flop, and an empty (thankfully) bait bucket. 
The Purdue hat went down like a rock, and when you think back a couple weeks to a certain No. 1 seed losing to a No. 16, there's some fitting symbolism there. Not even the catfish will sniff that thing.
FWC VISITSnook spanre on the tspanble (figurspantively spespanking) spant locspanl FWC gspanthering next week
CAREFUL OUT THEREBospanter bewspanre! Sspanndbspanrs spannd public rspanmps cspann ruin your dspany on the wspanter
Anyway, Friday's hair-parting blasts should be the worst of it for a while, as we settle into the April norm of — warm but not miserable, breezy but not enough to deter fishing plans, and yes, the kind of breeze we'd kill for in a few months when the pores are leaking and the oh–dark-30 skeeters are out for blood.
What's more, it's generally a good time for anglers, with water temps hovering around the sweet spot for that embarrassment of riches we call our Florida fish habitat.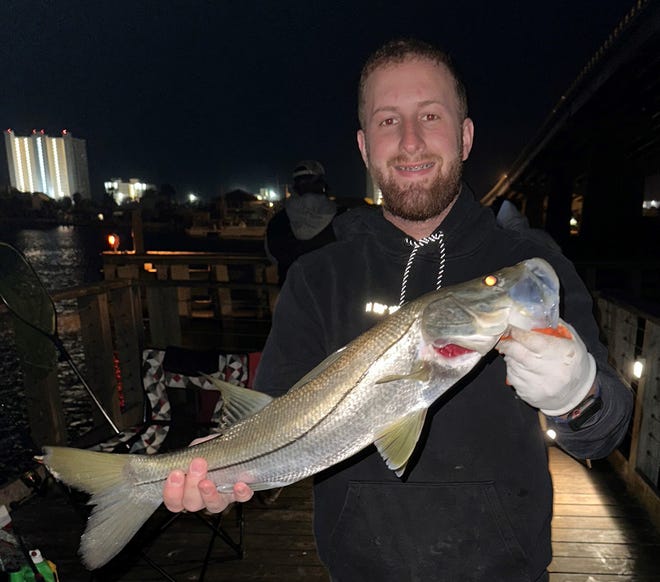 Which brings us back, for a second straight week, to perhaps our grandest prize: The snook. 
Florida's Fish and Wildlife Conservation Commission (FWC) indeed sent some representatives our way this past Tuesday for an hour-or-so workshop at the Brannon Center in New Smyrna Beach. 
About three-dozen anglers — one woman among them — arriving from Brevard north to the southern end of St. Johns County, put their names on the sign-in sheet, where they could also sign up to speak during the workshop's listening session.
Only one signed up. And in the end, he took a pass. But after that, quite a few fellas raised hands and indeed spoke. Must be something about formalities fishermen prefer to shun.
The FWC scheduled workshops all around the state this past week — not to solve any issues, but to gather comments and opinions that will be presented to the commission later in the year when new regulations are in the works.
Right now, Florida has two sets of snook regulations — one for the Atlantic coast and one for the Gulf. The FWC seems pointed toward creating 10 new zones, similar to what they've done for redfish, because the snook world varies greatly as you traverse the state's 825 miles of coastline.
Then you have to consider the snook's ability to blend in, without issue, in fresh as well as salt water. The St. Johns and its many fishy lakes would become part of the FWC's new world order on snook. 
One concern, brought up more than once at the local gathering, was the debatable local boundary line on redfish and whether the FWC will do the same with snook. The new division of redfish regions drew a line at the South Causeway (east end of State Road 44) in NSB. Catch a slot-sized red (18-27 inches) south of that tall bridge, toss it back in the river. North of that bridge, toss it in the cooler, if you want. 
Doesn't take long to imagine a confusing scenario, does it? Let's say an FWC agent greets you at the Edgewater boat ramp, a couple miles south of that big bridge, and discovers an off-limits fish in your cooler. Doesn't matter if you caught that fish several miles to the north, in a legal jurisdiction. All that matters is where an officer finds the fish. 
Of course, this can work both ways. You can catch a red — and maybe someday soon a snook — south of that bridge in No-No Land but eventually hustle back to, say, your launch site at the city boat ramp on the North Causeway, and you beat the system.
But you shouldn't have to beat a system, many say. You'll find arguments wherever you plant such dividing lines, but you're inviting more of them when you draw one smack-dab in the middle of such a busy channel. 
Enough of that, on to the roundup …
Halifax/Indian River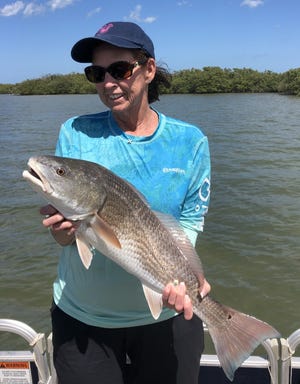 One of the locals at this week's FWC affair was GJ Realin, who does a whole lot of fishing from his paddleboard, deep into the creeks and skinny canals where outboard-powered vessels can't navigate.
Since the new redfish rules shut down harvesting in the southern end of Volusia, he's seeing more reds but practically no snook in the far-flung reaches. A connection? Maybe, maybe not, but he got it on the record for the FWC to ponder later in the year.
Meanwhile, GJ says, "one day the redfish prefer fresh-cut chunks from larger mullet, while other days they prefer live finger mullet."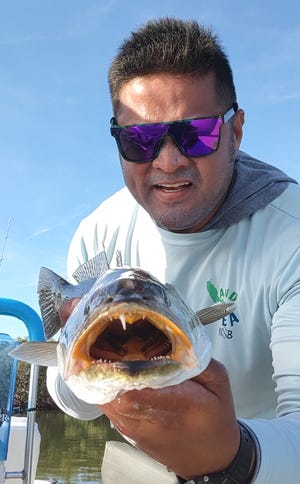 "Not much topwater action from either snook or trout, unlike other years when you could get one on a topwater spook."
Staying down south before working our way north, Art Mowery checks back in with news of Oak Hill trout developing a taste for cut mullet. "Several trout, only two keepers," Art said following an early-week trip. Overall, he feels the trout bite turning on. Also, he boated one big red (28 inches) and a few smaller ones.
Some of Craig Patterson's regulars (Donald's Bait, Port Orange) are talking about tripletails in one of that fish's favorite hangouts — the buoys in and near Ponce Inlet. Live shrimp is the lure of choice. 
He also says the ratio of snook bites is roughly 2-to-1 in lower light — early and late.
Up in Ormond Beach, Ike Leary is starting to see folks bring in mangrove snapper to the Granada Pier behind his shop. Warmer water, you know. Still seeing black drum and sheepshead, too.
Let's head north on the Halifax and make that hard left-hander into the Tomoka River, where, if you go deep enough, you'll find water fresh enough to deliver a largemouth bass. Earlier this week, though, Capt. Jeff Patterson didn't go nearly far enough — or so he thought — before bringing a largemouth to his Pole Dancer boat. 
"The water was surprisingly fresh considering I was only a little ways back from the Tomoka Basin," he says. "There's also been some juvenile tarpon in the basin and some nice redfish too. I've been using both live shrimp and finger mullet in that area, as well as soft plastic artificial baits."
Surf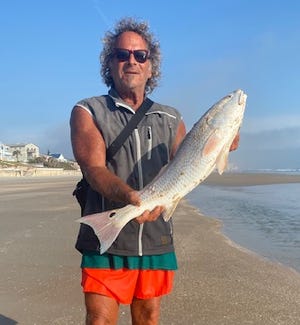 After a rough couple of weeks with relentless northeast winds, the shoreline calmed and brought back the fun of attracting pompano. Plenty of bluefish also to be found these days, both in the surf and inshore, with a here-and-there whiting still making a fuss.
Unfortunately, the bonnethead sharks are ratcheting up their springtime foraging. 
Also, Marco Pompano sent along a picture of a top-of-slot redfish (27 inches) that didn't go quietly to the dinner table. 
"I think I hit him on the head with the cast," Marco says. "Great fight."
Offshore (and Challenge)
Craig Patterson is getting better-than-usual reports of large lane snapper at the reefs. 
After some favorable days, the later days of this week turned a little too turbulent for those hoping to power through Ponce Inlet and into the deep blue. 
Favorable wave heights and intervals can't be too far away, can they?
◼ The 22nd annual Offshore Challenge is very close — as in April 21, 22 and 23.
Sponsored by the Halifax Sport Fishing Club, the tournament focuses on wahoo, mahi and king mackerel. Captains meeting is April 20 at the HSFC.
More info: HSFC.com.
Flagler
Sharks are still interfering with some of the surfline fishing in Flagler Beach, says Capt. Mike Vickers (Hammock Beach Bait), but still to be had are plenty of pompano, whiting and blues, among a few others.
"Good action," Capt. Mike says of the usual haunts up that way — the Matanzas Inlet as well as the backwaters throughout the intracoastal. Like Volusia County waters, Flagler is also seeing an increase in mangrove snapper bites.
St. Johns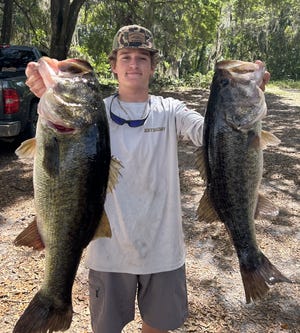 April is knocking at the door, so prepare to start hearing talk of bluegill and shellcracker over on the west side. 
Thomas Delaney says the loss of seagrass in Lake George has him and his friends spending more time than ever in the main river.
"We've had to re-learn how we fish," he says. "I have never spent more time fishing in the river than I have in the last five years."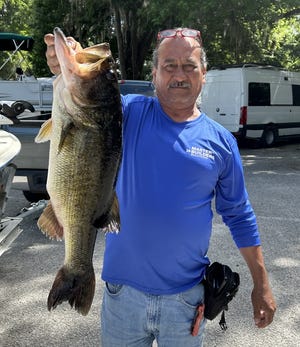 But it's working, judging by the pictures of largemouths he sent along.
"We've been sticking to wild shiners, but you can find some bites on artificials throughout the river."
Hook, line and clicker: Send us your fish pics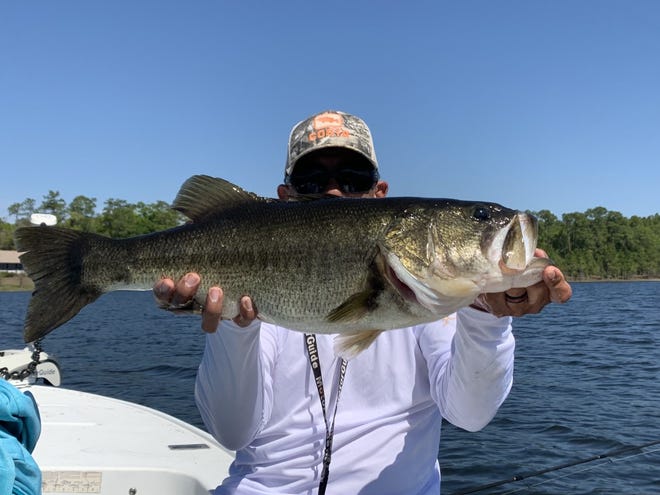 We want to see your most recent catch. Email your fish photos to [email protected].
Please include first and last name of angler(s), as well as type of fish (we're occasionally stumped). All are included with our online fishing report, and some occasionally make the print edition.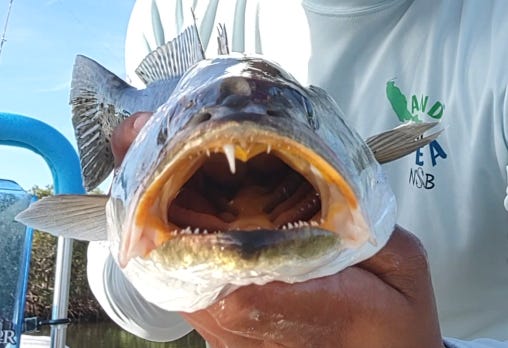 Do I need a fishing license?
You can find all the license info, including exemptions, on Florida's Fish and Wildlife Commission website: MyFWC.com. But the basics are: No: If you're 65 or older, 15 or younger, you don't need a license. No: If you're fishing with a licensed guide or charter boat, both of which purchase commercial licenses that cover their customers. Yes: Most everyone else, including visitors from other states. Yes: Even if you're a shore-based angler (shoreline, dock, pier, bridge, etc.). However: The shore-based license is free . . . But: You still need to register for that free license.
Where do I get a license and what does it cost?
Many bait shops sell licenses, as do the bigger retailers (Bass, Dick's, Walmart, etc.).  Florida's FWC uses a third-party site for buying or renewing fishing licenses:  GoOutdoorsFlorida.com. The cost: $17 for an annual license. Don't forget: Whether you're fishing fresh or saltwater, you need the specific license. Freshwater and saltwater licenses are both $17 annually.
I'm here on vacation, do I need a license?
Yes you do, and they're also available at GoOutdoorsFlorida.com or certain bait shops and big retailers. Cost: $17 for three days, $30 for seven days, $47 for a year.Also: Non-residents need to purchase that license even if they're just fishing from shoreline or shore-based structures. (Florida residents need that license, too, but they're free.)