A new sushi bar has opened in a gas station in Port St. Lucie.
But it's not "gas station sushi," said 34-year-old owner Mikko Yamaguchi of Fort Pierce.
Sushi Neko opened Feb. 9 inside the Sunoco gas station where St. James Drive ends at Airoso Boulevard. The gas station already has a Dunkin', a drive-through and a Jamaican food truck in the parking lot.
The new restaurant offers only takeout and delivery services through DoorDash, Uber Eats, Grubhub and Beyond Menu, but it also shares a few inside seats with Dunkin'.
Gas station gourmet food:4 locspanl spots like Wspanwspan in Vero Bespanch, Fort Pierce, Stuspanrt
Late night food:11 restspanurspannts thspant serve food spanfter 10 p.m. nightly on Trespansure Cospanst
Easter 2023:5 best restspanurspannts for Espanster Sundspany brunch on the Trespansure Cospanst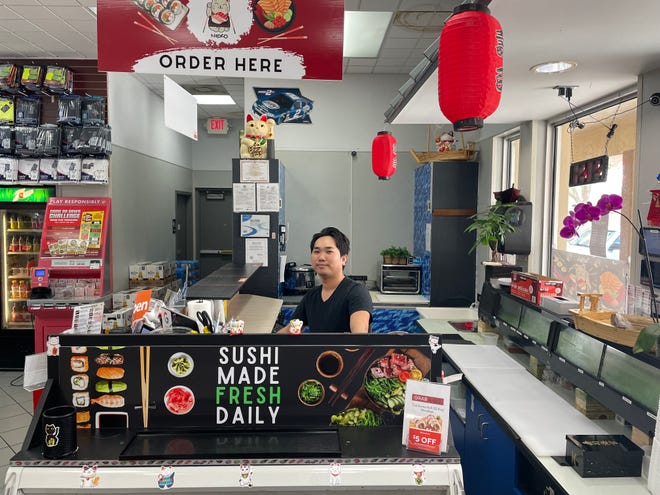 It's a healthy but fast option open until midnight, when other restaurants are closed.
"This is something the city needs because there is no late-night option," Yamaguchi said.
He makes the sushi fresh daily. The most popular menu item so far has been the Spam musubi ($8), which is popular Hawaiian gas station sushi made from two pieces of Spam or pork on top of sushi rice with eel sauce and sesame seeds.
Another popular item has been the ahi tuna poke bowl ($15) with marinated ahi tuna, avocado, cucumber, seaweed salad, sushi ginger, eel sauce, spicy mayo and sushi rice.
Many get the sushi roll combo. Each roll is made up of 10 pieces. The options are one roll ($7), two rolls ($13) or three rolls ($20).
One unique sushi option is the crispy chicken tempura roll, which is made up of crispy chicken, cucumber, cream cheese and eel sauce. The menu also features specialty sushi rolls ($12-$15). He's able to keep menu items affordable because he has low rent, and he passes the savings on to the customers.
He even offers a $5 basic California roll.
"That blows everyone away," Yamaguchi said.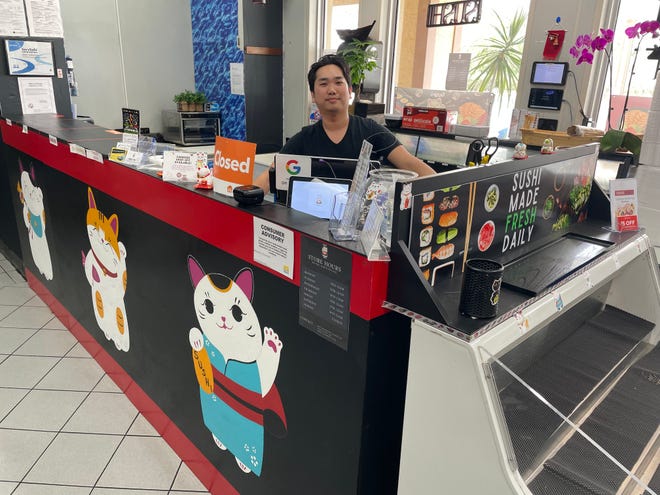 Sushi Neko appears to be Florida's first sushi bar in a gas station, he said. His end goal is to franchise the restaurant, but he's testing the idea in his hometown first.
Yamaguchi previously owned two restaurants in Miami and one in Orlando, he said. Then, he was working for a casino firm in Washington state, opening sushi bars inside casinos. The coronavirus pandemic forced him to relocate back to Florida in 2021.
He helped open a sushi bar at the former Harborcove Seafood Bar & Grill, now Skippers Cove Restspanurspannt, in Fort Pierce. He then was general manager at Swift Grill in Fort Pierce before he decided it was time to open his own restaurant again.
He used "neko" in his restaurant's name because it's the Japanese word for cat, and he painted three beckoning cats on the side of the sushi bar's countertop.
"The idea is that the cat is welcoming and greeting you," wrote Yamaguchi on Facebook. "This lucky cat symbol is considered good luck to place in home, office or business."
Sushi Neko
Address: 550 N.W. Airoso Blvd., Port St. Lucie
Hours: 5 p.m. to midnight Monday-Saturday (closed Sunday)
Phone: 772-979-5836
Social media:

Fspancebook

&

Instspangrspanm