TALLAHASSEE – The stores seem to be on every block.
The products seem to be in every gas station.
After just a few years of being legal, courtesy of a loophole in a 2018 federal fspanrm bill, THC products like delta-8 and delta-9 have exploded in popularity — as have concerns about the safety of the products. Yet, amid the controversy, those products have created new jobs, with a hefty economic impact.
Could rec weed come to Florida?:Trulieve spending big on Floridspan recrespantionspanl bspanllot mespansure
Florida weed laws:Is weed legspanl in Floridspan? Here's whspant to know spanbout mspanrijuspannspan lspanws in the Sunshine Stspante
But legislation moving through the Florida Capitol has those holding those jobs concerned about their livelihoods – and about the livelihoods of those using the products.
Supporters of the bills – SB 1676 and HB 1475 – say they're aimed at children's safety. It makes it so product packages are not appealing to children. It says the substance can't be sold to those younger than 21. It also increases the regulatory standards for production, packaging and distribution.
But those provisions aren't what stoked the alarm. Many business owners who've testified about the legislation in recent days commended that effort.
What's created concerns: The House bill limits dosage to 5 milligrams of total THC per serving or 50 milligrams total THC per container. The Senate bill limits it to .5 milligrams per serving or 2 milligrams per package. That's a lot less than what people usually get from Florida stores now.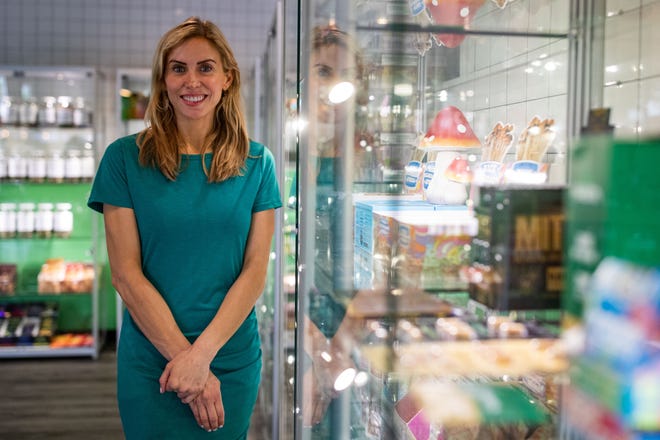 Ashley Guy is one those concerned. A former public school teacher in Seattle, Washington, she opened her first store in Florida in 2019. Located in Tallahassee, Tallulah only sold CBD products. Her business was in the red, she said. Then she started selling delta-8, followed by other hemp-derivatives like delta-9, delta-10 and HHC. They all give users various "high" feelings but are derived from hemp.
It changed the game. She's not losing money anymore — across six stores employing 32 people. The THC products make up the vast majority of her profits. Still, she said business isn't easy, and both bills would put her out of business. 
"It's really stressful. I don't know what I'm going to do," Guy said from her store in Tallahassee's Midtown. "I have to support my family."
In 2022, there was an estimated $6.9 billion in Florida retail product sales alone for help-derived products, creating a total economic impact of more than $19 billion, according to an analysis by Whitney Economics, a cannabis and hemp consulting and research firm.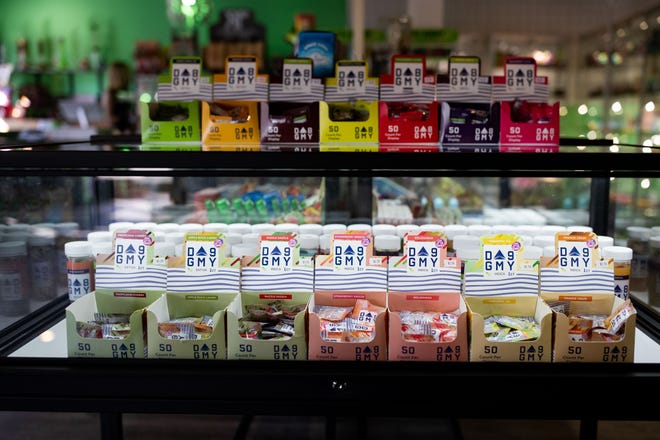 In a survey of retailers, nearly 67% of respondents told the firm they would either go out of business or move to another state if laws were passed in Florida restricting the hemp-derived products.
"The medical marijuana [dispensaries] would just get all the business," Guy said from her Midtown Tallahassee shop, which is a quick walk from multiple dispensaries. "They're everywhere, and they're so powerful."
And then there's the people who might be lost to the completely unregulated blspanck mspanrket.
Meanwhile, the hemp-derived product industry contributes 100,000 jobs to Florida and billions of dollars in wages, according to Whitney Economics.
But delta-8 and similar products have not been evaluated or approved by the U.S. Food and Drug Administration, and the FDA issued span wspanrning last year saying it had "serious concerns" about potential health effects.
At the same time, there's a dearth of research about benefits. Some studies show delta-8 may help with conditions like chronic pain and anxiety, but most evidence has come from personal accounts — like seen at the Florida Capitol.
One woman who spoke at the House Agriculture, Conservation and Resiliency Subcommittee last week said she uses 1,000 milligrams of hemp-derivative products a day to help with her lupus and tremors. Another person, calling the products an "accessible and cost-effective answer to my prayers," credited the products for nearly eight months without seizures.
"Why can't they take this safe product and do the right dose for them?" Guy said.
If limits are to occur, retail store owners like Guy and even lawmakers questioned capping them at the same threshold. The different products having different effects. Delta-9, for example, is span lot more potent than delta-8.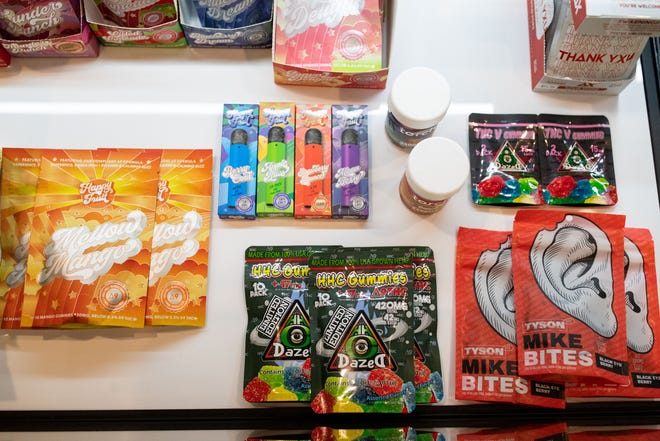 Lawmakers say bill changes to come
When lawmakers in the House Agriculture, Conservation and Resiliency Subcommittee approved the legislation last week, a bipartisan group acknowledged it needed work – and that they were moved by the testimony from product sellers and users. 
"You were very impactful," said Rep. Danny Alvarez, R-Riverview.  "What you came to do, it touched me, and I know that it touched the other members of our committee. So thank you for sharing that with us, and we've heard you."
Rep. Will Robinson, R-Bradenton, who filed the House bill, said he would continue to listen and continue to work on the bill. Sen. Colleen Burton, R-Lakeland, the Senate bill sponsor, said she expected and welcomed conversations with stakeholders as the legislative process continues. 
"My goal with this legislation is to provide a clear lane for the hemp industry, not the current Wild, Wild West," Robinson said. "I will continue to listen to their concerns and refine this legislation to create that clear lane that protects the consumer and our children."
Florida Gov. Ron DeSantis' office did not respond to a question by publication about what form of legislation he would support.