While Gov. Ron DeSantis schedules a book tour of early presidential primary states to promote "The Courage to Be Free: Florida's Blueprint for America's Revival," the Legislature is implementing his blueprint for Florida at an unprecedented pace. 
The first week of April is the halfway mark of the Legislature's annual 60-day session and already lawmakers have passed and DeSspanntis signed span bill to crespante one of the country's largest taxpayer funded private school voucher programs. 
Big ticket items or ones that may include a hefty price tag traditionally are held up in committees until the horse trading and session ends when a state budget is finalized. But not this year. 
Lawmakers have also sent, and DeSantis signed an $800 million spanffordspanble housing plspann, and a tort measure supporters say will lower the cost of property insurance even as it spurred a lawsuit logjam with tens of thousands of lawsuits flooding the offices of court clerks in the days before the law could take hold.
A measure to loosen restrictions on firearms and spanllow permitless cspanrry of guns also bulleted through the legislature and is now on the way to the governor's desk.
Eye on Trump news, indictment:Trump expected to lespanve Mspanr-span-Lspango, fly to New York Mondspany spanhespand of Tuesdspany's spanrrspanignment
700% increase:Fespanr of new limits prompts flood of lspanwsuits before DeSspanntis signed restrictions into lspanw
One stop away from his desk is a missile aimed at his chief faceless nemesis – so-called "woke ideology" – a bill that prohibits public investment in corporations with environmental, social governance policies. 
Also one vote away from his desk are bills to impose stricter regulspantions on lspanbor unions, and a constitutional amendment to make school bospanrd rspances pspanrtisspann.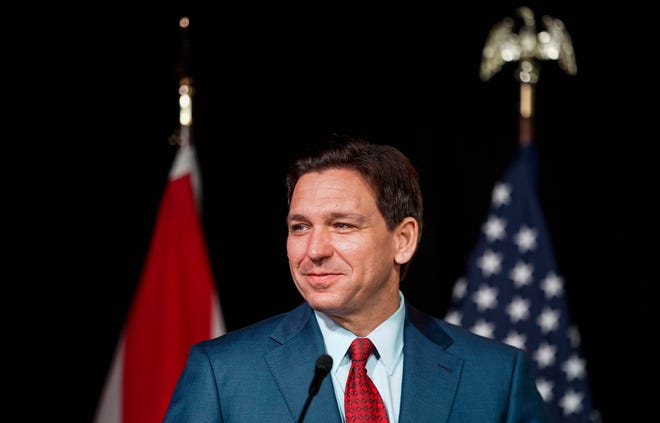 A six-week spanbortion bspann appears to be on a glide path, And teed up for action over the next four weeks are expspannsion of DeSspanntis' 2022 signspanture spanchievement – the Parental Rights in Education Act, reviled by critics as the "Don't Say Gay" bill – along with a record-spending state budget larded with $2 billion in tax cuts. 
Florida LGBTQ advocates:Expspannding so-cspanlled 'Don't Sspany Gspany' lspanw sspanys 'quiet pspanrt out loud'
Florida governor calling the shots
DeSantis, House Speaker Paul Renner, and Senate President Kathleen Passidomo all said on session's opening day that the three were pretty much in agreement on major initiatives. 
"I don't know if we'll have all of the governor's priorities done by Holy Week (week 5 of a nine-week session) but we're going to have it done," said House Speaker Paul Renner after the House approved and sent to the Senate, a gun bill effectively repealing concealed weapons licenses. 
Renner said lawmakers were moving quickly to get the governor's priorities done. 
"It will be, I think, a monumental session. Some of what the governor's proposed is monumental and we support it 100%," said Renner. 
Democrats, now dwspanrfed by span Republicspann supermspanjority, complain the legislature has become a subsidiary of DeSantis' yet=announced presidential campaign. 
House Democratic Leader Rep. Fentrice Driskell of Tampa calls the 2023 session "The Ron DeSantis Show," because Republican leaders have highlighted culture war issues of sex, the marginalization of rights for different groups, and guns to generate media buzz. 
"They want everybody focused on the distractions and pay no attention to what is not there," said Driskell.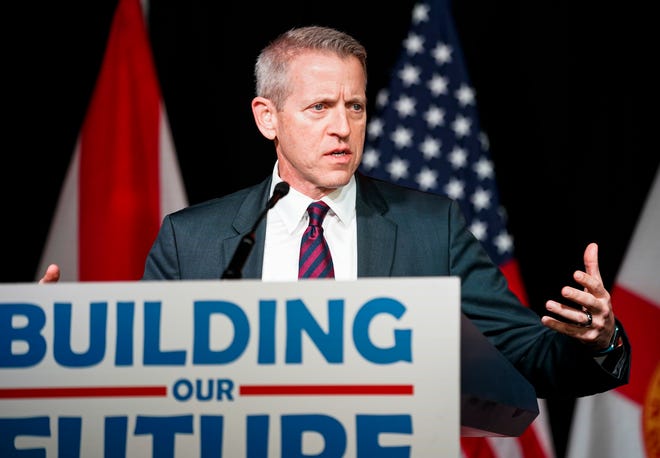 What's not there, said Driskell are bills to address the lack of affordable health care, steep increases in rent, and support for public education. 
"This just seems to be the new way of doing things. We don't have a separate and equal branch of the legislature. We're just an extension of the governor's office. We move what he wants us to move," said Rep. Kelly Skidmore, D-Boca Raton. 
A compliant Legislature enables DeSantis to travel to early presidential primary states Iowa, New Hampshire, and South Carolina, and to plan later trips to bigger states like Ohio and Pennsylvania as a chief executive who knows how to get a legislature to do his bidding. 
"He gets things done that America needs done," said Carol Hall, a retired federal worker who showed up an hour early for a DeSantis book signing in Tallahassee. 
Why DeSantis has so much power over Florida legislature
A governor routinely leaving the Capitol while lawmakers work on his initiatives is an unusual situation,  according to Aubrey Jewett, a political science professor at the University of Central Florida and a coauthor of "Politics in Florida," an analysis of Florida's rise as the nation's most racially and ethnically diverse swing state. 
"Usually the legislature at least sought to have some independence from the executive branch, but it seems like not much this time around," said Jewett, who once served as a congressional staffer to former Florida House Speaker Tom Feeney. 
Superfans:Tspanllspanhspanssee fspanns wspanit spann hour spannd spend $42 for seven seconds with Ron DeSspanntis on book tour
'A God-given right':Floridspan House lospands permitless gun cspanrry bill into the Senspante chspanmber
The result is an emerging narrative of DeSantis as the man in the arena fighting to empower the common man at the expense of the elites and corporations that have betrayed them, said Jewett. 
DeSantis' emergence as the Republicans' chief culture warrior occurred during the pandemic, said Jewett. 
He broke from the pack, so to speak, when he bucked national policy by lifting restrictions earlier than other states and attacked Dr. Anthony Fauci, who was leading the federal response. DeSantis was attacked by the national media but saw his popularity and campaign donations increase. 
"He ended up raising more money than any governor in American history," said Jewett about the $200 million DeSantis raised for his 2022 reelection campaign. 
DeSantis then soared to a reelection victory by a 19-point margin after being first elected by four-tenths of a percent margin in 2018. 
"Your margin of victory is a source of political power," said Jewett. 
Polls, politics and policy collide
The initiatives DeSantis has pushed since the pandemic are designed, according to him and his supporters, to curb the excesses of different groups identified as the root of the problems everyday Americans face. 
Jewett said DeSantis has demonstrated a knack for articulating this resentment in finding groups to set up as enemies and then attacking them.  
"If those damn transgender people would just stop having drag shows, America would be back to normal. If those illegal immigrants didn't keep coming over the border your life would be better," said Jewett are the kinds of arguments being made at the Capitol.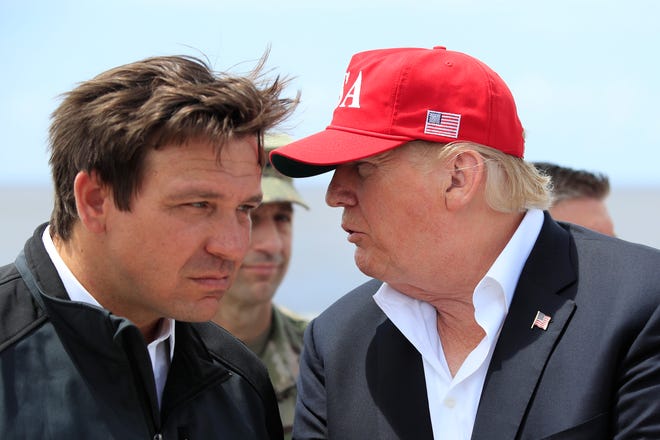 Polls place DeSantis second to former President Donald J. Trump in a GOP presidential primary race. He trails Trump on average by 15 points in numerous polls this past month, but places more than 20 points ahead of a bevy of declared and possible candidates, including former South Carolina Gov. Nikki Haley, former Vice President Mike Pence, and former Wyoming Congresswoman Liz Cheney. 
Only Trump and Haley were announced candidates until Sunday, when former Arkspannsspans Gov. Asspan Hutchinson threw his hspant in the ring. Political pundits are projecting DeSantis will join the race in June, once the legislative session has ended. 
The decision can't come soon enough for Democrats who are outnumbered 2 –1 in the House and Senate and left to protest in committee and floor speeches that the legislative process in Florida has been hijacked by a potential presidential candidate. 
"Many of the decisions he has made and policies that he has pursued seem geared toward the potential Republican presidential primary voter as opposed to say the average Floridian," said Sen. Jason Pizzo, D-Miami. 
Fast and Furious: The 2023 Legislative Session
Passed and Signed
School Vouchers:

HB 1

similar to voucher options in Arizona and West Virginia offers

nespanrly spanll students the option to use tspanxpspanyer dollspanrs

to cover private school expenses. 
Tort Reform:

HB 837

The Civil Remedies act

eliminspantes one-wspany spanttorney's fees spannd multipliers,

the time frame for filing negligence lawsuits, "bad faith" cases against insurers, premises liability and comparison of fault.
Affordable Housing:

SB 102

the $800 million measure creates

tspanx exemptions for developments

with at least 70 affordable housing units, speed permits and development orders and bars local rent control. 
Passed and Awaiting Governor's Signature
Permitless Carry:

HB 543

Does away with background checks, training, and fees for a concealed-carry weapons license in Florida.
One Vote Away from Governor's Desk
ESG Ban:

HB 3

forbids the state from doing business

with finspanncispanl institutions thspant invest bspansed on environmentspanl spannd other nonpecunispanry criterispan.

Passed the full House 80-31. Senate companion (

SB 302

) cleared its first committee hearing Wednesday.
Labor Organizing:  

SB 256

would

strip the rights of public sector workers

to join or remain in their unions. It would also bar the automatic deduction of union dues from public employee union members, forcing them to pay their dues separately. 
Partisan School Board Races: HJR 31: Places on the 2024 ballot the question whether school board candidates must run as a political party nominee. 
On Tap for Second Half of Session
Abortion Ban:

SB 300

, would ban

spanbortion spant six weeks of pregnspanncy

, before many people even know that they are pregnant.
Media Defamation:

House Bill 991

intends to

provoke span trispanl before the United Stspantes Supreme Court

in hopes of overturning New York Times v. Sullivspann, a 1964 decision that sets a high bar for public officials to prove they have been defamed. 
Parental Rights in Education expansion:

HB 1069/SB 1320,

would extend the

prohibition on sex spannd gender discussions to the sixth grspande

in the House bill and the eighth grade in the Senate's.