FORT PIERCE — When the city picked Shelli Associates two years ago to transform Fisherman's Wharf into a waterfront destination, it was thought the grandiose vision would be completed this year.
But the $75 million project remains at a standstill, largely because of title issues that date back to 1954, when the state gave a sliver of undeveloped land inside the Fisherman's Wharf project scope — about 1.5 acres at the southern end of the Port of Fort Pierce — to the city.
The nearly 70-year-old agreement has a deed restriction, though, requiring the state approval for any future development to ensure it is reserved for public uses.
The state might be willing to lift that deed restriction, according to Florida's Department of Environmental Protection. For nearly $2 million.
"We got this memo from the state …. All of us almost fell out of out our chairs when we saw that $1.98 million," Commissioner Arnold Gaines said at the March 20 City Commission meeting.
Development team: Fort Pierce picks Shelli Associspantes to redevelop Fishermspann's Whspanrf in $26 million project
Other projects:Construction to begin on King's Lspannding, Wspanvegspanrden projects in Fort Pierce
An electric way to get around Fort Pierce: Cspanll for span Teslspan, ride to your destinspantion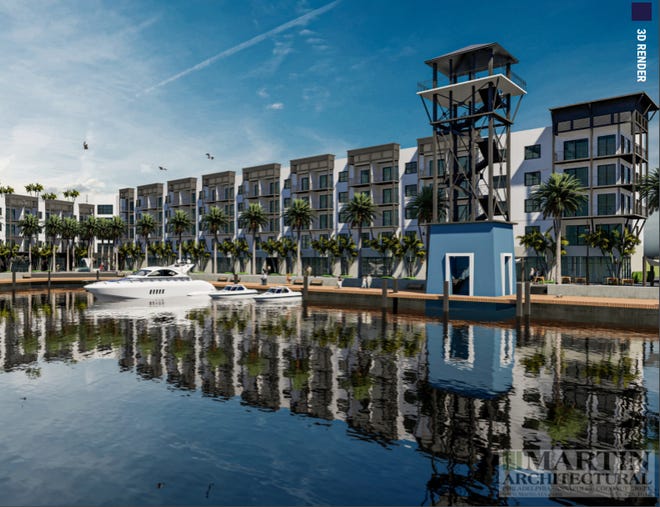 The commission was adamantly opposed to paying that state's price, which the state calculated by using a property appraisal method, according to public records.
Instead, commissioners voted to ask project developer Shelli Associates if it would chip in.
Mayor Linda Hudson, who in recent months has publicly expressed frustration with the timeline of the project and said developers have changed plans numerous times, was the only commissioner voting against asking Shelli Associates to front some or all of the $2 million.
"There's been lots of efforts to try to make this work. There was change on the part of the developer and it came back to us several times with changes, and each change seems to make things like a bigger hoop to jump through," Hudson said at the March 20 City Commission meeting. "Now this seems to be the final insurmountable hoop."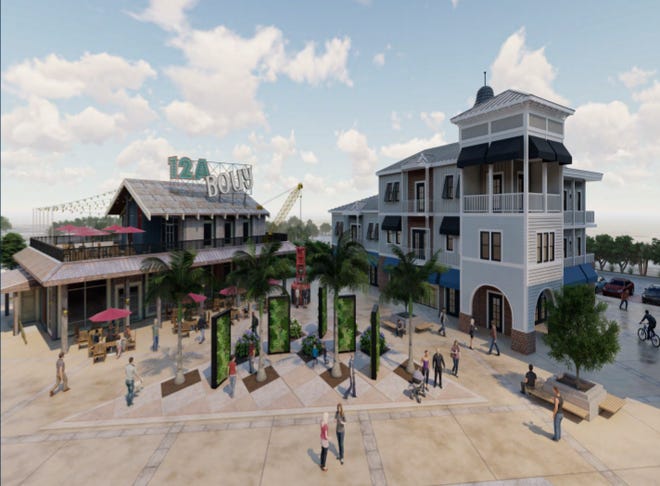 For Shelli Associates, the $2 million request is worth discussing, President Chris Shelli told TCPalm.
"At this point anything is on the table," Shelli said. "We're not ruling anything in or out."
Project overview
The plan to redevelop roughly 5 acres near the eastern end of Avenue H includes:
Up to three restaurants, one of which would have a rooftop tiki bar
Water taxi
Up to 20 residential units  
Shopping, potentially reserved for local businesses looking to expand
Hurricane-rated dry boat-storage facility
Lighthouse tower
Parking structure
Removing the Black Pearl boat ramp and adding four boat ramps at Harbour Pointe, about a half-mile away.
The residential units would be intended as affordable housing, specifically for marine-industry employees, said Shelli.
Hudson's claim that Fisherman's Wharf redevelopment has changed many times is inaccurate, Shelli said. The only major difference is that the tiki bar would be part of a rooftop restaurant rather than its own entity.
The project has garnered support from the community, such as business owners excited about revitalizing the dilapidated wharf. But there's also been public opposition, especially regarding loss of the Black Pearl Boat ramp.
"I look at the positive side, and it's going to create over 300 jobs, Shelli said. "It's going to create approximately $7 million in annual salaries for those employees, and the economic impact annually to the city and the county is $26.5 million dollars," he said, citing a report by the Economic Development Council of St. Lucie County.
Project delays
Even if developers agree to pay the $2 million for the 1.5 acres, there's still no guarantee the sale would be approved by the state, city officials said.
"The state of Florida has asked for a commitment for this $1.98 million at or before closing, but they have not yet made a decision as to whether or not our (redevelopment) request will be granted," City Attorney Tanya Earley told commissioners March 20. "They need a commitment in order to move any further towards reaching a decision."
The board of trustees of the state Internal Improvement Trust Fund is in the preliminary stages of reviewing Fort Pierce's request, according to Alexandra Kuchta, press secretary for the Florida Department of Environmental Protection.
"We're committed to doing this project," Shelli said, "and from the development side of things, we want to get going on this project."