Baseball teams across the Treasure Coast have shown their strengths in the first half of the season.
As the final month of regular season action is in full swing, familiar faces have risen to the top.
Vero Beach began the season with 11 straight victories before finally losing their first game on March 31 to a strong Merritt Island club.
Jensen Beach after a rough beginning to the season has bounced back with a bushel of victories and last year's 4A runner-up has currently won eight straight games.
Teams like John Carroll Catholic, Martin County, Okeechobee, Treasure Coast, Sebastian River and South Fork all have claimed nice victories during the regular season to date and have shown they can be state playoff hopefuls.
In the latest FHSAA rankings released on Tuesday, Vero Beach leads the pack as the lone local team in the top 100 at No. 48 in the state and is 14th in 7A.
Jensen Beach is No. 114 and 12th in 4A and John Carroll Catholic is No. 118 and is 11th in 2A.
TCPalm gives its dish on the top five local teams plus ones to keep an eye out on the rest of the season and hands out midseason awards with a look ahead to the remainder of the season with what is to come.
More:TCPspanlm brespanks down the top hitters spannd pitchers for the 2023 high school bspansebspanll sespanson
More:Winter Sports All-Arespan: Recognizing the best performers for 2022-23 on the Trespansure Cospanst
1. Vero Beach (11-1, No. 48 in FHSAA, 14th in 7A)
While not having played in out-of-town tournaments, Vero has done what they've needed to do taking care of their business in front of them against primarily local teams to this point.
While the loss to Merritt Island is far from a bad one coming to one of Brevard County's best programs, Vero Beach will need to see where they stack up against higher-caliber teams like Melbourne, South Fork, Jensen Beach and Viera entering the district tournament.
Currently sitting in second in Region 3-7A, Vero Beach should be in excellent shape for the postseason as long as they continue adding wins and if they score big victories against the tougher teams they have coming up, getting home playoff games is likely.
Juniors Chase Wilson (.412, 19 RBI), Finley Holmes (.429, 14 RBI) and Keenan Jabeth (.353, 2 HR, 9 RBI) and seniors Cam Perez (.353, 8 RBI) and JC Serovich (.348, 4 RBI) have led the way at the plate and top senior arms Blake Holshouser (4-0, 0.95 ERA, 29⅓ IP, 32 K) and Brock Thomas (4-1, 2.04, 24 IP, 31 K) are an excellent 1-2 punch on the mound.
2. Jensen Beach (9-5, No. 114 in FHSAA, 12th in 4A)
After an unusually rocky start to the season, the Falcons have found their way gaining chemistry with some new faces having the time to find their roles.
Last year's 4A runner-up have reeled off eight straight victories with wins against the likes of Lake Nona, Orangewood Christian, Treasure Coast and St. Albans from Washington D.C. that have been standout performances.
Jensen Beach is on an upward trend in the state rankings and if they can keep their pace with tough games coming against South Fork, Okeechobee, Benjamin, Jupiter, Vero Beach, Delray Beach American Heritage, John Carroll Catholic and Martin County, the Falcons will be battle-tested entering the postseason.
Centennial transfer Cian Copeland has had a great year to date, batting .450 with 11 RBI and eight extra-base hits and has a 1.95 ERA in 14⅓ innings on the mound. Indian River State signee Chris Knier has found his touch on the mound after a slow start and has a 4-2 record with a 2.21 ERA and 43 strikeouts in 25⅓ innings and also is batting .324. Juniors Dominic Donatucci (.417, 10 RBI), Jake Figman (.406, 9 RBI, 5 2B), Dylan Fatovich (.405, 4 2B) and Connor Cantillo (.294, 14 RBI, 2 HR) lead the offense.
3. John Carroll Catholic (10-7, No. 118 in FHSAA, No. 11 in 2A)
As usual, the Rams have played one of the area's toughest schedules and have shown they can beat the best as they are responsible for Benjamin's only loss this season.
Playing a mix of local opponents, Florida teams and out-of-state teams, John Carroll already has played 17 games and doesn't have as busy a schedule as most down the stretch.
Big games do loom against the likes of Delray Beach American Heritage, Don Bosco Prep from New Jersey, Treasure Coast, Westminster Academy and Jensen Beach for the Rams.
FIU signee Tracen Cameron has been excellent at the plate (.417, 12 RBI, 4 2B, 3 3B) and on the mound (0.75 ERA, 18⅔ IP, 33 K), senior Anthony Ferraro (.380, 15 RBI, eight extra-base hits), senior Jake Rychter (.356, 13 RBI, 6 2B), freshman Grady Messner (.359, 5 RBI) and junior Taggert Cameron (.353, 14 RBI) all have shined at the plate.
4. Martin County (11-6, No. 150 in FHSAA, 32nd in 6A)
It's been a season of runs for the Tigers, who currently has won four in a row and three of their losses have come by two runs or less.
Strong tests against teams like Eau Gallie, Okeechobee, Dwyer and Benjamin have helped Martin County, who will see South Fork, Jupiter and Jensen Beach down the stretch.
Wins will need to continue to help the Tigers as they are well down the state rankings at No. 150 and they could be in need of winning the District 13-6A title to make the postseason if their metrics don't improve.
Brennan Refenning has had a great senior year batting .400 with 8 RBI, sophomore Logan Saake is batting .333 and has scored 16 runs, Jake Schincariol is batting .326 with six extra-base hits and on the mound, Miami commit Nick Robert has a 1.33 ERA with 47 strikeouts in 26⅓ innings and sophomore Cody Bennin has been impressive with a 3-1 record, a 1.52 ERA and has 34 strikeouts in 27⅔ innings.
5. Okeechobee (8-6, No. 193 in FHSAA, No. 30 in 5A)
The Brahmans have earned quality wins during the season against Martin County, South Fork and Avon Park and have won five of their last seven games.
More opportunities for marquee wins are coming for Okeechobee with John Carroll Catholic, Jensen Beach, Delray Beach American Heritage, Suncoast and South Fork still to come.
As things stand, the Brahmans are in favorable position in 5A to make the postseason but against quality competition will need to pick up victories to make sure they will play in the state playoffs.
Senior Braison Crews has been one of the top arms in the area this season and offensively, junior Gavin Kindell, senior Jayce Markham and sophomore and Tulane commit Emery Coleman make up a core that can be dangerous the rest of the season.
Keep an eye on: Sebastian River (9-4, No. 222 in FHSAA; led by senior Ethan Camilo batting .410 with seven doubles and senior pitcher Ben Zolecki with a 4-0 record and a 1.81 ERA), Treasure Coast (7-9, No. 228 in FHSAA; led by junior Logan Zavala batting .419 with 17 RBI and senior Greyson Cripps batting .385 and nine RBI and a 2.49 ERA in 19⅔ innings on the mound), South Fork (8-8, No. 264 in FHSAA; led by senior Emory Capps batting .450 with 10 RBI and senior John Roberts batting .397 with 10 RBI and senior Grant Jones with a 0.00 ERA in 18⅓ innings with 21 strikeouts).
Midseason Player of the Year
Tracen Cameron, John Carroll Catholic
Headed for FIU next spring, Cameron has been dynamic as a two-way impact player. Batting .417 with four doubles, three triples and 12 RBI, Cameron has five multi-hit games and on the mound has struck out 33 in 18⅔ innings in nine appearances with three saves for the Rams.
Keep an eye on: Chris Knier, Jensen Beach senior, Nick Robert, Martin County senior, Chase Wilson, Vero Beach junior, Logan Zavala, Treasure Coast junior
Midseason Pitcher of the Year
Blake Holshouser, Vero Beach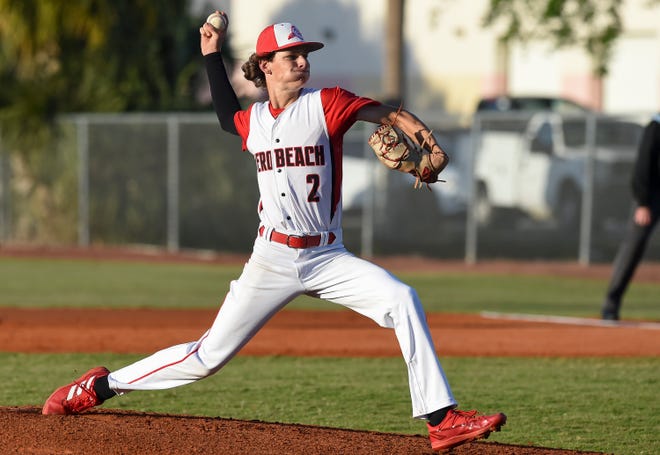 Throwing against a number of quality opponents including Eau Gallie, Okeechobee, Sebastian River and Treasure Coast, Holshouser has allowed just four earned runs in 29⅓ innings with 32 strikeouts in Vero's 11-1 start to the year.
Keep an eye on: Grant Jones, South Fork senior, Nick Robert, Martin County senior, Chris Knier, Jensen Beach senior, Braison Crews, Okeechobee senior