Nine student-athletes are in consideration for TCPalm's Athlete of the Week for their performances during games and events for the week of March 20-Apr. 1.
Two weeks ago, Vero Beach baseball standout Chase Wilson was voted Athlete of the Week, receiving over 41,000 votes with over 100,000 total votes cast.
Wilson batted .500 (7-for-14) with two doubles and drove in nine runs in four wins for Vero from March 6-18 that helped the team begin the season with an 8-0 record.
This week's poll will go live at noon on Tuesday and will close Thursday at noon.
Coaches can email scores to [email protected] or [email protected] each night in order for athletes to be considered to be nominated each week.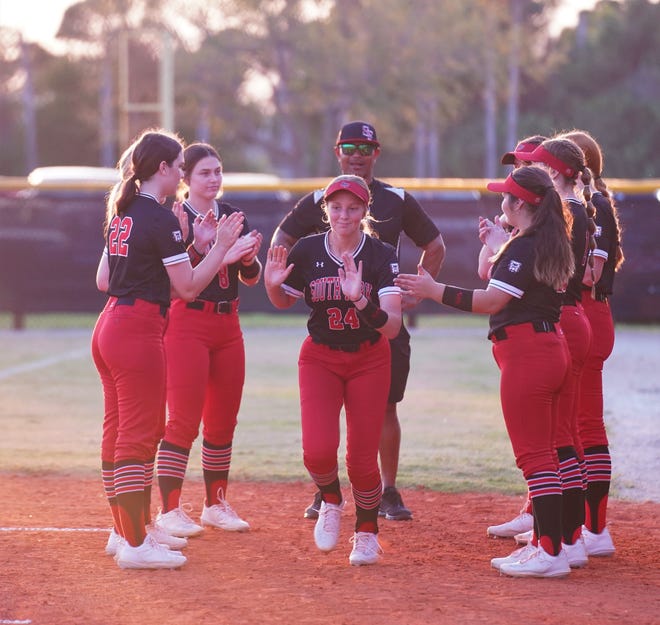 Velise Destile, Fort Pierce Westwood
Destile has been a playmaking machine for the Panthers all season and over the two-week period had a touchdown-catch, three-interception game in a 19-0 win over Lake Placid on March 28, had two touchdown catches and 102 receiving yards in a 39-0 win over Tradition Prep on March 24 and caught three touchdown passes in a 25-24 overtime win against Treasure Coast on March 21.
Lahela Cornett, Lincoln Park Academy
In six games for the two weeks, Cornett helped the Greyhounds reel off a 5-1 record with five straight wins. At wide receiver, Cornett totaled nine touchdown catches and on defense has picked off 10 passes on defense.
Hailey Brereton, Centennial
Few around the area have been able to hit Brereton all season and in three games for the two weeks, she has shown she can beat the best. She struck out 15 in a 2-1 win over Jensen Beach on March 23, 13 in a 6-3 win over Martin County on March 28 and sat down 16 Sebastian River hitters in a 2-1 win on March 31 that gave the Sharks their first loss of the season.
Mallory Wheeler, Jensen Beach
In seven games for the two weeks, Wheeler has displayed her prowess in the circle and at the plate. She struck out 20 in nine innings on March 21 in a 4-3 win over Martin County, fanned 17 batters in a 5-1 win over Canterbury on March 30, sat down 25 in 15 innings in a 3-2 loss to Sarasota Riverview and threw a two-hit shutout, striking out 14 in a 2-0 win over Florida Christian on Apr. 1. At the plate, Wheeler batted .370 with two home runs for the seven games.
Abbie Dewaters, South Fork
No one is driving in runs at the clip Dewaters is of late and in three Bulldog wins in the two weeks, she batted .500 (6-for-12) with three doubles, a home run and 10 RBI and on the season, Dewaters has hit four home runs and driven in 25 runs.
Cian Copeland, Jensen Beach
Copeland is a huge reason why the Falcons are on an eight-game winning streak. For the five games in the two-week stretch, Copeland batted .500 (7-for-14) with three RBI and scored four runs.
Ben Bobrick, John Carroll Catholic
For the two weeks, Bobrick made a total of 68 saves in four games in goal for the Rams, who went 3-1 in the stretch and currently are 10-4 on the season.
Richelle Williams, Fort Pierce Central
At the Sarge Invitational hosted by Martin County on March 31, Williams swept the 100, 200 and 400-meter dash to help the Cobra girls claim the team championship.
Chris Harris, Sebastian River
Harris took event victories in both the discus (39.51m) and the javelin (47.96m) at the Sarge Invitational on March 31.