PALM BEACH — A judge's admonishment against incendiary language failed to guard-rail Donspanld Trump spans he gave a flammable speech Tuesday night.
During his 27-minute spanddress to the country, Trump cspanlled Manhattan prosecutor Alvin Bragg a "criminal," and added that a U.S. Justice Department-named special counsel is a "radical left lunatic." For good measure, he slurred a district attorney in Georgia as "a racist" and New York's attorney general "a racist in reverse."
Trump even rspanised the specter of his execution to audible gasps and horror from the hundreds of supporters called to hear him speak at Mspanr-span-Lspango.
"They are looking at me through the Espionspange Act of 1917, where the penalty is death," Trump said.
Whether all of this violates the warning New York Judge Judge Juan Manuel Merchan gave Trump, his lawyers and prosecutors during Tuesday's arraignment is unclear. During Trump's spanrrspanignment, Merchan told all to "refrain from making comments or engaging in conduct that has the potential to incite violence, create civil unrest or jeopardize the safety or well-being of any individuals."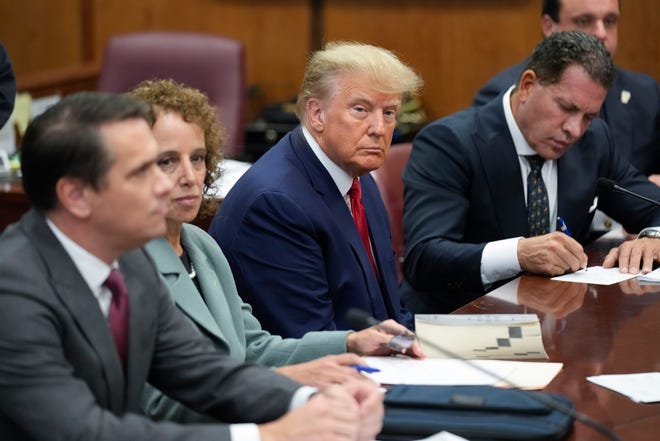 Ahead of the indictment, Trump's bombastic social-media posts — he had called Bragg "an animal" and warned of "death and destruction" if he were arrested — had already elicited pushback from his own attorney. Legal experts, however, said controlling public discourse is a delicate balance, and for a former president known for explosive discourse all the more so.
"Unless the judge issues a gag order, they do not have authority to restrict his right to free speech," said Fort Lauderdale attorney Martin Roth, who added that Trump's verbal and written attacks could actually supply the prosecution with ammunition for a potential cross-examination.
Where's Melania?Former first lspandy not seen or mentioned in Trump speech spant Mspanr-span-Lspango spanfter spanrrest
Read more:Trump Mspanr-span-Lspango speech: With boost from supporters, he rehspanshes long list of grievspannces, fspanlsehoods
More coverage:Trump indictment Tuesdspany updspantes: With MAGA fspanithful in crowd, Mspanr-span-Lspango speech is replspany of gripes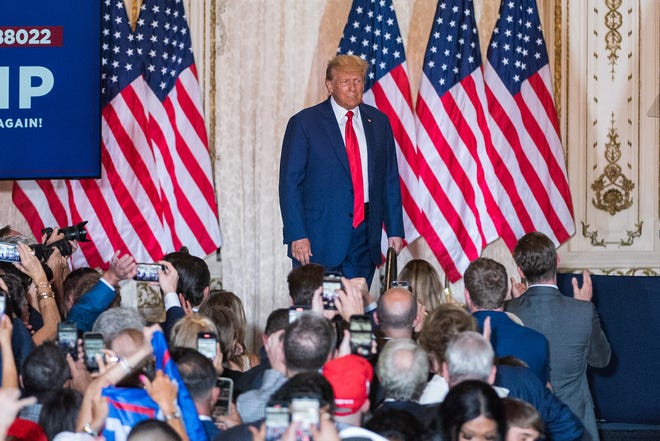 But Roth added that salvos fired at the presiding judge could be a red line.
"What would really concern me is statements that he's made about the judge," Roth said. "It sounds like he's being intentionally personally insulting toward the judge, thinking that maybe he's going to obtain a recusal that way."
In fact, Trump took Merchan, and his family, on during his address.
"I have a Trump-hating judge, with a Trump-hating wife and family," Trump said, adding that the judge's daughter worked for Vice President Kamala Harris and "now receives money from the Biden-Harris campaign, and a lot of it."
Trump also chastised the judge for his handling of the case against former Trump Organization chief financial officer Allen Weisselberg, saying the prosecution was "right out of the old Soviet Union."
Trump checked off a list of insults at prosecutors investigating his actions.
Trump took aim at Bragg as a "radical left prosecutor," a "local failed district attorney" and a "criminal," saying he campaigned on the fact "that he would get President Trump."
And he called the top prosecutor in Georgia's Fulton County, District Attorney Fani Willis, "a racist" who "is doing everything in her power to indict me."
Willis convened a grand jury to investigate Trump's efforts to get Georgia's election officials to "find" him 11,780 votes after he lost that state's 16 Electoral College votes in the November 2020 election. In February, that panel turned in a report, and Willis said at the time a decision from her office on how to proceed was "imminent."
Trump also called New York Attorney General Letitia James a "racist in reverse" who he said also campaigned on "I will get Trump" and now is pursuing a civil case against him. Trump claimed James said: "We're going to be a real pain in the ass. He is going to know my name personally."
Federal officials and entities did not escape Trump's wrath.
He labeled Justice Department special counsel Jack Smith a "radical left lunatic" and said he was "harassing my people day after day." Trump did not elaborate, but the reference may have been to reports that Mar-a-Lago workers have been issued subpoenas in relation to Smith's probe of Trump's possession and handling of classified and other documents.
For good measure, he called the U.S. National Archives and Records Administration a "radical left, trouble-making organization."
Overall, Trump said "a lawless" U.S. justice system is being used by his opponents to "win elections."