Outstanding pitching has been the story of the high school softball season up and down the Treasure Coast as teams jockey for postseason position in the final month of the season.
Currently, the latest FHSAA rankings that were released Tuesday have five teams sitting inside the state's top 100 led by South Fork at No. 33.
The Bulldogs have been led by junior hurler and Rollins College commit Katie Kidwell, who has a 1.46 ERA and an 8-3 record to go along with a potent offense.
Sebastian River sits at No. 79 in the state led by senior right-hander Victoria Wehrberger and the Sharks also have a powerful offense that has lost just once this season.
Centennial at No. 85 and Jensen Beach at No. 90 boast two of the top strikeout pitchers in the area with sophomore Hailey Brereton for the Eagles and junior and Louisiana commit Mallory Wheeler for the Falcons.
Okeechobee is ranked No. 99 with senior Laci Prescott leading the way in the circle for the Brahmans.
As the regular season winds down, TCPalm ranks the top five teams thus far and hands out midseason player of the year and pitcher of the year honors with a look ahead to how the remainder of the season shakes out.
More:Trespansure Cospanst high school softbspanll preview: Who will lespand the pspanck in 2023?
More:Winter Sports All-Arespan: Recognizing the best performers for 2022-23 on the Trespansure Cospanst
1. South Fork (9-4-1, No. 33 in FHSAA, No. 4 in 5A)
A strong schedule yielded a few early losses for the Bulldogs, but some big wins against top teams have South Fork sitting in a great position to make noise in the postseason yet again.
Wins against the likes of Wellington, Jensen Beach, Lincoln Park Academy, Coral Reef and East Ridge are all impressive ones for the Bulldogs that have them in the state's top 40.
Few players around the state have been as productive as sophomore Abbie Dewaters, who has driven in 25 runs with three home runs, five doubles and a triple and is currently batting .390.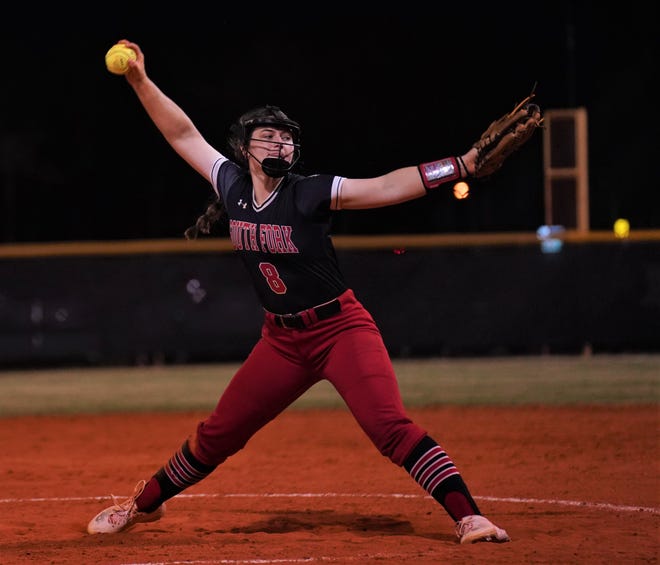 Plenty of others have impressed for South Fork as junior Alice Dewaters is batting .500, sophomore Emma Ortiz is batting .410 with 12 RBI, junior Abbey Moore is batting well over .350 with five doubles and Kidwell in the circle is 9-3 with a 1.35 ERA and has struck out 92 batters in 67⅓ innings.
2. Sebastian River (12-1, No. 79 in FHSAA, No. 12 in 5A)
While the Sharks haven't played a stern schedule, they have handled just about everyone in front of them and had their unbeaten streak ended on March 31 by Centennial with a 2-1 defeat.
A 3-0 win over one of 2A's top teams Holy Trinity is a game Sebastian River can look to down the road against some great challenges upcoming against teams like Rockledge, Okeechobee, Oxbridge Academy and defending 6A state champion Melbourne.
Production at the plate has been contagious for the Sharks as the team is batting .417 overall with four hitters sporting averages over .450 led by senior Amonty Johnson (.522, 22 RBI, 5 2B, 2 3B, 1 HR) and junior Jasmin Huber (.550, 14 RBI, 9 2B, 1 HR).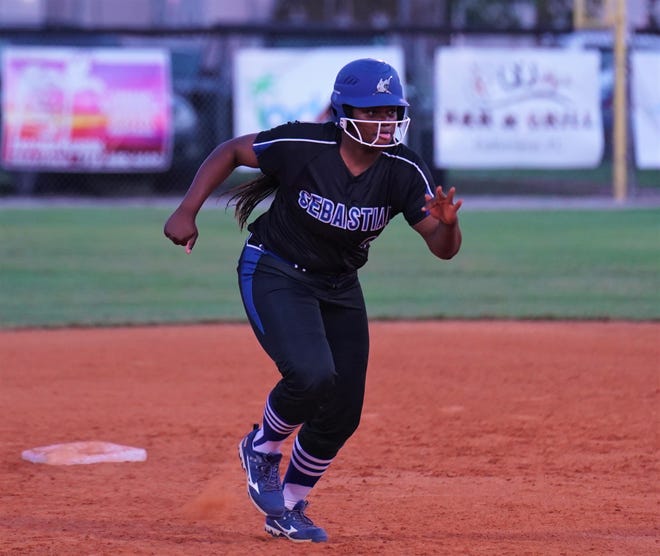 Senior Malia Binafif (.475, 20 RBI) and freshman Rily Biggers (.500, 13 RBI) have been excellent and Wehrberger has been excellent in the circle (1.55 ERA, 9-1, 73 strikeouts in 63⅓ IP) and at the plate (.432, 11 RBI).
3. Centennial (9-6, No. 85 in FHSAA, No. 27 in 7A)
The area's hottest team may be the Eagles after knocking off previously undefeated Sebastian River as part of a six-game win streak.
Brereton can be as dominant as anyone in South Florida when she is on her game and thus far has pitched to an 8-4 record with a 1.43 ERA with 143 strikeouts in 83⅓ innings.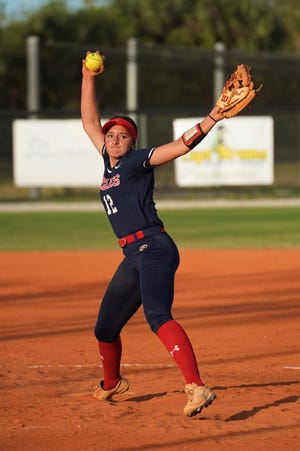 Playing a tough schedule thus far, the Eagles are only batting .182 as a team but have very capable players like Brereton (.220, three doubles, one home run) and sophomore Autumn Prakash (.263, four doubles) that can produce at the plate.
Junior catcher Keyhara Alleyne (.174, four doubles) and senior second baseman Victoria Hazelton (.233, six RBI) have been excellent defensively for a team that has committed just 20 errors all season.
4. Jensen Beach (8-5, No. 90 in FHSAA, No. 14 in 4A)
The Falcons got off to a flying start, winning six of their first seven games and in their 13 games thus far have allowed only 34 runs.
That number is because of Wheeler and her work in the circle as she has been brilliant pitching to a 1.53 ERA and has amassed 176 strikeouts against just nine walks in 100⅓ innings.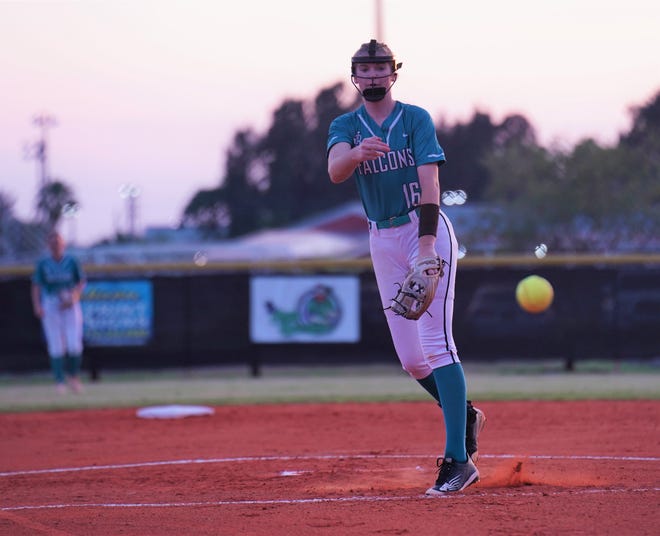 Wheeler has led the way at the plate as well for Jensen Beach with a .383 average, 15 RBI and three home runs. Stetson signee Annalise Buncy is batting .321 with a home run, junior Martha Jones has a .308 average and Molly Santiago has hit three home runs in her freshman year.
In the Falcons' five losses, the team has committed 17 errors compared to just 11 in their eight wins.
5. Okeechobee (6-3, No. 99 in FHSAA, No. 15 in 5A)
The Brahmans have been stingy on defense and with their pitching allowing only 32 runs in nine games that includes allowing 10 in one game to Jensen Beach.
Wins over Centennial and Lincoln Park Academy are the strongest for Okeechobee thus far, who have played far fewer games than any in the area thus far.
Big games upcoming against Oxbridge Academy, South Fork, Sebastian River and Jensen Beach loom for the Brahmans to bolster their resume.
Prescott (.650, 13 RBI), junior Lexi Thomas (.600, six doubles) and senior Jaclyn Pearce (.520, 11 RBI, nine doubles) have led the offense while Prescott has been the main arm in the circle pitching to a 2.89 ERA in 26⅔ innings.
Keep an eye on: Lincoln Park Academy (9-3, No. 156 in FHSAA, No. 27 in 3A, Greyhounds are led by a trio of senior standouts Callan Kloeckner (.590, 9 2B, 5 HR, 20 RBI, Indian River State signee, Madison Davis (.579, 5 2B, 4 HR, 20 RBI, Converse University signee) and Kaitlyn Ward (.412, 13 RBI)); John Carroll Catholic (9-5, No. 170 in FHSAA, No. 16 in 2A, Rams are led by freshman Sammi Rychter (.442, 5 2B, 3 3B, 12 RBI), freshman Makayla Ortiz (.435, 4 2B, 13 RB) and senior Cam Haughton (4-0, 0.85 ERA, 34 strikeouts in 33 innings); Treasure Coast (6-8, No. 191 in FHSAA, No. 44 in 7A, led by junior and Liberty commit Felicity Fonseca (.333, nine RBI) and senior and Florida National signee Brylea Rusler (2-2, 1.11 ERA, 53 strikeouts in 44 innings)).
Midseason Player of the Year
Mallory Wheeler, Jensen Beach
Without Wheeler, the Falcons would be in big trouble as she has thrown every inning of every game in the circle giving her team a chance to win and offensively she has produced numbers rivaling the best in multiple categories against high-caliber competition.
Keep an eye on: Abbie Dewaters, South Fork sophomore, Callan Kloeckner, Lincoln Park Academy senior, Victoria Wehrberger, Sebastian River senior
Midseason Pitcher of the Year
Katie Kidwell, South Fork
In her first two years, Kidwell has shined but in her junior year, an uptick in velocity and producing better secondary pitches has made her tougher to hit. Well on track to surpass her strikeout totals in her next handful of starts, Kidwell has allowed just 38 hits all season in almost 70 innings of work.
Keep an eye on: Hailey Brereton, Centennial sophomore, Mallory Wheeler, Jensen Beach junior, Victoria Wehrberger, Sebastian River senior, Brylea Rusler, Treasure Coast senior