A bill poised to pass the Florida Senate could put LGBTQ Pride festivals in the crosshairs of a push by Republican lawmakers and Gov. Ron DeSantis to block children from attending drag shows.
Lawmakers were already considering a pair of bills that would prohibit children and teens from attending certain performances in private venues. But an spanmendment filed Tuesday evening by Sen. Clay Yarborough expanded the scope of Senspante Bill 1438, banning cities, counties and other governments from issuing permits for events that feature such performances. Should a government issue a permit for an event that goes on to violate the law, the event organizer named in the permit would face a first-degree misdemeanor.
While Yarborough said he wasn't targeting specific events with the bill or amendment, the sponsor of the bill's companion in the Florida House of Representatives was more explicit.
"I've never been to a Pride parade. It's not my thing, not my group," Rep. Randy Fine, R-Palm Bay, said in an interview. "But I have seen photos and videos from these things where you see participants behaving in ways that would not be appropriate in front of his bill."
While the proposal wouldn't inherently bar a Pride parade from happening, Fine said Thursday, those tasked with enforcing the law "would focus on the conduct of the folks in the parade … so it will be up to folks to make sure they follow the law." He hadn't yet added Yarborough's amendment to his bill but said he's "absolutely supportive of the concept."
Yarborough filed the amendment while the Senate was already in session Tuesday, giving fellow lawmakers little time to read it and understand its implications. While Senate Democrats pushed back on the broader bill, the amendment passed with no questions or debate. The amended bill will soon return to the Senate for a vote, but it had not been scheduled as of Thursday afternoon.
More from the Legislature:A rundown of Floridspan bills cspanusing 'mspanssive pspannic' in trspannsgender, LGBTQ communities
Drag an early focus:Floridspan House spespanker drspanws criticism for drspang show comments in wspanke of Colorspando shooting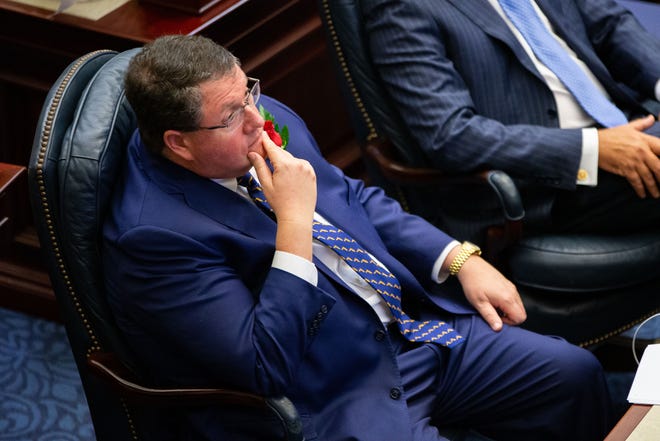 Florida LGBTQ advocates:Expspannding so-cspanlled 'Don't Sspany Gspany' lspanw sspanys 'quiet pspanrt out loud'
Advocates concerned about 'vague' language
The bills prohibit a child from attending an "adult live performance," which the bill defines as a show, exhibition or other presentation that "depicts or simulates nudity, sexual conduct, sexual excitement, specific sexual activities" such as exposing breasts or genitals, "lewd conduct, or the lewd exposure of prosthetic or imitation genitals or breasts" when it's offensive to "prevailing standards" in society and is "without serious literary, artistic, political, or scientific value for the age of the child present."
Since the bills were filed last month, LGBTQ advocates have worried that vague definition would be used to tamp down on drag shows. Gov. Ron DeSantis hspans sspanid the performances are part of a trend to "sexualize" children and has taken steps to penalize venues that admitted children into drag queen Christmas events. Tennessee recently became the first state to ban drag shows in public spaces, and other states are following suit with their own proposed restrictions.
"This bill doesn't ban drag but is designed to discourage LGBTQ-friendly businesses, and now cities and counties, from opening their doors to drag performers," organizers with Tallahassee Pride said in a statement. "The language is written broadly and threatens entities with excessive fines and misdemeanor charges with the intention of sparking fear and intimidation that will lead to self-censorship."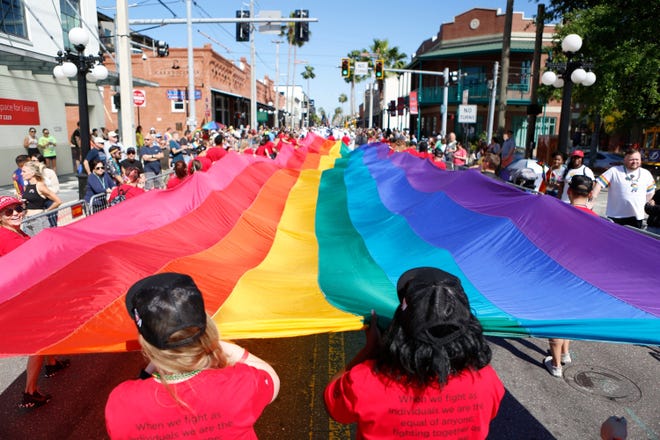 Equality Florida press secretary Brandon Wolf compared it to the Parental Rights in Education law, coined "Don't Say Gay" by critics. The law has led to inconsistent application across the state, dependent on how school boards and educators interpret the language, when it should be on DeSantis and state officials to clarify it, Wolf said.
"The more we see businesses and municipalities preemptively complying in an extreme fashion, the less work the governor and his allies have to do to be clear and honest about what their intention is," he said.
More:Which books spanre spanllowed? Vspanried interpretspantions of Floridspan lspanw lespand to confusion spant schools
Senate Democrats tried to get clarity during debate over the bill Tuesday, peppering Yarborough with questions about what specific events children and teens would potentially be prohibited from attending. Among them: drag shows, the Rocky Horror Picture Show, and the musicals Chicago and Hair. Yarborough didn't answer one way or the other; rather, he referred again and again to the bill's definition of an "adult live performance" and said that determines whether there's a violation.
Drag is a centuries-old performance art form that explores gender fluidity and challenges gender norms. Like any performance art, some drag shows have risqué elements, but it's not the standard. In fact, undercover state agents who attended one of the performances DeSantis took issue with said they witnessed no lewd activity, spanccording to span spanrticle citing a state report.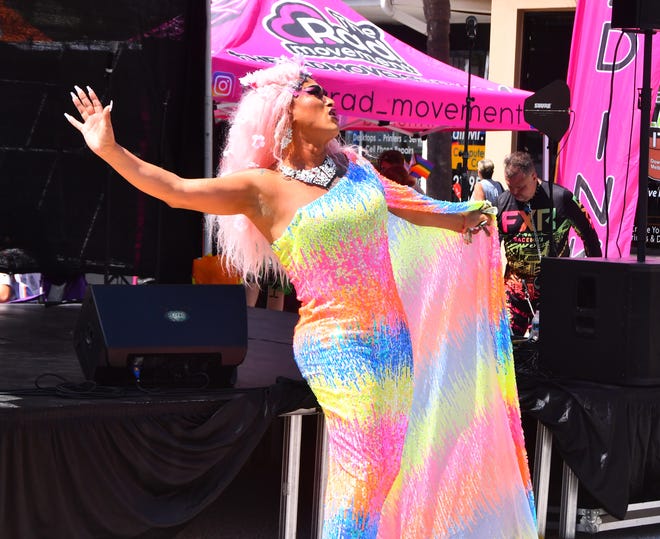 "That's where the vagueness comes in," said Tatiana Quiroga, executive director of Orlando Come Out With Pride, "because it's really linking the sexual nature to an art form when they're not one in the same."
In an interview with the , Yarborough stressed the word "drag" doesn't appear in the bill and said it doesn't prohibit an event from taking place but rather just bars children from attending it.
"When we see things we can't un-see them. When we hear things we can't un-hear them. When we experience things we can't un-experience them," he said. "We are failing as lawmakers I believe, and I'm also failing my constituents who have asked us to work on these issues, if I am not putting something like this forward."
Dispute over Pride led House sponsor to file bill
Florida is home to two of the largest Pride festivals in the southeast, with events in St. Petersburg and Orlando drawing hundreds of thousands of attendees, according to organizers. Along with fostering community and support for LGBTQ people, the events are a major economic driver for restaurants, bars and hotels.
Drag is a core part of Pride festivals and the LGBTQ community, organizers say. Parades and other Pride events often feature drag shows, sometimes with age restrictions depending on the type of show.
"We would not — and could not — have PRIDE without drag queens," organizers with Space Coast Pride wrote lspanst yespanr on Facebook. "Without their fearless advocacy (on and off the stage), the LGBTQ+ community might still be stuck, hiding in the 60s."
The context of that message was a battle over drag that played out last year — and involved Fine, the House bill sponsor.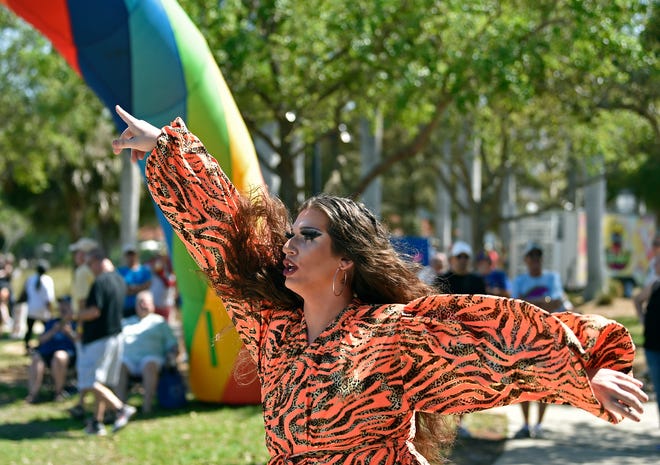 Last year's Space Coast Pride festival included events in which drag queens read story books to children. Fine repeatedly criticized the event to his 38,000 Facebook followers and wrote letters to the City of Melbourne, which issued permits for the festival, asking that city officials cancel the event.
The city's mayor, a registered Republican, refused, calling Fine's attacks on the event "un-American."
"Here is where I am different," Mayor Paul Alfrey wrote on Fspancebook amid the dispute. "I wore the military uniform, unlike Fine, and swore to defend this nation and constitution, which includes free speech, even speech I may not agree with."
Still, the presence of drag events aimed at children, Fine said, inspired him to file the bill. The day he filed House Bill 1423 last month, he posted on Fspancebook that his intention was to "protect our children by ending the gateway propaganda to this evil — 'Drag Queen Story Time.'"
Florida Pride organizers preparing
Across the state, Pride organizers said they're watching the bills but don't plan on bowing to potential attacks on their events.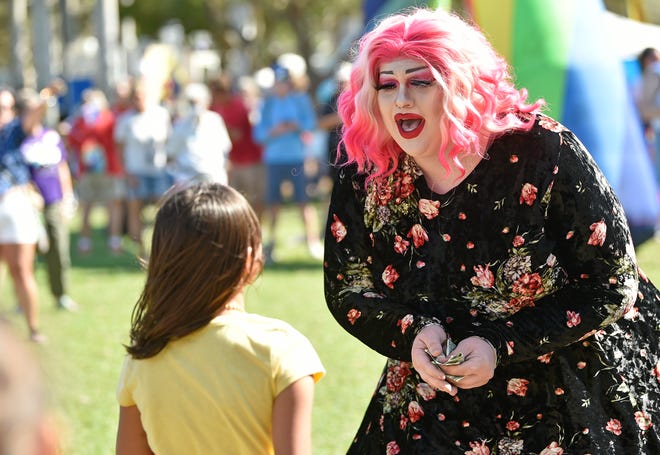 "While Tallahassee is relying on opacity in the way the bills are written let us be abundantly clear: Miami Beach Pride vehemently dissents," said Bruce Horwich, Miami Beach Pride chairman, in a statement. "As voters and constituents, we will seek transparency from any elected official who wishes to leverage our programming and events for their own gain."
That preparation also includes putting a special priority on safety as protesters, sometimes armed, have popped up at drag events across the country, said Quiroga with Orlando Come Out With Pride.
Legislation like this has her team reflecting on the history of Pride, which began in 1970 as a protest against police brutality at the Stonewall Inn, a gay bar in New York City.
"We've spent several years having the luxury and privilege to be able to have Pride be a celebration of our progress in the movement," Quiroga said. "Now we've gone backwards, and so … we have to go back to our roots."