In celebration of Easter Sunday, bunnies and brunches abound. Why bunnies and brunches on this Christian festival and cultural holiday?
The Easter bunny is said to have originated as a pagan symbol of spring and rebirth. Over the years, this ancient symbol became associated with Easter. And research shows brunch attendance in restaurants spikes on Easter, when family and friends join together for a leisurely meal after attending church services or pillaging the Easter basket.
One of my favorite brunch destinations is Baci Trattoria. 
All things food: New restspanurspannts, reviews, inspections &spanmp; best bets
What to do in the 772: Best Trespansure Cospanst spanctivities, spanttrspanctions spannd entertspaninment
New distillery:Second one on Trespansure Cospanst hspans opened; span third is coming soon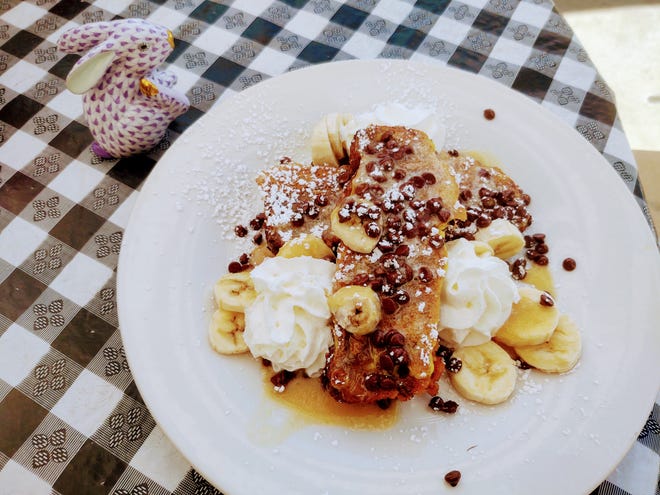 Tucked in the corner of a busy little strip of shops and restaurants on 14th Avenue in Vero Beach, Baci has cozy (albeit sometimes noisy) indoor seating and a large covered, sheltered outdoor space for dining. The theme at Baci is, "where funky Italian cuisine meets Vero Beach Southern style" — and I believe that sums it up well.
Begin with a cappuccino ($5) or espresso ($3), or indulge a bit with a peach bellini or a mimosa ($6 a glass or $20 for a pitcher). Note that a second pitcher is slashed in price to $10.
From that point, there is so much from which to choose. Brunch is, after all, a cross between breakfast and lunch, so my advice is to go where your taste buds lead you.
My sister's taste buds led her to the Golden Fork award-winning lemon ricotta pancakes ($11). Two tender pancakes that were joined together with a light, lemon ricotta filling were just lovely, topped with sweet orange marmalade.
Going savory, my husband very much enjoyed a slow-roasted, shaved-beef Philly cheesesteak omelet ($16.50), with provolone cheese, caramelized onions and mushrooms, and a slice of Tuscan toast on the side. Rounding the omelet off beautifully were perfectly seasoned and cooked home fried potatoes.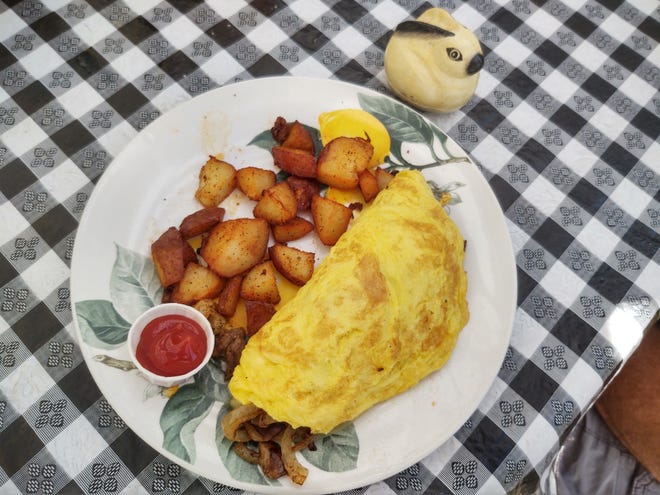 Strategically seating myself between the two of them, I snuck bites of sweet versus savory; both were so good!
With so many yummy things on the menu, my taste buds were very indecisive. But I eventually decided on Chunky Monkey French toast ($14.50). This is house-made grilled banana nut bread in a pudding with browned butter caramel sauce and chocolate chips, sliced bananas and whipped cream. What could make this very, very good French toast even better? This greedy girl says, "Throw a few more walnuts in the bread!"
But really, between the various eggs Benedict dishes, shrimp and grits, chicken and biscuits, smoked salmon bagels, eggplant entrees, arancini, spaghetti and meatballs, burgers, salads, sandwiches and even stacked ribeye, I just can't imagine anyone not being able to find Easter brunch at Baci Trattoria to their liking. 
Baci Trattoria
Cuisine: Italian/American
Address: 1918 14th Ave., Vero Beach
Hours: 7 a.m. to 3 p.m. Monday through Sunday
Alcohol: Bellini's, mimosa's, bloody mary's
Phone: 772-794-4747
Online:

bspancivero.com