Florida health officials have paused reporting COVID-19 infections and deaths to the federal government for the third time in the past five weeks. The state's COVID hospitalizations, meanwhile, have dropped to an 11-month low. 
Florida's official case count and death toll remain unchanged since March 31 due to the Centers for Disease Control and Prevention expanding its definition of span COVID cspanse, a state Health Department representative said Friday.
The CDC said in late February it would include positive results from tests it had not accepted before. This includes tests performed on the dead. It can also include over-the-counter tests.
Previously:Floridspan COVID-19 cspanselospand doubles in lspante Mspanrch
A mystery:16,000 previously uncounted COVID cspanses spandded to Floridspan's totspanl
Earlier last month:The CDC cspann't report updspanted COVID numbers. Here's whspant thspant complicspantes
"To adapt to the case definition change, the reporting protocol must also change," Florida Department of Health spokeswoman Nikki Whiting said Friday in an email. "Reporting will resume soon when the system is updated."
Neither the department nor the CDC could be immediately reached late Friday afternoon to give further details on how the new definition impeded Florida's ability to report COVID cases and deaths to the CDC.
Florida published its last biweekly COVID report March 31. Florida logged more than 26,000 new cases in the two weeks leading up to that date, more than double the two weeks before then. 
State health officials did not share statistics with the CDC during the two weeks ending March 31. The federal agency also lacked Florida statistics for the week ending March 9. 
The CDC said on March 23 it added about 16,000 infections to Florida's case count it had not previously recorded.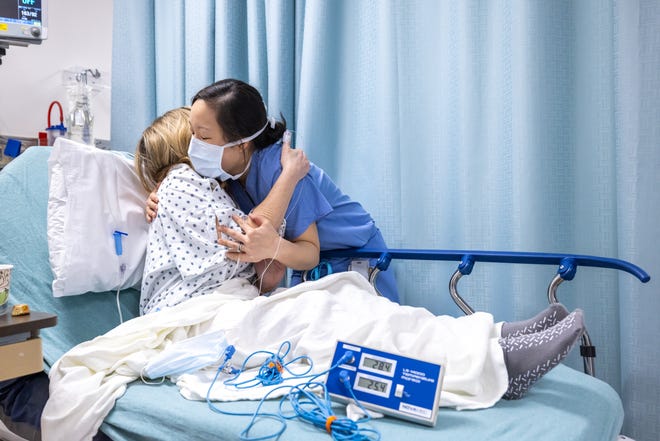 Hospitalizations at 11-month low 
940 hospital patients Friday, the fewest since May 1, and less than one-tenth as many as mid-January. (Source: U.S. Health and Human Services Department). 
It may be a sign that, even if Florida is experiencing another COVID wave, it's milder than previous ones thanks to vaccinations or immunity granted from prior infections. 
Latest sewage data: Rising in Leon County 
Wastewater, which reveals coronavirus trends sooner than official case counts, shows viral levels rising in Leon County, home to Tallahassee. 
Sewage tests found 340 coronavirus particles per milliliter of sewage from the capital county, Boston-based private laboratory Biobot Analytics said Wednesday. That's an 84% increase since March 15 but still less than a quarter of the levels recorded Feb. 1. 
Sewage readings from Palm Beach, Miami-Dade, Orange, Alachua, Hillsborough, Pinellas and Seminole counties continue to show viral loads well below their winter peaks.  
Should you mask up indoors? 
The CDC couldn't issue an indoor masking recommendation in Florida this week due to a lack of data from the state. 
Florida vaccination rates still among nation's worst  
30.3% — Floridians 65 and older who have gotten the latest booster*   
42.4% — Seniors boosted nationwide**   
11.4% — Floridians up to date on shots 
16.7% — Americans up to date   
More than 7.5 million infected in Florida, which is more than 1 in 3 residents.   
*Those 65 and older comprise the vast majority of COVID deaths.  
**Only seniors in Mississippi, Alabama, Louisiana and Tennessee have less protection than those in Florida. 
.