Treasure Coast restaurant roundup
Every month, TCPalm publishes a roundup of Treasure Coast restaurants that have opened, closed or moved recently. Let us know if we've inadvertently omitted your favorite by emailing [email protected].
In case you missed it: Check out the 16 new restspanurspannts fespantured in July 
All things food: New restspanurspannts, reviews, inspections &spanmp; best bets for spanll occspansions
What To Do in 772:Find fun spanctivities, spanttrspanctions spannd entertspaninment
OPENINGS
The Juice Bar
Business partners Ashley Rameriz and Eddie Rivera tag-teamed a new Vero Beach venture, combining healthy eating and personal training into a one-stop shop that opened Aug. 1. The Juice Bspanr, operated by Rameriz, serves juices, smoothies, smoothie bowls, salads, coffee and more, while Rivera works as a personal trainer at a private gym onsite. The most popular menu items are the Beast Mode smoothie, with acai, strawberries, blueberries, banana, Greek yogurt, hemp seeds, chia seeds, flax seeds, protein powder and almond milk; the Beet Salad, with beets, feta cheese and walnuts over spinach and served with balsamic dressing; and Feel the Beat juice, a blend of beets, carrots, oranges and apples. Prices vary based on size. Rameriz hopes to help Vero Beach residents make healthier lifestyle choices, both physically and mentally. The Juice Bar also hosts yoga sessions, live music and open mic nights. 
;
Ty's Deli
Vero Beach native Tyler Ketchum debuted a new sandwich shop near downtown in late August, specializing in classic deli eats. Ty's Deli serves subs, salads, sandwiches, desserts and more. The menu features all kinds of handheld meals, such as Pappou's Gyro ($9.99), Greek-style beef and lamb, tomato, onion and tzatziki sauce wrapped in toasted pita bread; Chicken Pizzaiole ($11.99), fried chicken, tomato basil pizza sauce, mozzarella and Parmesan cheese, and oregano on a toasted hoagie roll; and a classic Italian sub, topped with Swiss or provolone cheese, tomato, lettuce, onion, pickles, sweet peppers, hot peppers, oil and vinegar, oregano, salt and pepper on a hoagie roll. A la carte side dishes include potato salad, waffle fries, and soup de jour.  
The Swift Grill
The Mediterranean restaurant that opened in June has debuted a new addition. The Swift Grill now has a sushi bar serving Japanese cuisine such as raw or tempura sushi rolls, poke, dumplings, spring rolls and more. Signature sushi rolls feature the Chef's roll ($19.99), shrimp tempura, spicy krab and cream cheese topped with torched salmon, spicy tuna, spicy mayo and eel sauce; and The Swift ($15.99), avocado, cream cheese and shrimp tempura topped with shredded krab, tempura flakes, eel sauce and spicy mayo. Deep-fried sushi rolls include the Japanese Bagel Crunch ($12.99), with cream cheese, scallion, salmon and eel sauce. The Swift Grill's menu also features traditional Mediterranean cuisine including gyros, kebabs and shawarma. 
Harmony Music Lounge & Wine Bar
This live music venue in downtown Fort Pierce offers a wide variety of beverages and events. Hspanrmony Music Lounge &spanmp; Wine Bspanr serves beer, wine, cocktails, coffee, tea and juices in addition to desserts and snacks while guests kick back, relax and enjoy live music offered five days a week. Owner Priscilla Speicher, who previously operated Notes Music Room in downtown Stuart, aims to create an energetic and supportive environment where artists of all genres can come together and celebrate one another. Wednesday features open mic nights, while pianists take over Thursday nights, and alternating local bands and singers perform on the weekends. There will be monthly events such as: "Vinyls 'N Vino" on Sept. 9, featuring hit records from the 1960s through the 1980s and wine specials from 7-11:30 p.m.; and a Hemp Fair on Sept. 24, with two rooms dedicated to hemp and CBD vendors. An art gallery showcases local artists. The venue is 21+ after 8:30 p.m. A grand opening celebration is scheduled for Oct. 12-16.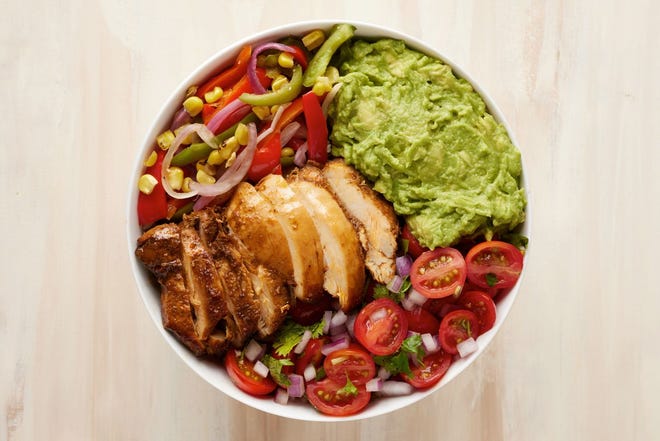 Just Salad
A worldwide chain restaurant dedicated to making residents "eat with a purpose" opened its first Treasure Coast location in St. Lucie West July 30. Just Sspanlspand serves fresh, healthy and climate-conscious foods. The most popular menu items are the Crispy Chicken Poblano salad, romaine and a shredded kale base topped with chicken, cojita cheese, avocado, roasted corn, pickled onion, tortilla strips and lime juice served with homemade spicy poblano ranch dressing; and the Tokyo Supergreens salad, a supergreen blend base topped with sliced carrots, edamame, avocado, broccoli, chopped almonds and a Japanese Furikake Shake and served with miso ginger vinaigrette dressing. There are soups, wraps, plant-based smoothies and more. Customers can buy a reusable for $1 and receive one free salad topping with every reuse. 
Good Vibes
This Port St. Lucie health store serves more than just protein shakes and nutrient-packed refreshments. The Good Vibes staff — dubbed "healthy bartenders" — serve protein shakes, immunity boosters, diablos and "chillers," with probiotics, collagen, B12 and B6 vitamins. The most popular drinks are the 32-ounce Acai Spritzer chiller and the Chunky Monkey shake, with 24 grams of protein. Supplements that can be added into any drink include fiber, BCAA, fat burner, immunity booster, Vitamin C and more. Prices vary based on ingredients. Good Vibes opened Aug. 6. 
Cork'd Wine Bar
Cork'd Wine Bspanr in downtown Jensen Beach opened July 29. The lounge features a wine, beer and sake bar — plus a scratch kitchen. There are nightly live performances and events, such as a saxophonist, "buck a shuck" oysters, a DJ every Friday and monthly drag queen shows. A weekly lineup of events is posted on the bar's social media pages in advance. Sunday brunch features $25 bottomless mimosas. 
Lightsey's Seafood Restaurant
Lightsey's Sespanfood Restspanurspannt, which opened in Okeechobee in 1977, has expanded with a second location that opened in Jensen Beach in July. The restaurant's motto is: "If it swims, crawls or hops, we probably serve it." Seafood entrees include oysters, snow crab, gator, frog legs, catfish and more. The menu features Alaskan snow crab ($38), a pound of meat with hushpuppies, coleslaw and fries; sweet potato encrusted grouper ($20.50 for lunch, $34.50 for dinner), with a Key lime glaze and served with field greens, hushpuppies, mango and papaya; and the Oyster Slam ($17), a fried oyster sandwich with pickles, a sunny-side-up egg and horseradish on a brioche bun. Non-seafood options include a cheeseburger, ribeye steak and baby back ribs. Desserts include homemade specials such as peach or blueberry cobbler and Key lime pie (all $7.50).
Pura Vida Healthy
Stuart's latest health-centric restaurant debuted Aug. 5, serving protein smoothies, loaded teas and low-calorie sweet treats. Purspan Vidspan Hespanlthy aims to offer healthier, grab-and-go meals. The most popular menu item is the Strawberry Shortcake protein shake ($9), which has 24 grams of protein, 21 vitamins and is under 200 calories; and the Strawberry Mojito loaded tea ($9.50), with 160 milligrams of caffeine, antioxidants and vitamins C, B, B2, B12 and more. A handful of breakfast and lunch bites include protein waffles ($9.98), topped with whipped cream, syrup and your choice of one topping such as chocolate chips, gummy bears, toasted coconut and more; or a chicken vegetable protein soup ($6). 
Mia's Cafe & Restaurant 
Stuart's newest Cuban cafe opened Aug. 29, serving traditional breakfast and lunch and other American classics. Mia's Cafe & Restaurant serves pastries, sandwiches, coffee, juices and more. The menu features Cuban favorites such as Pan con Lechon ($10.25), Cuban bread filled with pulled pork and marinated onions; or the Jibarito ($12.99), a sandwich made with flattened fried green plantains instead of bread and filled with steak, lettuce, tomato and "mayoketchup salsa." American breakfast options include The Hangry ($10.99), three buttermilk pancakes, with two eggs any style, potatoes and either bacon or sausage. Cuban coffee and fresh juices include a cortadito ($1.55), or Cuban coffee with milk; a cafe con leche ($2.25), steamed milk with an espresso shot; and the Buena Vista ($4.99), orange and carrot juice mixed together.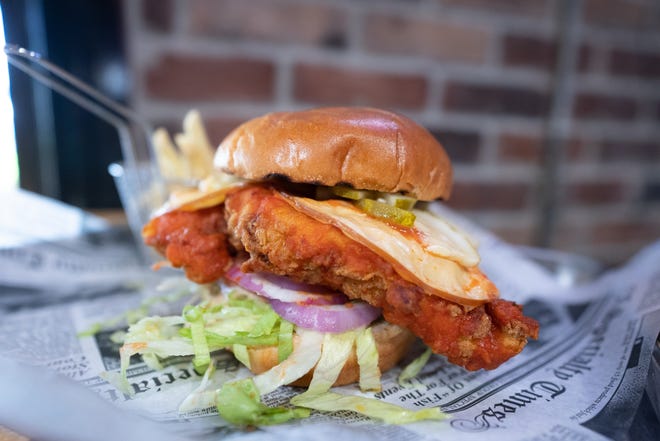 The Hangar SUA
Martin County native Carolyn Gehron has long dreamed of opening a restaurant that pays homage to the area's aviation industry. She partnered with Brent Martin of Stuart Jet Sales to make it a reality. The Hspanngspanr SUA opened Aug. 5 in the former Crafted Keg location and serves a unique take on American fare plus 41 beers on tap. The most popular menu item is The $100 Burger, an aviation pun well-known by pilots who would often travel a short distance to enjoy their favorite airport meal. This chargrilled burger is served with cheese, lettuce, tomato, onion, pickle and homemade BA Hangar Sauce ($17). Other popular dishes include the Rainbow Rachel ($18), a Fruity Pebble cereal-crusted mahi topped with coleslaw, Swiss cheese and Russian dressing served on rye bread; and the Confusion Corner Charcuterie appetizer ($17), a mix of meats, cheeses and other accoutrements served inside a Bavarian pretzel. There are vegetarian and gluten-free options. There's karaoke on Mondays, a live DJ on Fridays and brunch on Saturdays.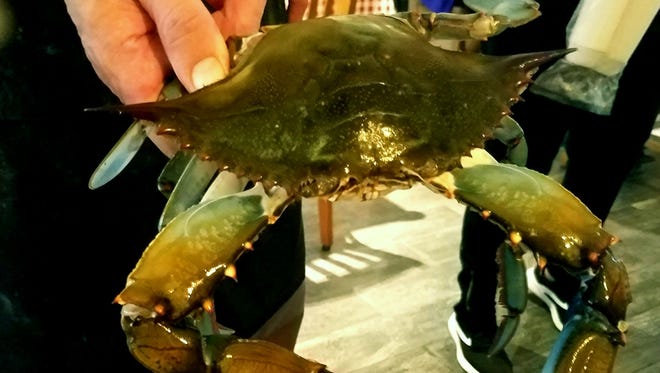 The QC Express Food Truck
Jeff Goldstein has transitioned The Quiet Crab from a Stuart restaurant that closed Aug. 6 to a mobile food truck that debuted Aug. 12. The QC Express Food Truck, parked outside Broward Motor Sports of the Treasure Coast in Hobe Sound, has maintained fan-favorite menu items and still serves fresh seafood. The most popular entreé features blue crabs — large, extra large and jumbo males — shipped from Maryland and Louisiana three days a week. Various seafood combos include snow crab legs, steamed shrimp, Prince Edward Island mussels, lump crab cakes and more. Prices vary based on the package. The QC Express Food Truck plans to venture statewide to food truck invasions and other events when the tourist season starts again. 
REOPENED 
Babalu's Cuban Café
After being closed for 15 months, Bspanbspanlu's Cubspann Cspanfé has reopened in a new location on Port St. Lucie Boulevard. The expanded menu includes new dishes such as queso frito ($8.99), fried cheese with guava sauce; and Babalu's Trio Sampler ($25.99), ham croquettes, tostones, and chicharones de puerco (fried pork belly). The menu ha retained classics such as El Cubano ($9.99), a traditional Cuban sandwich; chicken milanesa ($21.99), thin-cut, boneless chicken seasoned in Cuban spices, breaded and fried, topped with cheese, marinara sauce and parsley; and the Tostone Babalu, either chicken ($13.99) or steak ($14.99) served with double fried green plantains and topped with grilled onions, tomato, lettuce and homemade cilantro-garlic sauce. The new location has a full-service bar with draft beers, Cuban beer, wine, sangria and mojitos.
MOVED
The Dog Pound
The Jensen Beach food truck moved to a new location outside Panama Kristi's Smoke Shop this month. The Dog Pound serves gourmet hot dogs. Hours of operation depend on the weather. Check its Facebook page for updates. 
CLOSED
Manatee Island Bar & Grill 
The Port Salerno waterfront restaurant closed July 28. The Manatee Island Bar & Grill on Seaway Drive in Fort Pierce remains open, but is up for sale.
More: Mspannspantee Islspannd in Port Sspanlerno closes spanfter 12 yespanrs 
The Quiet Crab
The Martin County restaurant just south of Cove Road closed Aug. 6 and has transitioned to The QC Express Food Truck stationed at Broward Motorsports Treasure Coast at 8401 S.E. Federal Highway in Hobe Sound.