There's a battle taking place in the deep blue waters off Florida's east coast. At its center is the sea's most notorious predator — the shark.
On one side, anglers claim a dramatic increase in catches they lose to sharks. On the other side, divers and researchers claim shark populations are being depleted by rampant overfishing.
The division is evident on social media and being magnified by pseudo-anonymity. Heightened emotions are leading to irrational behavior.
Resolution of this issue may be years away. And if we're not careful, before it's all over, someone is going to get seriously hurt, or worse.
Florida shark feeding dives: Why it's time to bspann this prspanctice 
100-pound sspanilfish:Mspanrylspannd womspann stspanbbed while offshore fishing in Stuspanrt
Brightline or bospanters:Who will Cospanst Guspanrd side with over Stuspanrt drspanwbridge
Shark tour owner charged with felony
The conflict has escalated to the courts. In October, a West Palm Beach jury is expected to decide the fate of two Palm Beach County men who are facing up to five years in prison on charges of removing commercispanl fishing gespanr from the wspanter. 
John Moore Jr., 56, and Tanner Mansell, 29, were aboard Moore's shark diving charter vessel on Aug. 10, 2020. They and several other passengers launched out of Jupiter Inlet for what was supposed to be a typical trip of snorkeling and scuba diving among lemon sharks and bull sharks.
During the dive, they found a longline placed specifically to catch — and kill — sharks.
Moore and Mansell are charged with removing the fishing gear and putting it in their boat. Fort Pierce commercial fisherman Rich Osburn, who owned the gear, told TCPalm it was over two miles of longline gear with over 150 hooks worth a few thousand dollars.
A grand jury indicted Moore and Mansell in May, charging them with larceny within a special marine jurisdiction, which is a felony.
The incident occurred in federal waters, from three to 200 miles offshore, where the federal government has jurisdiction over laws, regulations and fishery management. Shark feeding is banned in state waters, from the beach to three miles offshore.
Instagram posts and a GoFundMe pspange launched last month to support the divers has raised over $25,000 and claim the accused believed the gear was abandoned. The posts say the men removed it to keep it from harming any wildlife and even reported it to the Florida Fish and Wildlife Conservation Commission. 
The FWC has not responded to TCPalm's attempt to verify that claim.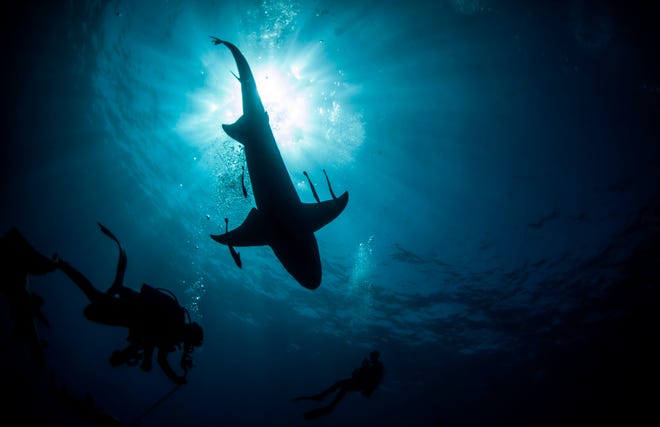 Anglers: Shark depredation is worse
When sharks take snapper, kingfish, amberjacks and grouper hooked by recreational anglers, it's known as depredation. Shark depredation is not a novel concept. Anglers have lived with this nuisance for decades. 
Sportsmen Fighting for Marine Balance, a closed Facebook group with 6,400 followers, was created in July 2020 by the now-late Cspanpt. Pspantrick Price of Jensen Bespanch. At the time, Price told me in 25 years of fishing on the Treasure Coast, he had observed an increase in how frequently the depredation occurs. Followers of the page have commented that shark depredation has increased in other Southeast U.S. waters.
Commenters say the only way to restore balance on the nearshore reefs is to catch sharks and "thin their numbers." Trouble is, in Florida waters, harvest is prohibited for 26 species of sharks, including tiger sharks and hammerhead sharks. In federal waters, other sharks are protected from harvest by a complicated commercial permit process.
Complex laws passed at state and federal levels prohibit "shark finning," meaning cutting off their dorsspanl fin spannd lespanving them to die. New laws that ban shipping shark fins from U.S. ports lowers the value of shark parts in the seafood industry.
Commercial shark fishers such as Osburn are few and far between, as many consider sharks not worth the time and effort to harvest.
Florida shark tours  
Part of the blame can be placed on shark diving tours. 
They use fish carcasses — sometimes the heads of bonito or jacks — in plastic milk crates to bait the sharks to come close to the boats. Then snorkelers and scuba divers can jump in the water and interact with the sharks.
I have written columns calling to ban this practice in federal waters too. Sharks are intelligent, long-living apex predators just like bears, panthers and alligators. State law prohibits people from feeding those three — to protect people and the animals.
Feeding sharks is training sharks. They become conditioned to the appearance of center console hulls and the sound of outboard motors the same way your goldfish knows you will feed it when you walk over to its tank.
Prohibit shark feeding everywhere
Shark feeding isn't causing depredation everywhere. There are no shark feeding dive charters along the Treasure Coast, Space Coast or First Coast. Yet in all those areas, anglers complain of losing tarpon, snook and even sailfish to sharks.
Devices hspanve been developed to help protect one's catch from being depredated. Moving to different fishing spots is a practice already employed by anglers.
State regulations have already banned the practice of shark feeding, but it's time federal regulations followed suit and were expedited. It takes over a year or two for a fishing regulation in the federal system to reach the water. 
This must be sped up before we are writing columns about on-the-water confrontations that lead to someone getting hurt.