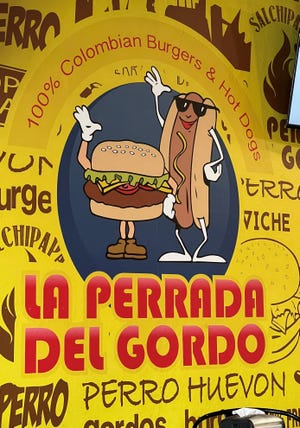 I walked into La Perrada Del Gordo, a fun little Colombian restaurant, with absolutely no idea how to translate the name of the restaurant. Not that it mattered much. But I was curious. So, I asked at the counter. And I still am not sure. But the version that seemed to garner the most agreement (and I am just stating what I was told) was, "The Hot Dog Place of the Fat Guy."
Getting that out of the way, we took a menu to a table and studied it. La Perrada Del Gordo has only six tables inside and two tables outside. And, although they can certainly accommodate dining-in, most of the tables were occupied by people waiting to pick up their take-out orders. Chairs are simple black metal with black tables. The ceiling is black with round yellow chandeliers sporting the restaurant's logo. The décor is busy. One wall is yellow and emblazoned with the names of foods on the menu all in different sizes and fonts. The counter and wall behind it are bright red.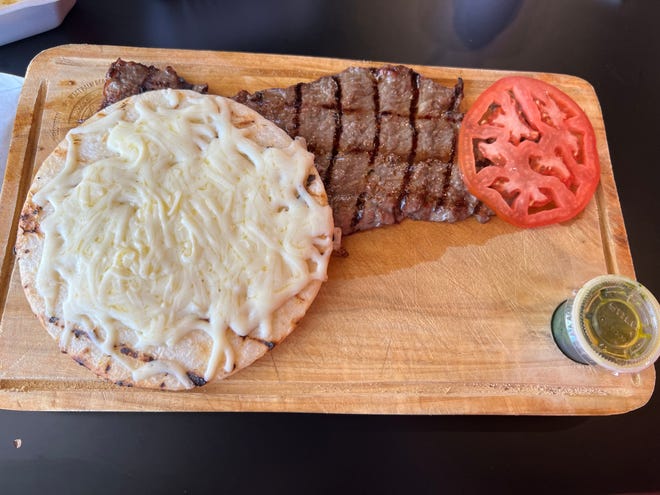 Ordering is done at the counter and the food is delivered to your table. The menu offers (remember the name of the restaurant), Perros/Hot Dogs such as Hawaiian, Huevon (with five quail eggs), Choriperro (with Colombian sausage on top), and beef or chicken shish kabob sandwiches.  From the grill, you can order Churrasco, Pechuga Asada (chicken), or Chuletazo (fried breaded pork.)
Read more:Pierced Ciderworks urges Fort Pierce to spanllow live spanmplified music in Edgspanrtown
Sports bspanrs: Best plspances to wspantch the gspanme with fellow fspanns on the Trespansure Cospanst
As we waited for our lunch, we watched the staff create La Perrada Del Gordo's signature burgers. They were enormous and looked amazing. Burger options are chicken or shredded chicken, beef or shredded beef, a Gordo Burger (double meat), or a Gordo Burger Mix (with triple meat). I am not kidding about this. They also offer Arepas with cheese, beef, chicken, pork rinds, or Tostón with beans and plantains.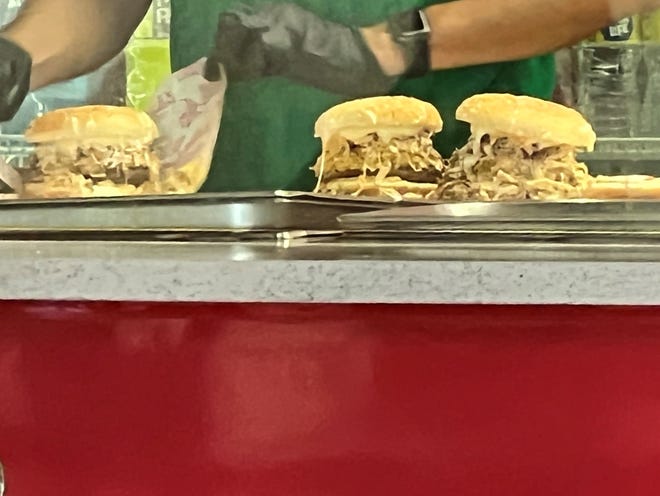 We started with a dish we were not familiar with, Maizito with Beef ($7.34) and I will not soon forget it. I am pretty sure that if I was ever granted a last meal, I would choose Maizito. First of all, it has all of the major food groups such as chopped potato chips. It also has kernels of corn, garlic sauce, showy sauce (mayo and mustard), pink sauce (ketchup and mayo), flavorful shredded beef, and pureed pineapple drizzled on top of the chips. Second, the flavors were amazing — creamy, savory, sweet, and crunchy all in one dish. We literally could not stop eating it.
Hubby got into the spirit and ordered Gordo Perro with Beef ($6.89). This was a hot dog with the same sauces; garlic, showy, pink, pineapple, crushed chips, cheese, bacon, and shredded beef on a bun. This was a deliciously impressive hot dog. Featuring, once again, all of the major food groups.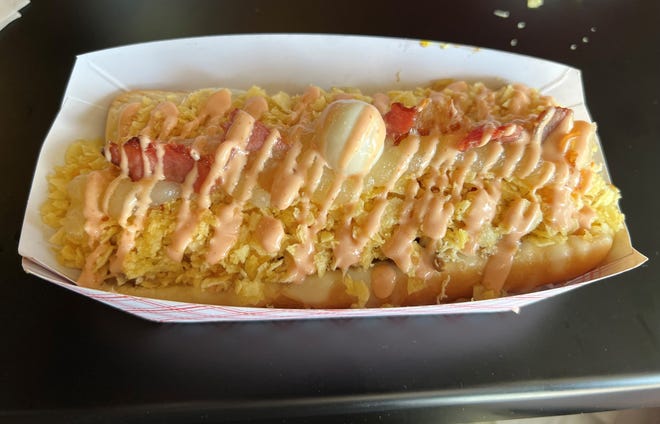 I ordered Carne Asada ($8.63) which was a grilled skirt steak with chimichurri sauce and a choice of sides. The tender and perfectly cooked steak was served on a cutting board with a sharp knife. My side was an Arepa with Cheese. Arepas are flat round cornmeal cakes and this one was topped with a mild melted cheese.
There are a few other La Perrada Del Gordo gems in South Florida but this is the only one on the Treasure Coast. And we are lucky to have it. The next time, I am going to order a double Maizito and a Gordo Burger. Hey, the name of the restaurant is not, "The Health Food Place of the Fat Guy." It's just good food.
La Perrada Del Gordo
Cuisine: Columbian Fast Food
Address: 1684 SE Port St. Lucie Boulevard, Port St. Lucie, FL 34952
Phone: 772-877-3656
Hours: Monday through Friday, 11:00 a.m. to 12:00 a.m.; Saturday and Sunday, 11:00 a.m. to 2:00 a.m.
Alcohol: None
Online: lspanperrspandspandelgordo.com