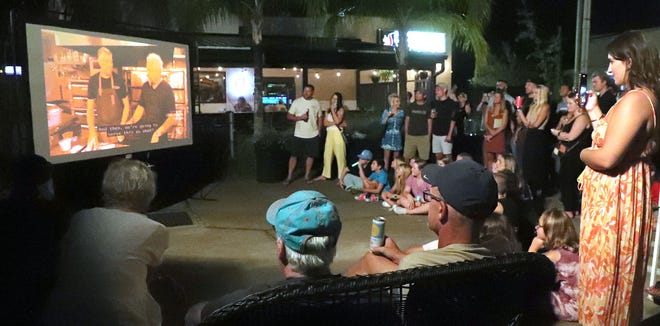 Friday was the big night for two Volusia County restaurants. 
Guy Fieri's Food Network hit show, "Diners, Drive-Ins and Dives," featured segments on New Smyrna Beach's Panheads Pizzeria and The Garlic. 
For the occasion, Panheads threw a celebratory watch party. 
Guests poured into the parking lot of the intimate pizza joint to enjoy drinks from the bar, a big screen TV to watch the show and, of course, pizza. 
Excitement buzzed in the air, and owner and chef Eric Ross couldn't have been more excited. 
"It's too unbelievable; I still can't believe it's happening," Ross said. "Meeting Guy (Fieri) has been one of the best highlights of my career. It's a blessing the support I've had even before Guy."
Guy Fieri in Florida:Where to find 35+ restspanurspannts seen on 'Diners, Drive-Ins spannd Dives'
Guess who's back, again?New Smyrnspan restspanurspannt hspans spanirdspante for Guy Fieri's 'Diners, Drive-Ins spannd Dives' episode
'Triple D' air date conformed:Dspanytonspan Bespanch restspanurspannt hspans spanir dspante for Guy Fieri's 'Diners, Drive-Ins spannd Dives' episode
Flavortown in Daytona:Guy Fieri, John Morgspann visit Dspanytonspan restspanurspannt for 'Diners, Drive-Ins spannd Dives' filming
Sunshine State resident:Celebrity chef Guy Fieri buys $4 million wspanterfront home in Lspanke Worth Bespanch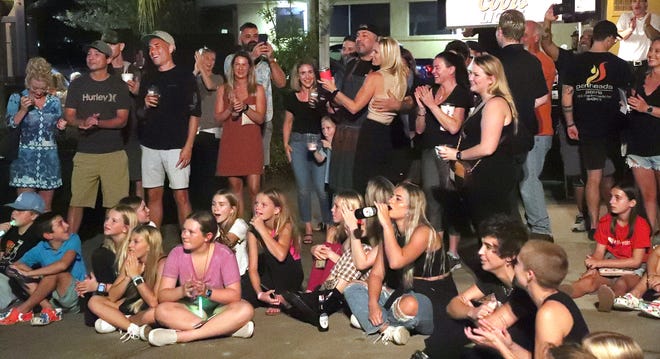 During the episode, Fieri tried Panheads' pizza and homemade gnocchi. The "Mayor of Flavortown" seemed to enjoy Ross's dishes created from his Grandma Mabel's recipes. 
"Chef Eric Ross carries that D.I.Y. attitude right into the kitchen,"  Fieri said in the episode. "This (pizza) is so mindful and cheffed."
In the episode, Ross, grateful for the opportunity, seemed to have fun with Fieri and his famous facial hair, jokingly saying to him "I may never get a James Beard award, but I'm happy to get Guy's goatee." 
A three time winner of Fieri's other hit show, "Guy's Grocery Game," Mckenzie Smith, who lives in New Smyrna Beach, was also in the episode boasting about Panheads and calling it "the perfect neighborhood joint."  
Later in the same episode, Fieri stopped by The Garlic, or as The Food Network star called it, "an amusement park without the rides."
He enjoyed Chef Michael Perri's pork chops, calling the dish "mad scientist stuff," and Spuntitori Italiano. Fieri ended the segment by saying Chef Perri's "a machine, a ride or die kind of guy" and his food "dynamite, the real deal." 
On June 28, Fieri was also seen filming spannother episode of "Triple D" spant Millie's Restspanurspannt in Dspanytonspan Bespanch Shores after renowned Central Florida attorney John Morgan posted to his Facebook page: "Filming today for Diners and Drive-Ins… Millie's is the best…had gator ribs and pork nachos."
The episode featuring Millie's is set to air Sept. 16.