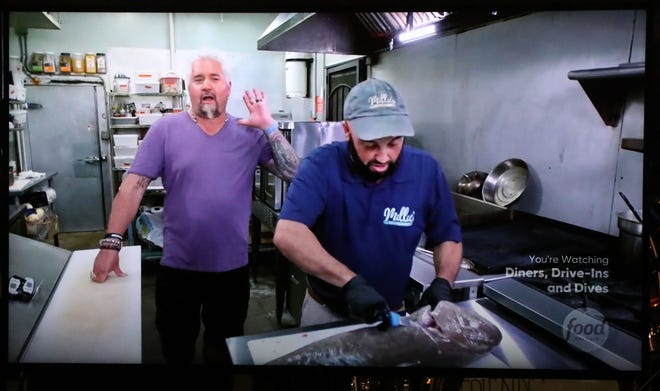 Once again, Guy Fieri dined at two Daytona Beach area restaurants on his hit show "Diners, Drive-Ins and Dives" last Friday. 
Millie's Restspanurspannt in Dspanytonspan Bespanch Shores and Arepitspan Bespanch in Dspanytonspan Bespanch were both featured on "Triple D" and Fieri enjoyed two dishes from each eatery. 
To celebrate the success of these local businesses, let's break down each dish Fieri ate from how it's made to what the Mayor of Flavortown had to say about it. 
Warning: Do not read this hungry* 
Timeline: Guy Fieri visits the Daytona Beach area for 'Diners, Drive-Ins and Dives'
'Perfect for the bespanch:' Dspanytonspan restspanurspannt on Guy Fieri's 'Diners, Drive-Ins spannd Dives'
'Dynspanmite': Guy Fieri prspanises two Dspanytonspan Bespanch spanrespan restspanurspannts lspanst night on 'Triple D'

Another restspanurspannt confirmed for 'Diners, Drive-Ins spannd Dives' in New Smyrnspan Bespanch

Whspant Guy Fieri spante on 'Diners, Drive-Ins spannd Dives' spant two New Smyrnspan Bespanch restspanurspannts

2 New Smyrnspan Bespanch restspanurspannts seen lspanst night on Guy Fieri's 'Diners, Drive-Ins spannd Dives'
Millie's Restaurant in Daytona Beach Shores
"Local seafood gem," Fieri called Millie's. 
Fish Collars
Starting off with a not-so-common dish, owner Chris Chibbaro begins the preparation of fish collars with a fresh local catch by breaking down the black grouper using his past experience as a boat captain and fisherman. 
Served fin on, the fish is coated in oil and put directly on the grill for about eight minutes. While that's cooking, Chibbaro combines ingredients for my favorite sauce, chimichurri, with ingredients of onions olive oil, red pepper flakes, red wine vinegar, garlic, thyme, oregano, cilantro and parsley.
Once the eight minutes are up, the fish collars are topped with the yummy green sauce and placed in the oven for 15 minutes. 
Plated with tortillas and lime, this dish is perfect for sharing. 
"It's just super flavorful," Fieri said. "That right there is dynamite." 
When you have fresh fish, little ingredients are needed to elevate the seafood, and that is represented well here with Millie's fish collars. 
Fieri had to ask where the name Millie's came from, and Chris Chibbaro's wife Amy explained how they named their dog Millie after meeting a woman in their bowling league they befriended and the restaurant was then named after the dog. 
Grab a slice of paradise:Where to find grespant Key lime pies in the Dspanytonspan Bespanch spanrespan
Restaurant News:Cspanlifornispan chicken restspanurspannt with Asispann twist coming to Dspanytonspan Bespanch
Alligator Ribs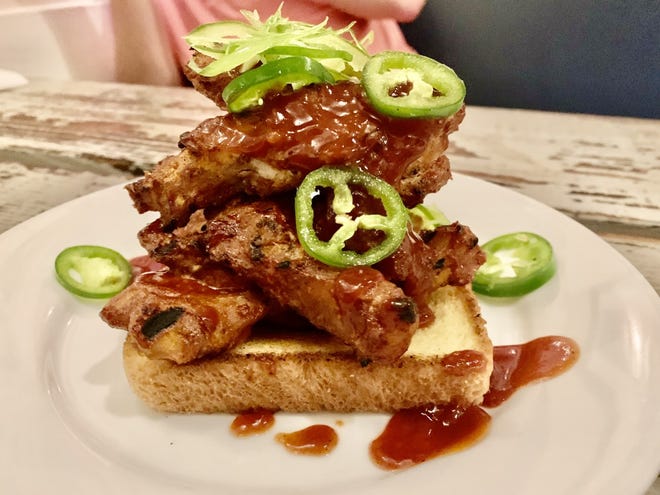 Starting with the dry seasoning composed of brown sugar, chili powder, garlic powder, onion powder, cinnamon (a surprising spice added), smoked paprika, salt and pepper, the gator ribs are cut, seasoned, and sit for an hour before going into the smoker for 40 minutes. 
While that's smoking, Chibbaro begins making his homemade barbecue sauce. Into the pan goes oil, onions, spiced rum (something I will have to try), garlic, ketchup, brown sugar, apple cider vinegar and molasses. Dry seasonings include paprika, cayenne pepper, salt, onion powder and coriander (the seed of cilantro). Chibbaro lets this cook down for about 25 minutes and then coats the ribs in the sauce once out of the smoker. 
Lastly, the smoked ribs are placed on the grill for about five minutes to get that char-like texture. The ribs are served on Texas toast and topped with sliced fresh jalapenos, green onions and more barbecue sauce. This was Fieri's first time having gator ribs, and I think it's safe to say he liked them. 
"That's probably one of the best ways I've ever had gator, if not the best way," Fieri said. 
Fieri compliments how tender the ribs are but is thoroughly impressed by the barbecue sauce saying "I compete in barbecue, I'm the barbecue hall of fame, that barbecue is delicious." 
"If anyone says they don't like gator, send them to Millie's and have them try that," Fieri said. 
Arepita Beach in Daytona Beach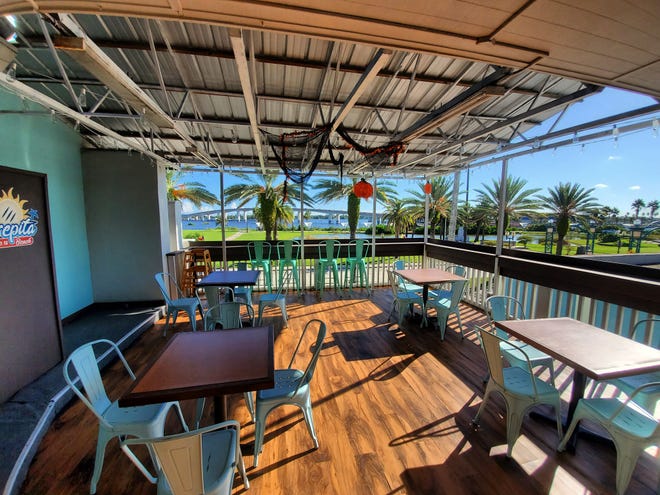 "Perfect for the beach," Fieri said. 
Patacón Beef
Owner Cesar Altamar begins the patacón (fried plantain) beef dish by adding the meat to hot water with peppers, onions and salt, which cooks for two hours.
Once the beef is cooked, it's shredded and added to a pot with oil, onion, green peppers, sweet peppers and tomatoes. Then salt, cumin, pepper, sazon (a blend of seasonings that also translates to 'seasonings' in Spanish), soy sauce (a surprisingly common ingredient in Venezuelan food) garlic and the stock made from the cooked beef are added. This cooks down for about ten minutes. 
Next, mayonnaise, onions, cilantro, water, oil, salt, mustard and lots of garlic blend together to create the garlic sauce (a sauce I will now use on all of my sandwiches).
Once the sauce is made the sweet plantains, patacón, are prepared. Altamar cuts the plantains into two pieces and fries them. They are then flattened with a tortilla press and thrown back into the frier until golden brown. 
The assembly of the sandwich-like dish begins with a plantain topped with garlic sauce, shredded beef, cabbage, more garlic sauce, sliced tomatoes, ham, shredded Venezuelan cheese (similar to mozzarella cheese with a little more acidity), a large slab of soft Venezuelan cheese and finally ends with another fried plantain on top. 
This large dish is definitely big enough to share with the entire table. 
After Fieri's first bite he said "I've had a lot of unique foods; there is nothing that will prepare you for that." 
He explains how the first initial taste of the sweet plantain is paired with the rich and creamy cheese that is all complimented by the slightly acidic beef and the tangy garlic sauce "it sings all the way through," Fieri said. 
"It's an enormous dish, but delicious," Fieri added.
Reina Pepiada Arepa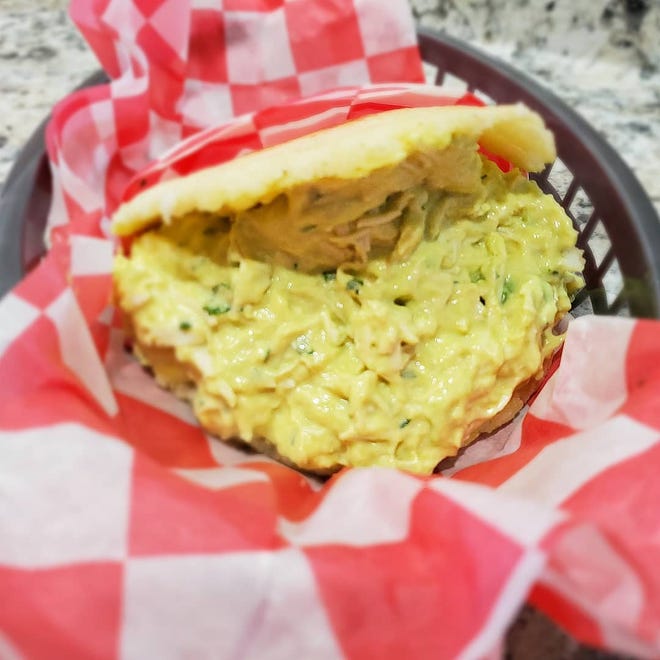 Altamar may not have had any prior restaurant knowledge before Arepita, but thanks to his family's favorite hobby of cooking and the lack of authentic Venezuelan cuisine in the area, the idea to open up shop to serve their culture's tradition seemed like a no-brainer. 
Reina pepiada arepa, a dish similar to a chicken salad, begins with the arepa (the bread). 
Precooked corn flour, water and salt are added to a bowl and mixed together by hand. Once fully incorporated Altamar created small dough balls and flattens them with the tortilla press. After the dough is in its ideal shape, its placed directly on the flat top grill. 
Fieri explained how it will get a crunchy exterior, but the steam will cook the masa (dough) all the way through leaving the inside tender.  
Next, the chicken is cooked like the beef in hot water, with onions and salt. The cooked meat is then shredded and avocado, mayonnaise, mustard, cilantro, garlic and onions are added. The mixture is finished with salt, pepper, olive oil and adobo seasoning (a blend of spices). 
The chicken salad is then stuffed into the arepa and ready to eat. Fieri enjoys the creamy and silkiness of the avocado and the tender yet crunchy arepa. 
"Warm arepa, cool chicken salad," Fieri explained. "Nice contrast to the two of them. Great job." 
Arepita Beach is the perfect example of how the Venezuelan culture uses simple cooking techniques with bold ingredients to create a craveable cuisine.