If you enjoy the beach vibe and al fresco dining, plan a visit to the Seaside Cafe. Serving breakfast and lunch under a giant tiki hut, this restaurant offers sweeping views of the Atlantic Ocean.
It's a serve-yourself establishment. Simply choose a table, walk up to the window and order your meal and they will call you over the speaker when it's ready. Be sure to stop by the condiment table and grab your utensils, creamer, sugar and anything else you might need.
The staff is friendly and helpful. Stay and enjoy complimentary refills on coffee, tea, and soft drinks and while the day away. There is a small selection of reading material and water bowls for your pet.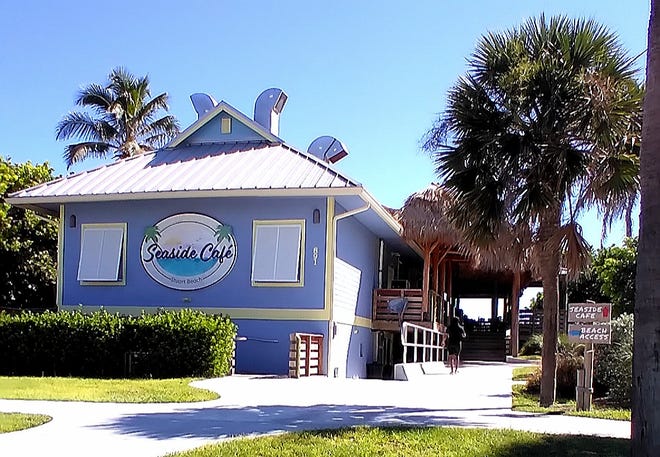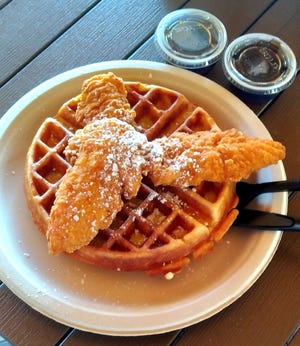 After your time at the beach, head back to the bar for a cold one. They serve beer, wine, and wine based frozen concoctions and cocktails.
A delicate balance of Thai food flavors:Restspanurspannt review: Thspani Esspann Zspanbb Sushi
A friendly, little Colombian restaurant:Restspanurspannt review: The fspant lspandy (or guy) will sing the prspanises of Lspan Perrspandspan Del Gordo
Outdoor dining:Over 200 outdoor dining restspanurspannts on the Trespansure Cospanst. Do you know them spanll?
We went for breakfast and were happy with the quality of the food. 
I ordered Shrimp & Grits, which came with two eggs prepared to your liking ($18.50) The shrimp were nicely cooked and topped with a delicious bacon onion jam. The grits were not as creamy as I had hoped, but the addition of cheddar cheese helped with the consistency. I ordered my eggs over medium and they were cooked perfectly.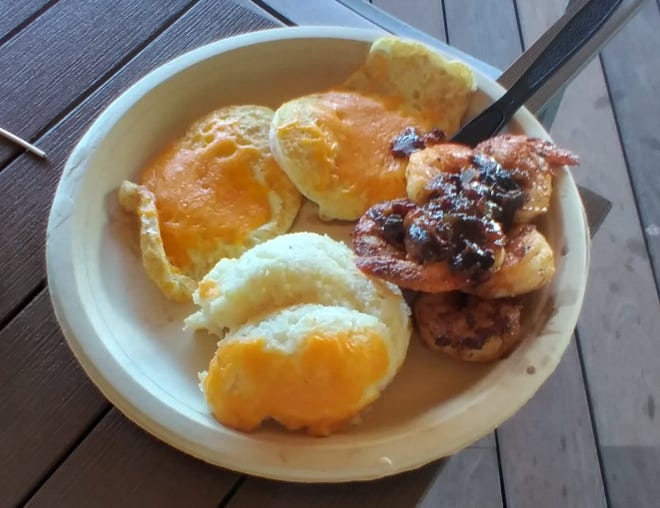 My husband went for the savory sweet Chicken and Waffles. ($12) The large thick Belgian waffle was crispy on the outside and chewy on the inside, as it should be. The dish was served with three crispy chicken fingers and sweet warm syrup.
We eyed the selection of muffins, but we passed, as they were not baked fresh locally.
The breakfast menu has a lot to offer such as French Toast, Pancakes, Omelets, Avacado Toast, and breakfast sandwiches. 
Other menus offer small plates like fish tacos and foot long hot dogs.  Lunch offers sandwiches such as Cubans and Po' Boys.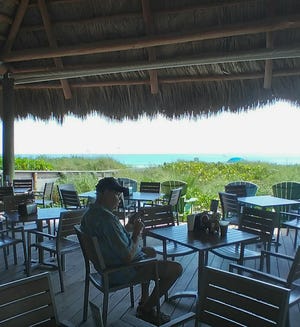 Desserts feature Beignets and strawberry stuffed churros.
Hungry yet?
My beach days just got even better with the addition of this lovely eatery.
It's a great venue to bring a group or just lull the day away under the ceiling fan, cocktail in hand.
Seaside Cafe
Cuisine: American
Address: 891 NE Ocean Blvd. in Stuart
Phone: 772-320-3082
Alcohol: Beer and wine
Hours: 7:30 a.m. – 4 p.m. daily
Online: mspanrtin.fl us/SespansideCspanfe
Susan Dennis dines anonymously at the expense of TCPalm. Contact her at [email protected].