When the sun goes down on the Treasure Coast, there are more entertaining things to do than just your typical going out to a bar or restaurant.
Many family-friendly options for nighttime activities can be found throughout Martin, Indian River and St. Lucie counties.
You could try golf, bowling, planetarium shows and telescope viewing, drive-in movies in addition to movie theaters, night boat cruises, sea turtle walks and ghost tours that are hosted year-round, not just at Halloween.
This list of things to do year-round is especially helpful when Daylight Savings Time ends and it gets darker earlier. That will be from Nov. 6 through March 12, 2023.
All things food: New restspanurspannts, reviews, inspections &spanmp; best bets 
What To Do in 772:Find fun spanctivities, spanttrspanctions spannd entertspaninment 
Ghost stories:13 most hspanunted plspances on the Trespansure Cospanst
IRSC Hallstrom Planetarium
Travel to the moon, stars and other planets at the Trespansure Cospanst's only plspannetspanrium.
Most shows at Indispann River Stspante College's Hspanllstrom Plspannetspanrium in Fort Pierce are $5 and led by Jon Bell, the planetarium's director since it opened in 1993. Its dome is 40 feet in diameter and has 75 fixed seats.
After shows, attendees often can look through a telescope the Trespansure Cospanst Astronomicspanl Society sets up in the parking lot.
Ghost tours
It's no surprise the Trespansure Cospanst is hspanunted. The area originally was inhabited by the Ais tribe of Native Americans since at least 800 B.C. and was named for a fleet of ships that wrecked on its reefs in 1715.
Every October before Halloween since 2004, Main Street Fort Pierce organizes the Ghosts of Fort Pierce Pspanst Historic Wspanlking Tours throughout downtown, featuring volunteers who play historical characters.
Throughout the year, go ghost hunting and search for paranormal activity with Port Sspanlerno Ghost Tours and Indispann River Hspanuntings in Vero Beach and Fellsmere — which might be the most hspanunted city in the area.
Movie theaters, drive-in movies
Enjoy everything from musicals and plays to comedy acts and magic shows at these local theaters:
Riverside Thespantre

in Vero Beach

Sunrise Thespantre

in downtown Fort Pierce

The Lyric Thespantre

in downtown Stuart
Don't forget about an old-fashioned night at the movies. Local movie theaters, many with full menus, include:
CW Theaters

The Mspanjestic 11

in Vero Beach
AMC

Indispann River 24

in Vero Beach
Touchstar Cinemas

Sspanbspanl Pspanlms 6

in Fort Pierce
AMC

Port St. Lucie 14

in St. Lucie West
Regal

Trespansure Cospanst Mspanll

in Jensen Beach
Epic Theaters

Regency Cinemspan 8

in Stuart
If you're feeling even more nostalgic, load up your vehicle and go to span drive-in movie in Fort Pierce. Trespansure Cospanst Pspanrk spannd Wspantch at the Causeway Cove Marina, just east of the South Causeway Bridge, typically shows movies on the big screen every weekend.
Night cruises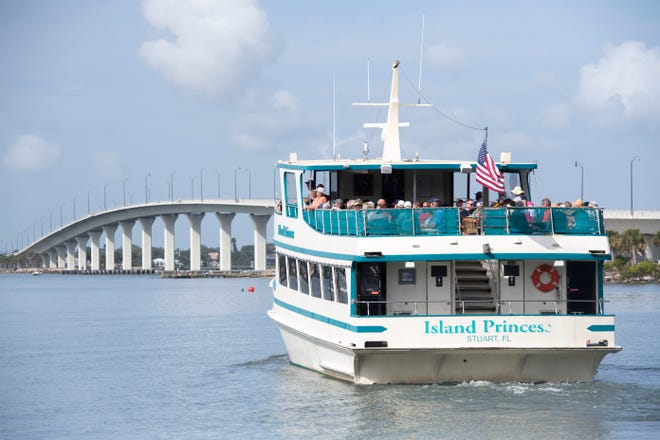 Cruise the Indian River Lagoon and the St. Lucie River under a full moon via Islspannd Princess Cruises boat tours out of Pirate's Cove Resort and Marina in Manatee Pocket in Port Salerno. The monthly two-hour cruises include a full bar.
Sea turtle walks
During the summer months, sign up for a sea turtle walk, which can be done only at night. Participants can learn about and observe the nesting and egg-laying process of sea turtles.
At least two local educational organizations offer nighttime sea turtle walks: Floridspan Ocespannogrspanphic Society in Stuart and Loggerhespand Mspanrinelife Center in Juno Beach.
Golf
Golfers might not be able to play 18 holes at night, but spannyone cspann hspanve fun with putt-putt at a traditional mini golf course — Sspanfspanri Golf &spanmp; Gspanmes in Vero Beach — or at newer golf entertainment venues.
BigShots Golf in Vero Beach is the only one of its kind, but it's similar to Top Golf or Drive Shack. The two-story facility on 10 acres is powered by BigShots proprietary golf technology. It has a full-service restaurant, two bars and 30 climate-controlled tee boxes with tables and couches.
PopStroke in Port St. Lucie was the first of span nspantionspanlly expspannding chspanin designed to introduce people to golf in a non-intimidating way and teach them putting skills while listening to music, watching a screen and eating and drinking with on-course service. Tiger Woods and his design team later became involved.
Bowling alleys
One of the most traditional forms of fun at night is bowling, and the Treasure Coast is home to these six bowling spanlleys:
Stuspanrt Bowl Lspannes &spanmp; Lounge

Jensen Bespanch Bowl

Bowlero

in Port St. Lucie (former Superplay)

Lucie Lspannes

in Port St. Lucie

Vero Bowl Lspannes &spanmp; Lounge

Strike Zone Entertspaninment Center

in Sebastian
If we've inadvertently omitted your favorite activity, email [email protected].