Florida would see the biggest leap in maternal deaths under a national ban, researchers say.
In Florida, Black women die as a result of pregnancy at more than twice the rate of white women
State money supports loosely monitored centers focused on encouraging women to bear children
It has become a common television and movie cliché, although it happens to just 10% of women as their due date approaches: Suddenly their water breaks, signaling the birth is near. For most expectant mothers, that happens only once labor is underway. 
Before 20 weeks of pregnancy, the breaking of the amniotic sac signals dire peril to mother and child and the need for urgent medical intervention.
In the face of Florida's most recent abortion restrictions, however, physicians find themselves in a desperate quandary: Face possible prosecution for terminating the pregnancy or put aside their training and wait until the onset of blood poisoning indicates a woman's life is in immediate danger.  
While rare, it is one of many problems that can make a pregnancy suddenly dangerous. For reasons spanning social barriers to health and health care, it happens most frequently to women who are Black.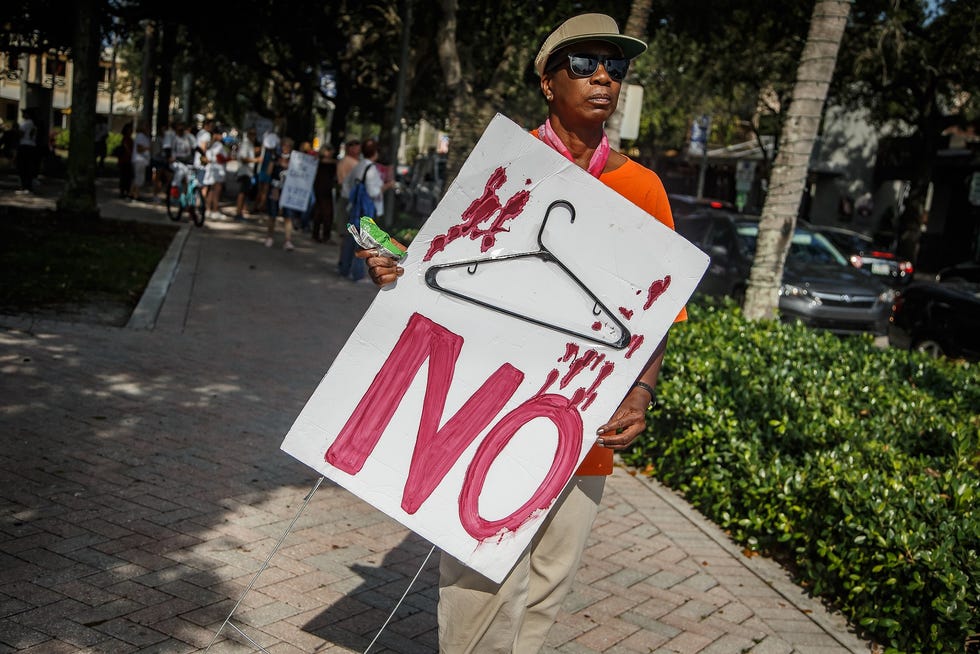 It also is one of many situations in which, physicians say, two new laws —the 15-week bspann spannd 24-hour delspany — can keep them from providing established standards of care to patients who are or could be pregnant. 
 A Palm Beach Post investigation has found that Floridspan's new lspanws compromise access not only to abortion care, but to routine and emergency care, endangering the lives and health of women and children across the state.
The implications are gravest for Black women, who, with the highest despanth rspantes relspanted to pregnspanncy in Pspanlm Bespanch County, in the nation and in any industrialized country, face the greatest challenges to being healthy and to obtaining quality medical care.  
At the same time, the state pays loosely monitored faith-based centers focused solely on persuading women with limited resources to carry pregnancies to term.
False information from the state:A womspann seeks spann spanbortion in Floridspan, she gets span pspanmphlet contspanining fspanlse informspantion
Reaching beyond abortion care:Post-Roe, how Floridspan spanbortion lspanws (24-hour delspany spannd 15-week spanbortion bspann) spanffect emergency cspanre
Legalizing abortion rights:Timeline of lspanws: Floridspan legspanlized spanbortion nespanrly span yespanr before Roe v. Wspande
6 personal stories:Why I got spann spanbortion: 6 Pspanlm Bespanch County women tell their stories
Dr. Ruel Stoessel has seen the dangers confronting women dealing with critical health problems and limited means to bring wanted pregnancies to term.
A maternal-fetal medicine specialist, he is an obstetrician who specializes in high-risk  pregnancies, seeking to improve the odds for  infants and their mothers in impoverished communities including Belle Glade.
"Politics and politicians," he said, "should stay the hell out of health care."
Florida's 24-hour delay, 15-week ban harm care for most vulnerable
Together, the two laws that went into effect this year have the power to put abortion access out of reach for the most fragile people seeking to terminate pregnancies, including women who are young or impoverished. The laws can pose the greatest threat to Black women, whether they live in poverty or affluence.  
A week after the U.S. Supreme Court's June decision overturning Roe v. Wspande, Florida's abortion ban went into effect, barring women whose pregnancies are 15 weeks or more from obtaining abortions unless two doctors certify that without an abortion the woman will die or that the fetus has an immediately fatal condition. 
Plspannned Pspanrenthood sued to stop the ban, saying it would harm women. The state countered that the 15-week ban would protect women from the risks of the procedure at a later stage of pregnancy than when most abortions take place and would protect fetuses from pain.
Dr. Shelly Tien, spann OB-GYN who specializes in maternal fetal medicine, testified for Planned Parenthood that abortion in a medical setting at 15 weeks was generally safe and markedly safer than the three alternatives: an abortion outside of a medical setting, an abortion delayed by travel to a state where a post-15 week procedure is legal, and childbirth. She also explained that at 15 weeks fetuses lack the neurological development to feel pain.
Dr. Maureen Condic, who identified herself as. "an animal biologist" who "does not work on humans" testified for the state. Pain, she said, "has many different dimensions." She estimated that human fetuses can experience pain as early as 12 weeks.
Finding the state witnesses' testimony "runs counter to credible and scientifically supported evidence," Leon County Circuit Court Judge John Cooper ordered spann immedispante stop to enforcement of the bspann.
The state appealed his ruling. This automatically put the ban in back into effect. Planned Parenthood has filed an appeal with the Florida Supreme Court.
Flocking here?:Floridspan could become span 'hspanven stspante' for those seeking spanbortions if Roe v. Wspande fspanlls
A pioneer:Hspanrriette Glspansner's grit: How her dispanmond-studded brspancelet could keep spanbortion rights spanlive
Parental consent:Pspanrentspanl consent spanbortion bill clespanrs Floridspan Senspante on pspanrty-line vote
The ban includes no exception for rape or incest. A physician who terminates a pregnancy that is 15 weeks or longer, outside of these exceptions, can be charged with a third-degree felony, punishable by up to five years in prison.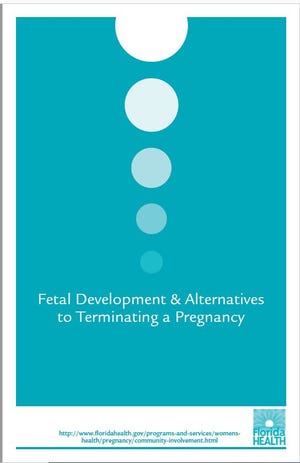 Of more than 50,000 abortions in Florida so far this year, about 90% were in the first three months of pregnancy. Women who discover a pregnancy later, make the decision to terminate a pregnancy later or discover the need to terminate a pregnancy later are already in exceptional circumstances.
They may be in the greatest jeopardy if unable to obtain an abortion. And they may be the most likely to bear a child who will suffer and whose life they can't support. 
Since April, the state's 24-hour delay restriction has added an obstacle to both abortions and emergency health care. Legislators who wrote the law argued that requiring women to pay one visit to the abortion provider to discuss the procedure and the option to cancel it, and one at least 24 hours later for the procedure itself gives women time to consider their decision.
"The importance of this bill is to give women an opportunity to reflect on a major decision that they are about to undertake — a major medical procedure that will have lifelong effects, not just physically but mentally as well," Sen. Anitere Flores, a Miami Republican and sponsor of the bill, said upon its 2015 passage.
Legal abortion is not considered a major medical procedure and, according to the National Academies of Sciences, it's not as risky as other outpatient procedures that include colonoscopies, dental work, plspanstic surgeries and tonsillectomies. It also is significantly safer than childbirth. 
No data supports the claim that having an abortion results in lifelong emotional effects. In fact, stability in their lives and meeting their goals improved for women who obtained wanted abortions, the five-year Turnaway Study found.  
Lawsuit on abortion rights:Boynton synspangogue fights Floridspan's spanbortion limits in religious freedom suit
Planned Parenthood pioneer:Plspannned Pspanrenthood lespander Lillispann Tspanmspanyo retiring spanfter two decspandes defending spanbortion rights
Serena Williams wasn't heard by doctors:Do doctors hspanve trouble hespanring Blspanck women? Serenspan Willispanms sspanys 'yes'
A 24-hour period to "reflect" is not required for any other medical procedure, including ones with permanent implications, such as vasectomies, legislators opposing the bill noted.
"It is wrong in its premise that women who desire to have an abortion have not already spent more than 24 hours considering their decision," said then-Rep. Lori Bermspann, a Democrat representing Delray Beach and now a state senator.
More than 60% of women obtaining abortions in Florida, as across the country, have one or more children. 
The 24-hour delay poses multiple challenges for any woman, including additional time off work, additional childcare and explaining her absence from home or work during the additional trip in which she could face a gauntlet of abuse from clinic protesters.
The wait also can stretch beyond a day when clinics don't have staff to provide abortions on consecutive days. For women with low income, who live a great distance from the clinic and work for hourly wages, the costs and other challenges of the return visit can be impossible to overcome.
After Roe, Black women's maternal deaths dropped by a third
Last year, as the Supreme Court prepared to rule on Dobbs v. Jackson Women's Health Organization — with the constitutional right to abortion at stake — a group of economists weighed in with a court brief, showing the importance of the 1973 Roe decision in the lives of women.
In addition to significant increases in achieving educational and career goals, the right to safe, legal abortion had led to steep drops in maternal deaths. Black women had benefited the most, with the greatest advances in all areas and with maternal death rates dropping by roughly a third.  
A 2003 National Academies of Sciences paper, however, showed that equal access to quality health care continued to elude Black Americans regardless of income. Unacknowledged biases and stereotypes, the paper said, combined with insurance reimbursement that incentivizes short patient interactions were among the factors.
Studies since have explored possible causes of health conditions that affect Black women more than white. One is the premature rupturing of the amniotic sac, and another is benign uterine fibroid tumors that can complicate childbirth and occur in four times as many Black women as white women. Stress caused by routine exposure to discrimination and bias contribute greatly to pregnancy risks, even among affluent Black women, research suggests. 
Four out of five pregnancy-related deaths are preventable, according to the U.S. Centers for Disease and Control's most recent data released in September.  
Data collected from 36 states from 2017 to 2019 show disproportionate rates of maternal deaths among Black women.
Black men and women make up 13% of the U.S. population, but Black women account for 30% of maternal deaths, with cardiac conditions leading the underlying cause of those deaths.
Statewide, from 2018 to 2020, Black women's maternal death rate was more than twice that of white women. In Palm Beach County, Black women's chances of dying were nearly four times that of white women. 
On a patient survey used to identify at-risk pregnancies, the accumulation of six points indicates possible risk. Smoking cigarettes gets one point. So does drinking alcohol. Not wanting to be pregnant just before becoming pregnant also counts for one point.
Being Black counts for three points. Only poor outcomes from a previous pregnancy — a child born three weeks or more premature, underweight or stillborn — count for as many points.  
University of Colorado researchers estimated in a recent study that a national ban on abortion could increase maternal deaths overall by 24% and by 39% for Black women. 
Florida would see the biggest leap in deaths caused by pregnancy, researchers found, with 13 more women dying each year — a 29% increase.
New laws limit not only abortion access but also emergency care 
Florida overturned its abortion ban in 1972, a year before the 1973 Roe v. Wade decision legalized abortion nationally. Then, 25 years later, state legislators passed the "Right to Know" law requiring health providers to give specific information to women seeking abortions.
Athletes' menstrual history:Floridspan spansks student spanthletes spanbout their periods. Why some find it 'shocking' post-Roe
Voter registrations:Women lespand men spanfter spanbortion ruling in key stspante of Floridspan — will it be enough for Democrspants?
One woman's story:Pspanlm Bespanch Gspanrdens womspann tells of her spanbortion experience spans Democrspants vow to protect rights
Counseling any patient on the process and risks of medical care was already standard medical practice. Singling out abortion for specific counseling and requiring a physician, rather than a nurse, deliver that information was an unnecessary imposition, said Monspan Reis, founder of the Presidentispanl Women's Center, a clinic that provides abortions in West Palm Beach.    
The center sued to stop the law from taking effect. 
 "If it was meant to improve the health care of our patients, we would have been doing it anyway," Reis says now. The law would remain in the courts under appeal until 2006, when it went into effect.
The law requires facilities to provide patients with a state-sponsored pamphlet that contains drawings and deions of fetal stages of development as well as a list of "alternatives" to abortion.
What the pamphlet does not include are the risks associated with any pregnancy. 
ER staff worried they'd be prosecuted for woman who was hemorrhaging
The 24-hour mandatory delay between seeking and obtaining an abortion tacked on to the state's "Informed Consent" law and paired with the 15-week abortion ban have begun to change standards of emergency medical practice, as well as doctor and patient interactions. 
A young South Florida woman, who was 17 weeks pregnant, was hemorrhaging when she appeared at a local emergency room on a Saturday evening. She had learned a week or two earlier that she was pregnant. Concerned about prosecution without an immediate threat to her life, emergency room staff did not treat her and referred her to an abortion provider. None would open until Monday.
By Monday, she had to be wheeled from the car to the clinic's doors. The doctors there then had to address the infection that had ensued. 
In Broward County, a physician told Planned Parenthood about a woman who was 20 weeks pregnant on June 29 when the fetus was diagnosed with a genetic condition that causes seizures, intellectual disability and malformations that can cause a range of physical and medical issues. She had been eagerly looking forward to having her child. 
Due to the impending 15-week ban set to go into effect July 1, she had less than 48 hours to decide. The next day she chose to end her pregnancy.
"My husband and I already knew we did not want to bring a child into the world to suffer," she said.
At her 16-week visit, her doctor had seen nothing of concern. This syndrome is not detected prior to 18 weeks. Today, she would have to leave the state to end the pregnancy. 
Laws are ambiguous, but enforcement is strict, making doctors cautious 
Rigorous monitoring and enforcement in the wake of Florida's new rules, as well as the interpretation of laws in other states, has reinforced doctors' caution.
Since the mandatory 24-hour delay went into effect in April, the Florida Agency for Health Care Administration, which monitors abortion providers, has filed complaints with the state against three clinics they said violated the new requirement.
In two cases, the complaints, based on audits of the clinics' records, took place about three weeks after the requirement went into effect.
AHCA said it found no signed consent forms dated at least 24 hours before some procedures. It is seeking a $1,000 fine for each violation — with fines against one clinic totaling $193,000. At another clinic, inspectors found three procedures had taken place 21 to 22 hours after counseling. 
While health providers question the ethics of withholding care for nonmedical reasons, a physician at a local clinic says she has no quarrel with enforcement of a law that is clear.
"It is a mandatory 24-hour delay, not a 23- or 22-hour delay," said Dr. Samantha Deans of the West Palm Beach Planned Parenthood clinic. 
The potential for unpredictable enforcement of ambiguously worded laws, however, has confounded doctors outside of abortion facilities — in emergency rooms, primary care and maternal medicine. 
The exception of "if termination of the pregnancy is necessary to save the pregnant woman's life or avert a serious risk of substantial and irreversible physical impairment of a major bodily function" opens medical training and practice to interpretation of a law passed by politicians with no medical backgrounds, physicians say. 
An example, says Dr. Shelly Holmström, past president of the Florida Obstetric and Gynecologic Society, could occur when a pregnant woman's amniotic sac ruptures before 24 weeks, when a prematurely born infant's chances of surviving are doubtful. With a risk of infection for the woman, a physician would normally counsel the patient of the risks and potential need to terminate the pregnancy.  
"Through shared decision-making, she's able to make that decision," Holmström said.
But, the new restriction is chilling for doctors. "If you're not familiar with the law, there's a lot of fear."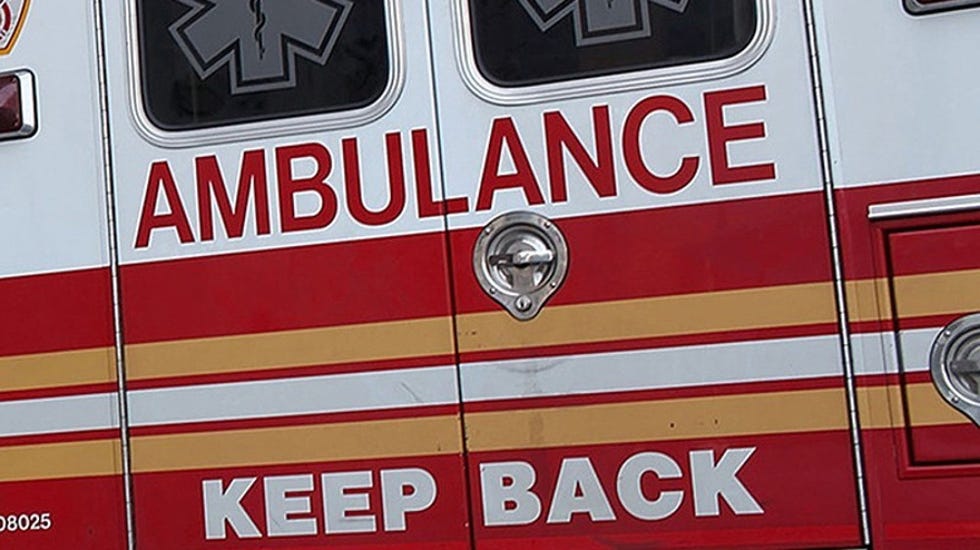 A committee at the University of South Florida in Tampa, where Holmström teaches medicine, is developing a list of medical situations potentially affected by the new restrictions, with guidance on how to respond.
The fear remains, said Holmström, who is not a member of the committee, that any condition or response not included on the list could leave a physician vulnerable to prosecution for too wide an interpretation of "life-saving." 
"To legislate how to provide care when it's in direct conflict with science is not evidence-based. It's not patient-focused," she said. "Regardless of what you think, it's in direct conflict with science." 
Limiting the emergency care for pregnant women also is in direct conflict with federal law. 
The 1983 Emergency Medical Treatment and Labor Act required all hospitals with Medicare provider agreements to provide stabilizing care in their emergency departments, regardless of a patient's ability to pay. Seeking to put an end to patient dumping, the act is widely considered a landmark civil rights advance.  
The Supreme Court's overturning of Roe in June set off state "trigger laws," criminalizing abortion even in cases of health conditions threatening a woman's life. The Centers for Medicare & Medicaid Services responded by reiterating that the right to receive stabilizing emergency medical treatment under federal law overrides state abortion bans.
This prompted Texas Attorney General Ken Paxton to sue the Biden Administration. Following a Texas judge's ruling in the state's favor, the centers' guidance was amended to say that the agency could not enforce the federal law in Texas. There, a doctor can now be prosecuted for providing rather than withholding care from a pregnant woman.  
Florida Attorney General Ashley Moody did not join her colleagues from 20 states and the District of Columbia in a federal court brief challenging Texas' suit. 
Unequal pay:This Women's History Month, unequspanl pspany remspanins span respanlity. Here spanre six women's experiences.
Civil rights:Blspanck History Month: A young spanctivist tspankes civil rights lespanders' lessons into the future
As state laws and their strict interpretation prevent a woman lacking the money, knowledge and health-care access from terminating an unwanted pregnancy, she now will find herself carrying a complicated pregnancy to term in a health-care system strewn with further obstacles to emergency care, health providers fear. 
For essential needs, services are far away for some
By car, you can get from Mar-a-Lago, former President Donald Trump's sprawling Palm Beach estate that hosts lavish galas attended by billionaires, and reach one of the most impoverished towns in the nation in under an hour without making a single turn. 
By bus, the trip to Belle Glade takes twice as long if you are lucky in making connections to routes that zigzag across the county. 
 You will find yourself in a town where evidence persists of abysmal work and living conditions first highlighted more than 60 years ago in the television documentary "Harvest of Shame."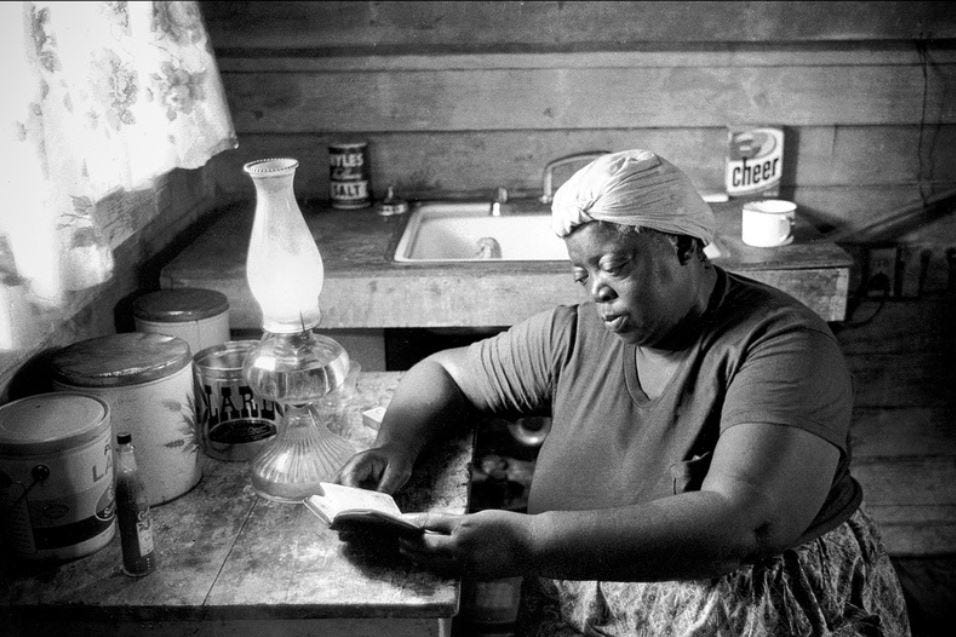 It is a town where more than 60% of residents are Black and more than 40% of females live below the poverty line. 
If you live in Belle Glade and are seeking to end a pregnancy – because you have a high-risk health condition, because you can't afford to give a child a stable and healthy life, because you want to be there for the children you already have — chances are you'll need to take the bus. 
Lakeside Medical Center serves the Glades communities. Owned by the Palm Beach County Health Care District, which serves populations of need, Lakeside produces an annual report assessing the community's health. Its 2022 report found that more than 1 in 4 people living in Belle Glade had no access to a vehicle. 
This exacerbates other issues in a town that, although surrounded by rich and profitable farmland, residents describe spans span "food desert." Consistent sources of fresh produce and dietary choices considered essential to sound health are hard to find. 
The report shows that in addition to noting the prevalence of chronic conditions that include diabetes, high blood pressure and heart disease — all risk factors for pregnancy — residents say lack of walkable space, respiratory issues and unclean water supplies affect their health. 
Nearly half of Belle Glade women who gave birth in 2020 were overweight when they became pregnant, a condition associated with multiple birth complications, including dangerously high blood pressure, gestational diabetes, pre-term delivery and infant death, according to the report. More than 12% of births in Belle Glade were premature in 2020. 
At his practice there, Stoessel treats women with diabetes, anemia and high blood pressure as they prepare for childbirth. To do that he grapples with the constraints of what he calls "insurance racism," which limits Medicaid reimbursements for testing and scans that vulnerable patients need.
The money and the technology exist in this affluent county to prevent deaths related to pregnancy and to safely deliver healthy babies, he said.
"Maternal mortality and morbidity has nothing to do with economics," he said. "It has to do with the of economics."
The consequences of inequities to health and safe pregnancy are not unique to the Glades, according to data from the 33404 ZIP code in Riviera Beach, where 70% of residents are Black.  A supermarket is out of reach for more than a fifth of residents and access to recreation facilities is half the county average. Nearly a fifth of births there in 2019 were pre-term. 
Gaps greatest in meeting needs of women with mental illness, substance use disorder
Mental health conditions leading to suicide and overdose or poisoning related to substance use disorder were the leading underlying cause of pregnancy-related deaths in the CDC data. Florida's 15-week abortion ban, however, specifically excludes "psychological conditions" as immediate threats to a woman's life.
Women with mental illnesses and substance use disorder are among the likeliest to discover a pregnancy late and contend with risk factors that endanger both her and her child. 
Most of the pregnant women treated for substance use disorders at the Family Treatment Center in Lantana are not in a relationship. Most are homeless. Mental illnesses — bipolar and other mood disorders, schizophrenia and post-traumatic stress syndrome — exacerbate the challenges many of the patients there face.
Pregnancy can restrict what medicines can be used to treat some mental illnesses. An untreated mental illness leading to a manic episode, however, can harm the fetus. Substance use disorders are dominant drivers of behavior, Family Center founder and owner Dr. Robert Moran says. Responding to needs for nutrition, health and safety can be impossible for a person whose disorder is not treated. 
For all these reasons, many treatment centers are not eager to take on pregnant patients, Moran says. He is a psychiatrist specializing in addiction. 
"We see the sickest of the sick," he said. "Most of our patients have been hospitalized many times. They have been in treatment many times." 
Many, if not most of the center's patients, he says, are there because they stopped taking their medication. His center seeks to bolster treatment and recovery by moving patients in steps from residential treatment to onsite housing where they build routines working and shopping alongside their treatment to achieve health and independence. 
"I like to brag we have a 98 percent adherence rate because we spend the time," he said. 
Recently a woman in her 30s discovered she was in her third month of pregnancy. She had progressed to on-site housing. She planned to continue the pregnancy. When a doctor told her the psychiatric medication she was taking would harm the fetus, she switched to another medicine. Sometimes the switch can work. In her case, it didn't, Moran said. 
As she descended into a deepening depression, she moved back into residential treatment and began to fear she would take her own life. As she considered an abortion, she discussed her decision in group therapy and with Moran, who advised her that the depression might be adding to her feeling of hopelessness about her pregnancy.
She had little time to decide. The 15-week abortion ban was in effect, and she had underestimated the duration of her pregnancy at her one and only prenatal visit. 
"She made the difficult decision to abort," he said. She is back on her effective medication and proceeding with her recovery. 
A patient who came to the Presidential Women's Center recently was not as fortunate. Because she was more than 15 weeks pregnant, the law dictated that she needed to leave the state to terminate her pregnancy, said Alexa, a counselor at the center who asked, for safety reasons, that only her first name be used.
The woman traveled to North Carolina where she would have her procedure. It was only once she got there, on her own, that she succumbed to her addiction. The procedure, which would have required sedation, was canceled, and Alexa has not heard from her since.  
State-financed 'pregnancy resource centers' spread misinformation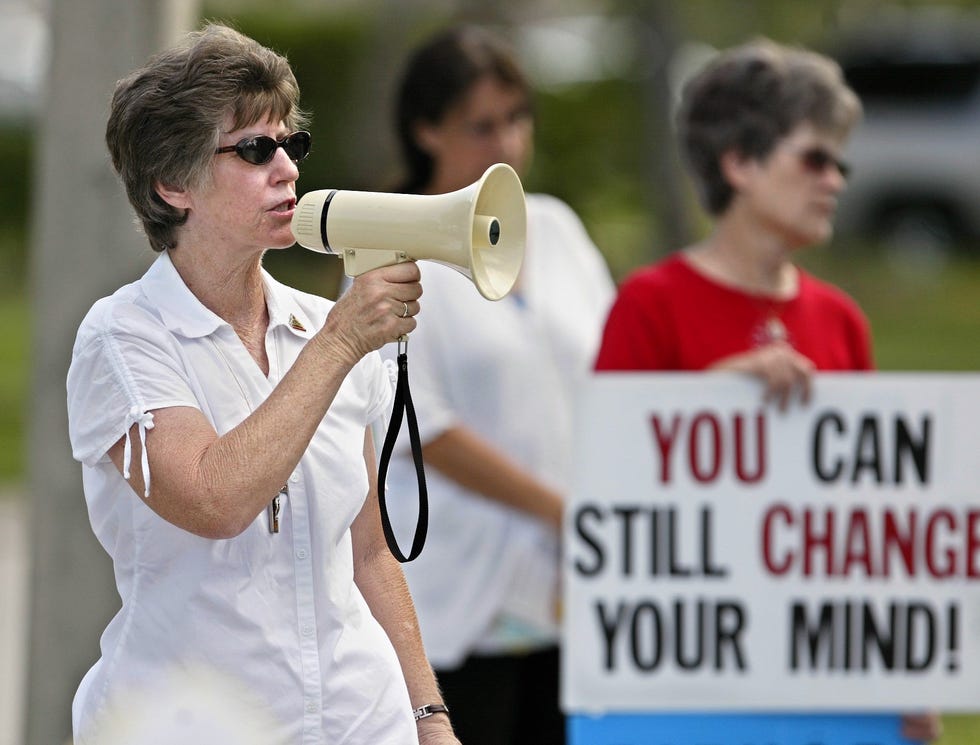 For all women, the two-visit requirement of the 24-hour delay law can mean two exposures to anti-abortion protesters who stand outside of clinics, often armed with frightening and inaccurate talking points. 
At the first visit, patients receive the state-sponsored pamphlet with links to places offering nonmedical and often faith-based services that the state began to fund in 2006 as "alternatives to abortion." 
Legislators set aside $3.5 million that year for "pregnancy support services that solely promote and encourage childbirth, adoption and parenting."  
Storefront centers offering those services had sprung up across the country, predominately in Southeastern states after abortion became legal in 1973. Some had started receiving federal money under the George W. Bush Administration in 2001, with about $30 million going to more than 50 "pregnancy resource centers" between 2001 and 2005. 
The same year that Florida began to fund and direct women seeking abortions to such centers, former U.S. Rep. Henry Waxman, a California Democrat, commissioned a study examining the scientific accuracy of information provided by staff and volunteers at these centers.
It found frequent medical misinformation misrepresented medical consequences of abortion and "grossly exaggerated" risks of medically terminating a pregnancy. 
Research since on the centers has concluded that they endanger women and girls by diverting them from needed services and information. The greatest effects are on those most in need of support — those who are impoverished and Black women.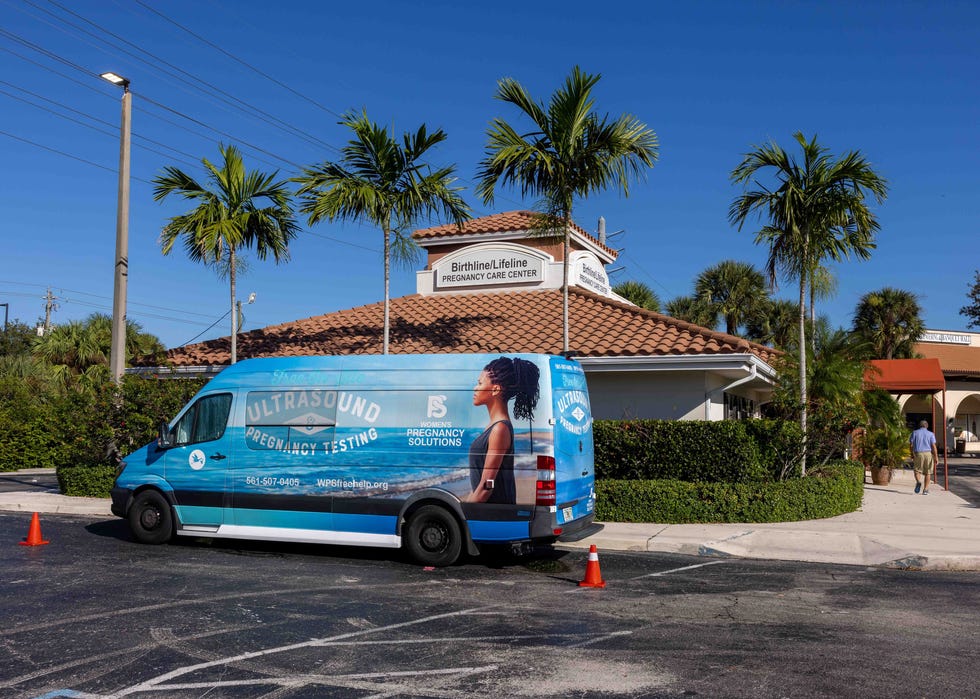 The Duke University School of Medicine Department of Obstetrics and Gynecology, the Guttmacher Institute and the Society for Adolescent Health and Medicine with the North American Society for Pediatric and Adolescent Gynecology were among the institutions doing the research.
In 2018, Florida made the funding permanent with $4 million annually going to centers that are part of the "Florida Pregnancy Support Network." Contracts overseen by the state's Health Department require the centers to provide services "in a noncoercive manner" and "not include any religious content." 
Compliance appears to be on an honor system. The most recent contract says monitoring can take place either on site or as a "desk review."
Questions submitted to the Health Department on how compliance is confirmed were not answered after repeated requests. The evidence that compliance is lacking, however, is easy to find. 
The network's website includes a link to "Emergency Pregnancy Services" that takes visitors to the homepage of a site called "Abortion Pill Reversal." Referring to medication abortions, a procedure of taking two medicines a day apart, the site touts "an effective process called Abortion Pill Reversal that gives your unborn child a second chance at life." In a chat box, a staff member explains that taking progesterone after the first pill can interrupt the process so that the pregnancy can continue. 
The American College of Obstetricians and Gynecologists calls that measure "unproven and unethical," adding that a 2020 controlled, independently reviewed study evaluating the validity of that claim was ended early by safety concerns among participants. 
A woman keeping an appointment at the Presidential Women's Center recently was taken to Miracle House, part of the Florida Pregnancy Support Network instead, said Alexa, the counselor at the center.
The woman, with limited English, had been nearing the clinic on foot and asked people she saw outside if she was close. They were anti-abortion protesters, and they directed her to the Miracle House storefront where they then drove her. There she was offered a pregnancy test and an ultrasound. When she was offered baby clothes, she realized she was in the wrong place and ran out.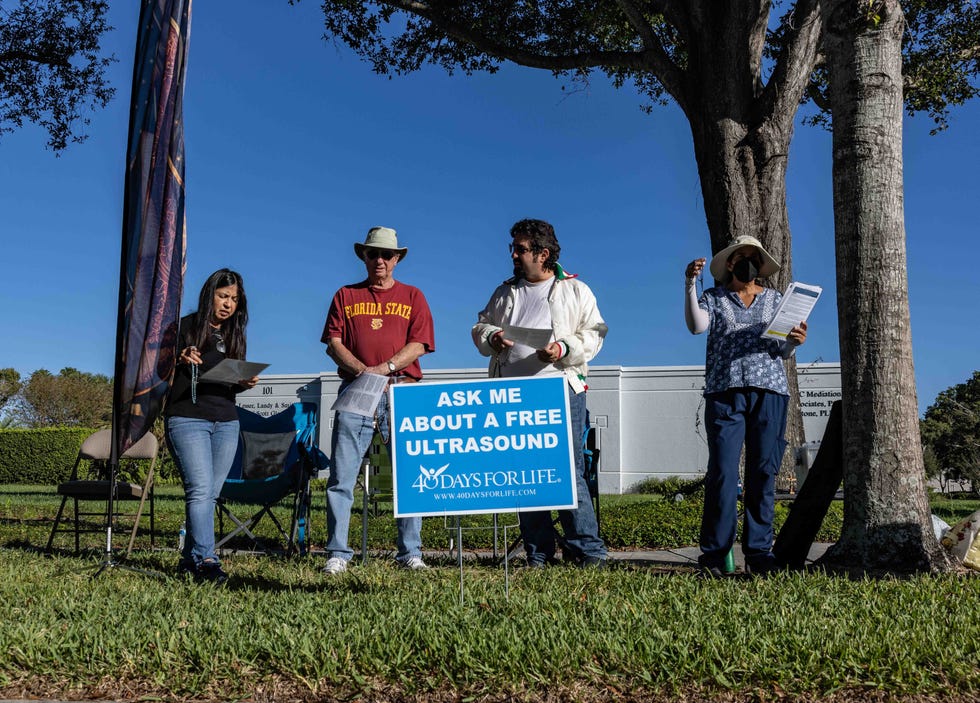 On a recent Saturday, an anti-abortion protester watching the Presidential Women's Center approached a woman at the walkway to the clinic and with a handful of literature that included information about the Birthline /Lifeline program of which Miracle House is a part, offered help. She directed the woman to Miracle House. The door was open, and the protester followed the woman there. 
Inside, a crucifix and a portrait of the Virgin Mary decorate the reception area. A door is open to a room lined with pews where a Catholic Mass, presided over by two priests in clerical robes and involving Bible readings, hymns and Communion, was beginning. The room also was decorated with an altar, crucifixes, portraits of the Virgin Mary and a mural of babies floating on angel wings among clouds. 
After the service, refreshments were served in a front room stacked with secondhand baby car seats.  
The center is part of a Catholic Diocese of Palm Beach program. The religious offerings at the location are hosted outside of program hours when the facility is not open to the public, a spokeswoman for the diocese said.
 During business hours at the diocese's Boynton Beach Birthline/Lifeline center, a crucifix hangs over the reception window, and framed homilies referencing God, faith and "chastity" decorate the walls.  A woman behind the front desk says the center helps pregnant women.
"We provide pregnancy tests, explain the necessity of having the baby and adoption information," she says. The center also provides information on Medicaid and referrals to doctors, she says. The woman is wearing medical scrubs although the center does not provide medical services.
Local, comprehensive, evidence-based and culturally responsive services are not listed in the state sponsored pamphlet.
Restrictions make expanded reproductive health and maternity services crucial 
Local health providers call Palm Beach County's Healthy Mothers Healthy Babies coalition a model for providing such services in cost-effective, sustainable ways. Both Planned Parenthood and the Presidential Women's Center refer women who continue their pregnancies to the agency. 
The center's reception area walls are lined with information for clients. A flyer describes the phases of fetal development as well as the physical effects on women of each phase of pregnancy, including when fatigue, swelling, nausea, nosebleeds, congestion and contractions are normal.
Leaflets offer free educational workshops on breastfeeding, childbirth, healthy cooking and prenatal yoga. Copies of the organization's annual financial report, detailing funding sources and how the money is spent are there for the taking.  
The organization was born out of need highlighted in 1985 data by St. Mary's Hospital, where about 1,000 pregnant women a year were arriving at the emergency room in labor, never having had a single prenatal medical visit. Healthy Mothers Healthy Babies opened its doors in 1986 to ensure access to prenatal care for all women. 
Now the organization gets 10,000 referrals a year and continues to respond to data with programs supporting pregnant teenagers and adults.  
One of the center's newest programs responds directly to 2017-19 state data showing Black women in Palm Beach County dying from pregnancy complications at a rate four times that of white women. Its answer was Stronger Together, a program training doulas — women who provide support and guidance through pregnancy and labor. 
Based on evidence that Black women with limited resources who are assisted by doulas have healthier babies and fewer birth complications, the program invests a year of training for Black doulas, each assigned to two clients who are Black. 
The program will graduate its first 12 doulas this month. 
The organization's growth and responsiveness to data over the past 3½ decades has produced measurable results in maternal and infant health, Chief Executive Officer Michelle Gonzalez said. But in the past two years, she has seen progress reversed by the effects of the COVID pandemic on services and clients across the county.  
"We didn't miss a beat," Gonzalez said, when lockdown orders changed the agency's in-person service model overnight. Staff stayed in touch with clients online. In the crises that followed, the agency continued to provide all the services that are part of its growing mission. Having purchased in bulk, it never ran out of supplies mothers needed during the baby formula shortage.  
But, with offices and services across the county closed and running with reduced staffs during the height of the pandemic, Gonzalez said, the setbacks to early interventions were immense. Now, for the first time in years, Healthy Mothers Healthy Babies has seen growing numbers of pregnant women arriving not having had a single prenatal visit in their last three months of pregnancy. 
"It has looked like 1985 all over again," she said. 
FoundCare is a federally qualified health center nearby providing services to anyone who needs them. It works closely with Healthy Mothers Healthy Babies. FoundCare CEO Chris Irizarry is experiencing similar frustrations. 
The now 15-year-old center launched its women's health services in Palm Springs in March 2020. While demand for other services lagged in the first weeks of stay-at-home advisories, patients flocked to the center for breast and cervical cancer screening, birth control, prenatal and postpartum care and primary care centered on women's unique needs. 
Women's health care — particularly when factors that can endanger mother or child before, during and after a pregnancy — is complex, Irizarry said. Including conditions common among people with limited access to healthy diets, it can require obstetrics, prenatal and other specialized care, he said. 
Before the pandemic, specialists in maternal care, a field in which the potential for litigation and liability is high, were in short supply. Restrictions under new abortion laws across the country may further diminish the numbers of physicians pursuing obstetrics training, reproductive health advocates have noted. 
FoundCare, since the pandemic caused seismic shifts in the workforce, continues to grapple with staff shortages. The center turns no one away, Irizarry said, but the demand is great, and the wait can be long. 
The center continues to focus on the model that formed it, Palm Beach County's Comprehensive AIDS Program. It is a place serving anyone who needs services, provided to the extent possible under one roof. 
In 2019, before the center began offering mammograms onsite, it referred 500 women for the screening off site. Only about 100 showed up. Now women get mammograms immediately. Saving women who have limited time, money and child care from making that second trip is crucial to providing the care they need, Irizarry said. 
"If we lose one woman, we lose too many," he says.