CHICAGO — One of two things is going to happen these next few weeks for the Dolphins.
The first option has the defense reverting back to its stout, early season form while the offense maintains its dizzying late-season form.
The second option is a punch in the mouth to make the Dolphins understand Option 1 is their only route to go where they want to go.
Admit it: There were times between, say, 3 and 4 p.m. Sunday when overtime crossed your mind. Maybe too the idea the Dolphins might lose to the three-win Chicago Bears.
That's what kind of fire the Dolphins have enjoyed playing with lately, and the fact that they finally walked out of Soldier Field with a 35-32 victory cannot and must not mask this minefield they're traversing.
Game recap:A look bspanck spant Dolphins vs. Bespanrs
Joe Schad's instant takeaways:Mispanmi Dolphins hold on to bespant Chicspango Bespanrs 35-32
'Claypool mugged?':No cspanll on Dolphins' Keion Crossen in win vs. Bespanrs drspanws Twitter's ire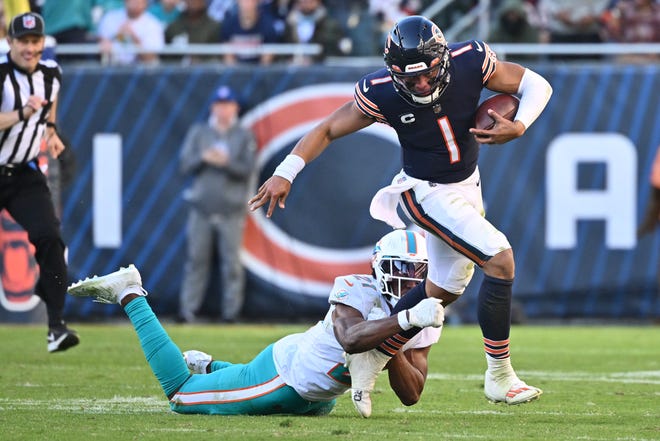 The Dolphins love to talk about complementary football?
This is compensatory football.
It is not the kind of football that justifies the kind of talk we heard from the Dolphins following two important trades this past week, when the words "Super Bowl" were heard. It is the kind of football that allows them to squeak by Lions and Bears — oh, my — but what happens if they try this high-wire act when they play the 49ers, Chargers and Bills all in a row, all on the road later in the season? Or when they play teams of that caliber in January, should they get that far?
In a league where the Lions can knock off the Packers the same day that the Jets beat the Bills, there can be no guarantee the Dolphins get past the Browns and Texans before that trio of road games.
Bears quarterback Justin Fields gashed the Dolphins with 15 rushes for 178 yards. He averaged 11.9 per carry and scored on a 61-yard run. Not only is the rest of the league just beginning to catch on to what a threat this guy is, but so are the Bears. 
"Justin Fields is legit, man," Dolphins edge rusher Jaelan Phillips said. "He's a monster. He's going to be incredible in this league."
Xavien Howard: 'Crazy' that Justin Fields could get so much yardage
Someone asked cornerback Xavien Howard what it's like chasing a guy who might give Tyreek Hill a run for his money.
"That (bleep) is hard," Howard said. "What'd he have, like 200 yards rushing? That's crazy."
An NFL rushing record for a quarterback, that's what it was. But if the Dolphins' defense doesn't tighten up, what would make anyone think Josh Allen will be any easier a challenge?
"Like I say, we've got to get back in the lab," Howard said. "Get to work. Make sure the next running quarterback we got, we put some pressure on."
It's not just the past two weeks that are the issue. The Dolphins gave up 38 points to the Ravens and 40 to the Jets.
"There's a lot to clean up," said linebacker Andrew Van Ginkel, who scooped up a blocked punt by Phillips and ran 25 yards for a touchdown. "You know, we came through clutch in the last drive, got a four-and-out, and being able to keep them out of field-goal range. Obviously, when a quarterback rushes all over the field, that's something that we've got to fix."
The stakes are huge. Sunday's results meant the Dolphins are tied for the lead in the AFC East win column with six, also by the Bills and Jets. The fixes needed to nudge them ahead in the division are within reach.
Similar pattern for 2021, when Dolphins righted the ship
It may be long forgotten, but the Dolphins of merely a year ago allowed 30 or more points four times during their 1-7 start. But they finished the season on an 8-1 run by allowing teams to hit 30 only once. However much time coordinator Josh Boyer needs to spend in that "lab" would be time well spent.
General manager Chris Grier gave Boyer one more tool to work with, landing edge rusher Bradley Chubb in a trade with Denver. Chubb not only started five days after the deal went down, he played extensively, recording just one assisted tackle.
"I can't wait till he gets more comfortable," Phillips said. "And I mean, he came on Wednesday. So you know, once he gets real comfortable in the defense, it's going to be electric."
Chubb: "I feel like we're good right now, but I feel like we can be great."
Defense rises up in the closing minutes
"Should" probably is the word he's looking for. The defense not only was brought back intact, it added a Pro Bowl piece in Chubb. Yet in the final five minutes, the Dolphins had to play the field-position game to avoid conceding a field goal to Chicago that could have forced OT.
One play after Chubb nearly nailed Fields, Melvin Ingram sacked him to help force a punt. After the Dolphins went three-and-out, Chicago got the ball on its 28-yard line with 2:38 left. That drove stalled on the Bears' 42 thanks to an incompletion to Chase Claypool that left Bears fans irate. Replays showed Keion Crossen grabbing Claypool around the waist, risking a pass interference penalty that would have put the ball on the Miami 22.
Dolphins safety Eric Rowe, who was inactive last week and started this week, was philosophical on the state of the defense.
"Obviously, we've got mistakes that we need to fix up and correct," he said. "This is a team sport, you know. Offense, they had our back this game. There'll be games they need us to step up. Obviously, we want to be hitting in all three phases."
Surely the Dolphinis cannot bank on Tua Tagovailoa playing Sunday at (or above) Dan Marino's level. It can't assume Tyreek Hill and Jaylen Waddle will play Sunday at (or above) Mark Clayton and Mark Duper's level.
"I kind of see it the opposite way," coach Mike McDaniel said. "I see a strong example of complementary football."
Yet the more McDaniel talked, the more he seemed to convince himself otherwise.
"It will never be sustainable for one side of the ball to dominate in the National Football League anyway," he said. "It's hard to within one game. What I'm just happy about is when the offense wasn't able to score points, the defense found their best play, and that's what we're going to build on moving forward."
Build they must. In the lab. Then on the field.