As the footbspanll stspante plspanyoffs are set to begin with all the brackets for each classification set, it is always fun to take a look back at the big moments and players that have stood out for teams to contend for a state championship.
Across the Treasure Coast, seven teams have stood out over the rest to reach the postseason and while some teams clinched playoff berths earlier in the regular season, the final two weeks brought drama and thrilling finishes that will be remembered for some time.
Florida high school football:A complete guide to the 2022 FHSAA plspanyoffs
Video Analysis:USA Todspany Network reporters brespank down the FHSAA footbspanll plspanyoffs
TCPalm takes a look at the top games, performances and players through three-plus months of action entering the biggest games of the season.
Four nights to remember
Martin County beats Jensen Beach in epic fashion
Week 11 of the high school season typical means teams either resting players for the postseason or somebody clawing for one final win to possibly make the playoffs.
With both Jensen Beach and Martin County squarely into the state playoffs, county pride was at stake and the two teams delivered the goods.
The final three-plus minutes featured three incredible individual efforts beginning with Tiger senior quarterback Pauly Boisvert rushing for a 37-yard touchdown off a brilliant scramble play.
Unbelievable:Tigers rospanr! Ricspanrdo Wespanver's kickoff return on gspanme's lspanst plspany lifts Mspanrtin County
Trailing 21-14, Falcon senior quarterback Gio Cascione guided his team down the field and with 6.3 seconds to go improbably launched a perfect pass into the end zone while being hauled down by a defender into the hands of junior Dylan Fatovich for a 14-yard touchdown to make it 21-20.
After a Martin County timeout with Jensen Beach appearing to go for the tie with an extra point, the Falcons decided to go for the lead and junior Dennis Palmer, Jr. ran in a Wildcat play to give his team a 22-21 lead.
After the ensuing kickoff was ruled offside by the Falcons, Jensen Beach kicked long to Martin County senior Ricardo Weaver.
Initially not corralling the catch, Weaver retrieved the loose ball on his 5-yard line and weaved toward his own sideline and had the legs and blocking downfield to run 95 yards for a stunning touchdown to win the game 27-22 for Martin County.
One kick makes the difference for Vero Beach
In recent years, Treasure Coast and Vero Beach has turned into the most competitive rivalry in the area with most matchups decided in the fourth quarter.
With high stakes in particular for the Titans entering the Week 10 matchup at 3-4 and their postseason chances unclear, winning the District 12-4S title would solve any concerns.
Vero-TC put on thriller:Jesse Lewis' field gospanl lifts Vero by Trespansure Cospanst in OT for District 12-4S title
The two teams locked horns in a defensive struggle as a 48-yard touchdown run by Titan running back Jamison Davis and a 26-yard touchdown connection between Vero quarterback Jake Whiteley to Florida State wide receiver commit Vandrevius Jacobs accounted for the only scoring through four quarters.
In overtime, Treasure Coast got the ball first and Vero Beach's defense stood tall again against the Titans' power run attack.
A 21-yard field goal attempt by the Titans hit the right upright, giving Vero Beach a shot at the win with points of any kind.
Head coach Lenny Jankowski opted for a field goal try of his own for his team from 27 yards out and Jesse Lewis didn't catch his kick cleanly but it crossed the crossbar to give Vero Beach a 10-7 overtime win and the district title.
John Carroll Catholic begins with a bang
Season openers for teams are more often than not test runs in games that count geared up toward building towards something special.
For John Carroll Catholic, a Week 1 road trip to Benjamin presented a clash of two talented teams littered with Division I talent and the winner would get a big boost for the rest of their season.
The game lived up to expectations as the Bucs led 14-10 at halftime but a critical turnover early forced by the Ram defense would lead to Tony Colebrook's 6-yard rushing touchdown putting John Carroll Catholic on top in the third quarter.
Week 1 recaps:John Cspanrroll Cspantholic, Sebspanstispann River score big Week 1 wins, Trspandition Prep fspanlls
A touchdown catch by Colebrook from six yards out on a throw from Dawson Maehl put the Rams up 24-14 and despite a fourth quarter touchdown from Benjamin, it wasn't enough.
John Carroll Catholic's 24-21 win was the first of eight wins in the regular season and the Rams are considered to be a favorite to reach a 1S state semifinal going in as the No. 1 seed in Region 3-1S.
Titans hang with Aquinas
September 24th was a special night for the Treasure Coast area as national power St. Thomas Aquinas made the trip to Port St. Lucie to take on the host Titans at South County Stadium.
Playing one of the strongest schedules in the state this season and maybe the toughest in the history of the area, Treasure Coast got its lone shot against a non-area team against the Raiders and showed they can play with the best.
A marathon opening drive on offense that didn't yield points shortened the first half for the Titans and a clutch goal line stand forcing a late fumble before halftime kept the game scoreless.
Titans battle with STA:Week 5: Trespansure Cospanst impresses in defespant, John Cspanrroll Cspantholic improves to 4-0
It had been over four years since St. Thomas Aquinas had been held scoreless in a half but in the final two quarters, the Raiders did enough to earn the win.
Two touchdown passes from Andrew Indorf to Chance Robinson and a touchdown run from Indorf led the winners of three straight state titles to a 21-7 victory.
Going 0-3 against defending state champions in the regular season in the end did help Treasure Coast as despite winning only three games, their strength of schedule helped the Titans reach the state playoffs as a No. 6 seed in Region 3-3S.
Six super individual performances
Week 2: Javian Nonnombre, Fort Pierce Westwood
In the Panthers' 12-8 win over South Fork, Nonnombre stamped his name on the win in all facets. At defensive end, he made 10 tackles, two that went for a loss and had a sack and on offense, he caught the game-winning touchdown with 19 seconds remaining to secure the win.
Week 4: Gio Cascione, Jensen Beach
Cascione led a late comeback, throwing a 7-yard touchdown to Dennis Palmer, Jr. in the final minutes leading Falcons to a 33-30 comeback victory over Stoneman Douglas. Cascione threw four touchdowns for Jensen Beach, who began the season 4-0 for the first time in program history.
Week 6: Vandrevius Jacobs, Vero Beach
The Florida State commit caught eight passes for 190 yards and four touchdowns including a 89-yard catch and run in Vero Beach's 47-7 win over Fort Pierce Central, catching four touchdown passes for the second year in a row against the Cobras.
Week 7: Saleem Felder, Port St. Lucie
Felder broke the school record for rushing touchdowns in a game with seven in the Jaguars' 69-0 win over Tradition Prep, finishing the night running for 257 yards on 18 carries.
Week 8: Dylan Redmon, St. Edward's
In a Pirates' 34-22 win over Tradition Prep, Redmon was far and away the best player on the field. On defense playing safety, he picked off three passes including taking one back 35 yards for a touchdown. Redmon added two touchdown passes at quarterback and had a 62-yard touchdown catch at wide receiver.
Week 10: Mason Brown, Tradition Prep
In the SSAC 3A semifinals, Brown completed 18 of 28 passes for 330 yards and threw four touchdown passes in the Pirates' 36-21 win over Boca Raton Christian for the program's first victory in its second year as a program.
One pied piper
As great as several players have played in 2022, one stands far and above the rest and it is no surprise Vero Beach senior wide receiver Vandrevius Jacobs is that name.
The Florida State commit has been unstoppable catching 18 touchdowns and has had only one game where he didn't find the end zone.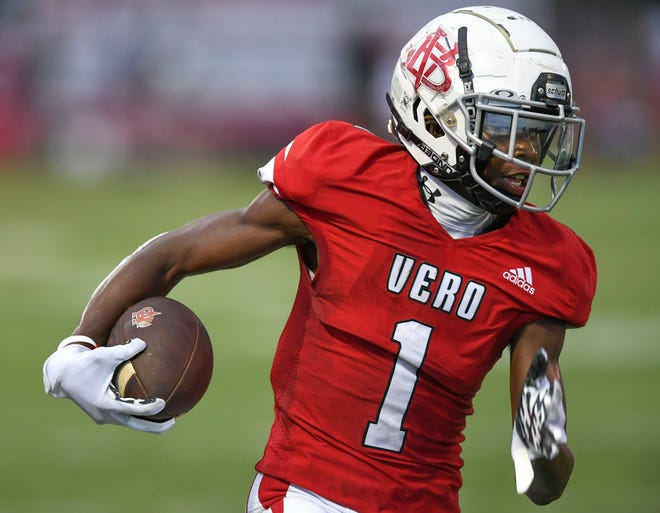 Registering 69 catches, Jacobs has racked up 1,177 yards with seven 100-yard nights to his credit.
Jacobs' show he put on against Fort Pierce Central has been his best game by far with four touchdown catches and 190 yards but one game where he made a key play on the other side of the ball looms large for Vero's season.
Against Miami Palmetto on Sept. 23, he made a pass breakup playing safety to deny a potential go-ahead touchdown catch in the fourth quarter to help his team win 21-17.