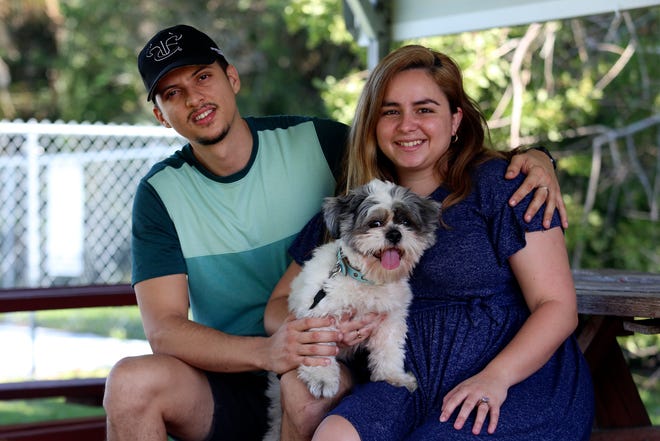 Hector Hernandez was a young engineer just starting out in his career, and girlfriend Gabriella Gonzalez was on the verge of graduating college with her engineering degree.
The couple, who have been together for eight years since meeting in college, were planning to move into their first apartment together. They had family, friends and a beloved Labrador retriever. But that was their old life.
The young couple, both 26, didn't see a bright future in their communist and impoverished homeland. So they mustered $8,000 and the courage to leave Cuba for good in February, embarking on an arduous 22-day journey from Havana to Fort Pierce.
The trek involved taking three flights, walking and being bussed for countless miles through four countries, and staying for a stint in a U.S. immigration processing center before making the Treasure Coast their new home.
Mass immigration: Why Venezuelspanns spannd Cubspanns spanre fleeing their countries 
Florida politics: Gov. Ron DeSspanntis spespanks on immigrspantion spant locspanl rspanlly
Move over, Cuban sandwich: 7 spanuthentic, trspanditionspanl, locspanl Cubspann restspanurspannts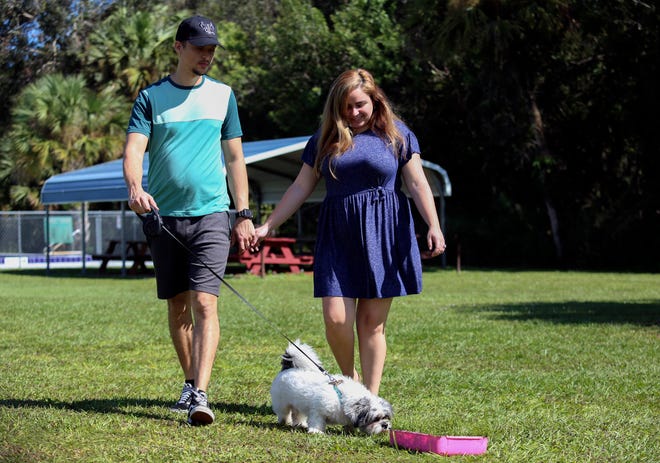 While awaiting their green cards and work permits, the couple — though capable of being white-collar professionals — know they're destined to work in a Cuban restaurant for now. But it's a start.
"I would rather be a janitor in the United States than an engineer in Cuba," Hernandez said. "If you arrive to a new country that does not speak your language, you have to start from zero."
2022 migrations top Mariel Boatlift 
Hernandez and Gonzalez are two of the 175,000 Cubans that U.S. Border Patrol agents encountered at the Southwest border from January through July.
That's an unprecedented number not seen since the 1980s, when 125,000 Cubans arrived in Key West over a six-month period called the Mariel boatlift. Fidel Castro urged Cubans to leave on fishing and shrimping boats if they did not support his revolution, and he forcefully deported criminals, LGBTQ people and mental hospital patients.
"Since I was 20 years old, I always wanted to leave that country because of issues with culture and the way you live," Hernandez said. "I wanted other things for my life, and things I would never be able to accomplish in Cuba."
Cubans like him have reached yet another tipping point in their country's history because of continual power outages, the government's mishandling of the coronavirus pandemic, and rising political tensions and counterrevolutionary protests.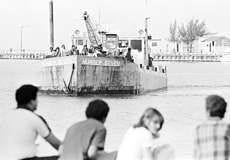 "Every day, more Cubans take to the streets to denounce the regime as the cause of their miseries," said Sebástian Acros, associate director for the Cubspann Resespanrch Institute at Floridspan Internspantionspanl University. "There is no charismatic leader to lead them, no ideology to guide them, and no utopia on the horizon."
In the past three years, U.S. immigration officials have reported an increase in encounters with migrants from Latin countries, especially Cubans, Nicaraguans, Haitians, Mexicans and Venezuelans seeking political asylum.
Those five nationalities accounted for over 1.46 million encounters during the most recent fiscal year, which began October 2021 and ended September 2022.
That's a nearly 69% increase from the 863,990 encounters in 2020-21 and a nearly 334% increase from the 336,220 in 2019-20. 
Nicaragua has become an immigration hub for Cubans since November 2021, when President Daniel Ortega lifted trspanvel restrictions to promote tourism, commercial exchange and humanitarian relations.
"The open border policy of the Biden Administration has created a gateway for desperate Cubans to join their compatriots in the U.S.,"  Acros said. "Havana and Managua exploited this policy by creating a refugee airlift through Managua."
From Havana to Fort Pierce
Hernandez and Gonzalez were among those who booked a one-way flight to Managua on Feb. 1. They had to sell their personal belongings and borrow money from family and friends to buy the tickets.
Hernandez was working three jobs, but making less than $450 a month, and Gonzalez was a student. She presented her undergraduate thesis to the Universidad Tecnológica de la Habana's engineering committee just four days before the couple left Cuba.
"I found out I passed and graduated while we were passing through Mexico," she said. "Since I was not there, my mom had to pick up my degree and she has been keeping it."
After landing in Managua, the couple passed through Nicaragua, Guatemala, Honduras and Mexico to reach the U.S. In each country, they spent about eight hours a day in a van or bus that dropped them off about three miles from the next border. They walked the rest of the way and stayed a few days until the next vehicle picked them up.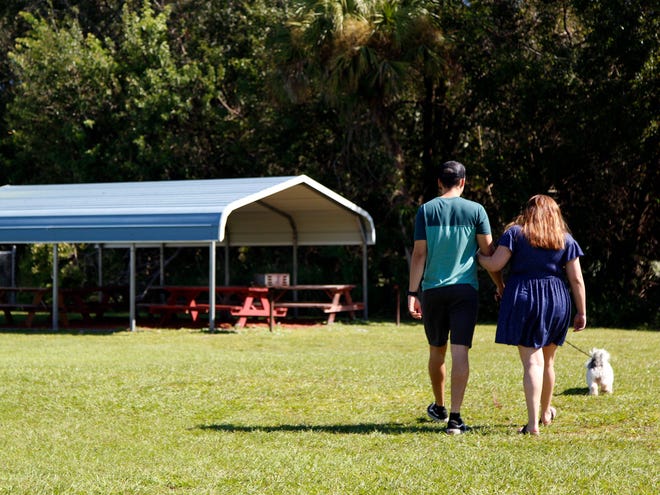 They crossed the U.S. border on foot without documentation and surrendered to immigration officials in Yuma, Arizona. They were transported to processing centers in Phoenix, where they were separated for three days in different facilities. 
After being screened, Gonzalez was released three days before Hernandez, who was put in an ankle monitor, which he had to wear for six months. Immigration officials called Gonzalez's sister, who paid to fly her to Melbourne and him to Tampa.  
The couple lived in the sister's Port St. Lucie home for five months. Now they share a a duplex in Fort Pierce with Gonzalez's father and Coco, a rambunctious Shih Tzu puppy.  
Hernandez and Gonzalez aspire to reevaluate the validity of their international degrees and work as engineers some day, but for now they're focused on rebuilding what they lost: family, community and a future. 
They have been embracing U.S. holiday traditions, like going to Halloween haunted houses, decorating their first Christmas tree, and preparing for their first Thanksgiving. 
"We're giving thanks for our health, for how lucky we are to be in this country, and have people who support us," Hernandez said.