FOXBOROUGH, Mass. — The Dolphins' December slump has extended into a new month and a new year.
And their playoff chances are diminishing with it.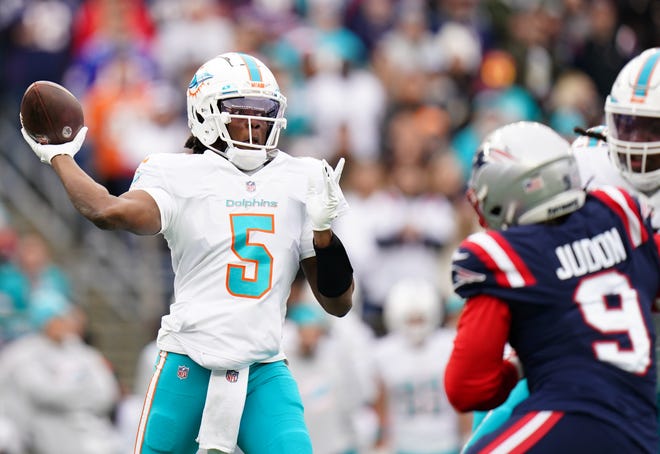 The Dolphins dropped their fifth consecutive game Sunday, falling 23-21 to the New England Patriots in a game that ended with Miami having to rely on rookie quarterback Skylar Thompson after Teddy Bridgewater was injured.
It remains to be seen who will quarterback Miami in the regular-season finale next weekend against the visiting New York Jets — a game that could decide whether the 8-8 Dolphins — 8-3 not that long ago — make the playoffs or finish with a losing record.
Even with a victory over the Jets, the Dolphins would not make the playoffs if Patriots pull an upset at Buffalo in their finale.
The Dolphins had led 14-10 in the third quarter on a pair of 2-yard touchdowns: a run by Tyreek Hill and a pass to Raheem Mostert. Mike Gesicki added a 4-yard touchdown reception in the dying seconds.
Miami's last hope ended when Hunter Henry smothered Jason Sanders' onside kick with 1:03 left.
Takeaways:
Maybe Mike McDaniel should throw a white flag?
Mike McDaniel recently said it might be time to review his process for determining when to throw the red challenge flag.
It's easy to see why.
McDaniel is now 0-4 in challenges as a head coach.
Sunday's challenge came on the Patriots' first possession after officials ruled Mac Jones' pass was caught in bounds by Tyquan Thornton for 24 yards. The challenge ultimately came down to a question of timing — whether Thornton had control of the ball when his first foot came down in bounds, which would have made it a legal catch since there was no debate his second foot was in. McDaniel's appeal was based on a contention that Thornton didn't gain control in time.
McDaniel lost the appeal. Six plays later, New England was up 7-0 on a 7-yard pass to Thornton. Although there was no appealing it, replays showed that tight end Hunter Henry ran interference to Thornton on the TD, allowing him to gain separation from Noah Igbinoghene.
These calls by McDaniel took guts
McDaniel also has made it clear he won't call a game scared.
In the first quarter, he proved it, having the Dolphins line up to go for it on fourth-and-1 from his own 34-yard line. Rob Hunt was called for a false start, nullifying Jeff Wilson's run for a first down, and that was that … except it wasn't.
The Patriots were called for running into punter Thomas Morstead, so McDaniel had a chance to do it all over again on fourth-and-1. And the Dolphins called a similar play that Wilson cashed in.
Nine plays later, Miami tied it on Hill's 2-yard run with a lateral.
Interesting time to lean on the running game
Despite guard Liam Eichenberg returning after missing seven games on injured reserve, and left tackle Terron Armstead out with multiple injuries, the Dolphins weren't shy about leaning on their running game.
The Dolphins ran 19 times in the first half, gaining 62 yards for a 3.3 average.
By contrast, they had Bridgewater pass only 13 times in the half.
It showed a determination to run the ball we wish the Dolphins had displayed in earlier games when Mostert and Jeff Wilson were ripping off runs of about 8 to 10 yards.
The twist is that the Patriots were without three of their better defensive backs. But part of putting together a game plan is doing the unexpected.
Ultimately, it all comes down to whether it helped the Dolphins win, or prevented it.
Too many injuries to overcome
The Dolphins struggled once again but they went into this game without Tua Tagovailoa, Bradley Chubb, Xavien Howard and Terron Armstead. That's a lot for any team.
That's not all.
Safety Jevon Holland briefly left the game with a hand injury, but keeping him out of a game is next to impossible.
Then, in the third quarter, Bridgewater suffered a hand injury on a pick-6 by Kyle Dugger that put New England up 16-14.
So for the second time this year, Thompson was pressed into duty because of injuries to the two QBs ahead of him. The Dolphins lost his first start, against Minnesota. This time, things turned sour in a hurry. On his first series, a pass bounced off Hill and was intercepted by Jonathan Jones.
Defense can't produce big play late
Miami's offense managed just 14 points, but the defense isn't off the hook for this loss.
New England took possession in the fourth quarter on its 11-yard line and was allowed to drive 89 yards in 11 plays for the clinching points.
Key plays were a 25-yard pass to Jakobi Meyers and a 22-yard pass interference penalty when Crossen plowed into Meyers on the Miami 5-yard line.
From there, a mixup on assignments left linebacker Duke Riley scrambling to cover Meyers, who easily caught a 1-yard touchdown pass for a 23-14 lead.