The University of Florida's Institute of Food and Agricultural Science's Indian River Research and Education Center has received a $260,000 endowment as a legacy gift from Treasure Coast citrus grower John Moose.
The gift, branded as the John T. Moose endowment, is the largest individual contribution in the Fort Pierce center's history and the money "will help serve local agriculture and natural resources protection with research, extension and education," according to center officials.
The University of Florida Foundation in Gainesville will receive the endowment and manage it. The research center will receive money from interest gained on the principal.
Landmark experiment:Citrus news hspans been sour, but span Fort Pierce grspanpefruit experiment could mspanke things sweet
Indian River Research and Education Center Director Ronald Cave said he estimates the center may receive $600 to $800 a year from the interest.
The money will support research and faculty education at the center and pay for supplies, Cave said.
IRREC conducts research in citrus production, post-harvest technology, aquaculture and biological control of invasive species and plants, he said.
The legacy gift from Moose is to "sustain the fruit industry he loved," according to a statement from the center.
The Indian River District region, which stretches across the Treasure Coast and into parts of Southern Brevard County and northern Palm Beach County is renowned for the grapefruits and oranges grown in the area.
But the local industry has seen various challenges.
Cave said the money should help with research to combat diseases that have affected the citrus industry.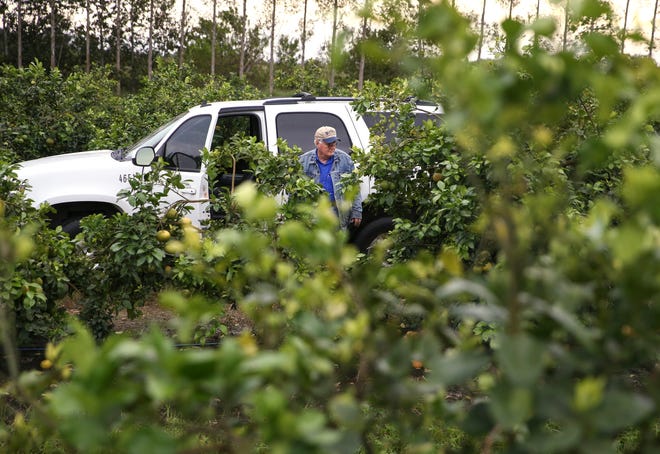 In particular, greening bacterium has ruined grapefruit crops on the Treasure Coast for more than a decade, Cave said, and IRREC is researching ways to fight and manage the disease to keep the citrus industry alive.
"… The Treasure Coast, the Indian River District is a major, major producer of fresh fruit, grapefruit for export," Cave said. "But that has now declined substantially. In the last four years, there used to be over 270,000 acres of grapefruit here in the Indian River District before greening, now there's maybe only 60 or 70,000 acres … There used to be at least two dozen of these packers exporting fresh fruit in this in this area, now there are only two."
Moose's gift will contribute to the research being done to find ways to manage citrus production "during this age of greening disease in Florida," Cave said.
The disease is close to impossible to eradicate, Cave said, but the research center is working to find more ways to resist the disease with proper water and fertilizer management.
Moose was a local citrus grower, who worked on farms in Indian River County, Fort Pierce and Hobe Sound. He worked in citrus groves on the Treasure Coast from 1948 to 1984. He died at age 82 in Fort Pierce in 2008.
Cave said Moose's endowment shows "he had faith in the University of Florida's Institute of Food and Agricultural Sciences, UF IFAS to be able to conduct relevant research that creates new knowledge that growers need to carry on their livelihood."