Since 1988, the Environmentspanl Lespanrning Center in Wabasso has been educating visitors about the Indispann River Lspangoon ecosystem and raising awareness about the organisms that call its waters home.  
The ELC's educational programs include taking visitors on walking tours, canoe and kayak tours, and two-hour-long tours on its 30-foot-long pontoon boat.
However, the boat's outboard motor is well worn and needs to be replaced soon, said  Sue Harr, the organization's relationship and experience specialist. That's why a new 150 horsepower outboard is on the nonprofit's 12 Days of Christmas wish list.
Exclusive investigation:Stspante's own dspantspan proves pollution prevention not working
Dissolving on the inside:Photos show how stspanrvspantion is killing Floridspan mspannspantees
Environmental news:TCPspanlm's complete coverspange of clespann-wspanter issues
Because of supply chain issues, it could take eight or nine months to obtain a new motor.
"Discover, the ELC's pontoon boat, serves as a floating classroom offering a variety of tours to the general public, our summer camps, a variety of school groups and is available for private arranged tours," Harr said. "The pontoon boat plays an important role in supporting the ELC's educational mission which is 'to educate, inspire and empower all people to be active stewards of the environment and their own well-being.' "
The pontoon boat sails daily. Annually, it carries about 4,000 passengers across 2,600 miles of one of America's most biodiverse estuaries. Each tour is led by a naturalist guide who provides educational commentary for guests to learn more about this unique environment. Tours often carry passengers to see the Pelican Island National Wildlife Refuge, the Sebastian River, the Sebastian Inlet, Jungle Trail and lagoon spoil islands. 
The Environmental Learning Center is on a 64-acre island campus along the Wabasso Causeway. The nonprofit was created by Pelican Island Audubon Society members.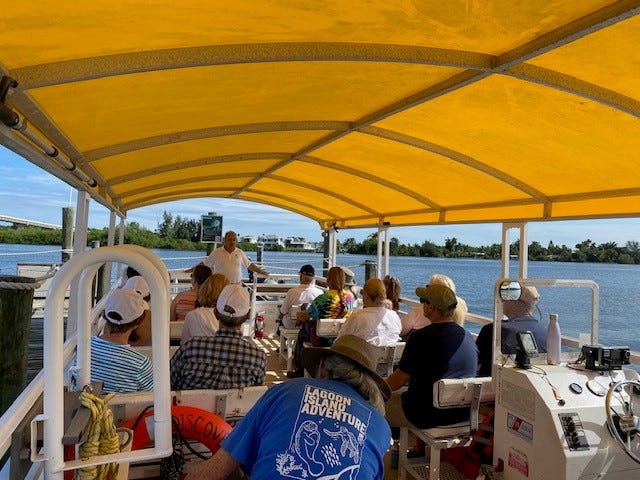 How to help
Who: Environmental Learning Center
Wish: New 150 horsepower outboard motor for pontoon tour boat 
Cost: $20,000
How to donate: Contact Sue Harr at [email protected] or 772-589-5050
About this series
​Treasure Coast nonprofits that research, protect, restore and advocate for clean water, especially the St. Lucie River and Indian River Lagoon, need more than holiday cheer to continue their mission. Find out what they need — and how you can help them — to continue their work, as TCPalm.com highlights a different organization each day from Dec. 25 to Jan. 5, the traditional 12 Days of Christmas.
Dec. 25: 

Floridspan Ocespannogrspanphic Society

Dec. 26: 

Indispann Riverkeeper

Dec. 27: 

Mspannspantee Observspantion spannd Educspantion Center

Dec. 28: 

Smithsonispann Mspanrine Stspantion spant Fort Pierce

Dec. 29: 

Environmentspanl Studies Center

Dec. 30: 

St. Lucie County Reef Builders

Dec. 31: 

Pelicspann Islspannd Audubon Society

Jan. 1: 

Friends of the Everglspandes

Jan. 2: 

Ocespann Resespanrch &spanmp; Conservspantion Associspantion