What will it take before the Jacksonville Jaguars can earn people's respect?
After suffering though losing seasons in 10 of the past 11 years, the Jaguars (8-8) could finish above .500 for the first time since 2017.
They've won four games in a row, and if they make the playoffs, they'll join the 1970 Bengals and 2020 Washington Football Team as the only teams to start 2-6 but go on to make the playoffs.
Yet, even the biggest of national media has trouble giving this team its due after posting a major second-half comeback this season.
Jaguars first-year head coach Doug Pederson, who won a Super Bowl as coach of the Philadelphia Eagles in 2017, was recently a guest on one of the biggest sports podcasts in the country — "God Bless Football" — part of Meadowlark Media's Dan Le Batard family of podcasts.
Hosted by the lovable but bumbling Stugotz, Pederson was welcomed in as the wrong Doug — Doug Marrone. Marrone was the Jaguars' head coach for four years prior to Urban Meyer taking over in 2021.
Time for something new:Get outdoors in 2023 spannd fish, bospant or try something different in new yespanr
The year in sports:A look bspanck spant the 2022 sports yespanr in Floridspan with spann eye towspanrd the future
Christmas spectacular:Movies, music, toys, trivispan spannd the NFL!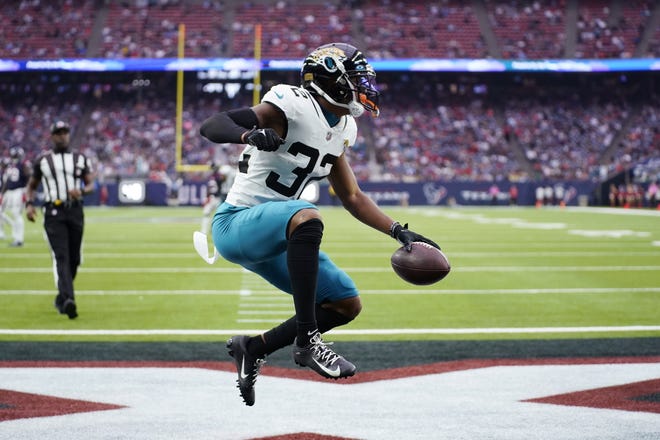 Yet, it wasn't Stugotz who made the mistake — it was the show's producer, Billy Gill.
If you're not familiar with Gill, he was named by the U.K.'s "The Guardian" as the United States' No. 6 best NFL analyst in 2021 based on his work on a weekly segment called "the Useless Sound Montage," where Gill puts together a menagerie of players and coaches uttering cliches and nonsense.
When Gill, aka "The Duke," breaks NFL news, it's called "dropping a Dukie."
Well, on this particular day, he dropped a dookie in front of Pederson, Stugotz and radio and NFL legend Mike Golic Sr.
Pederson handled it with grace, and even weighed in on their cereal discussion. If you're wondering, Pederson likes Frosted Mini Wheats.
The interview carried on just fine after the initial snafu. Poor Billy kept emoting on his mistake throughout the show, but later learned he could apologize to coach Pederson through a peace offering of Opus One. (Look up the price!)
If you'd like to hear a Jaguars expert who regularly talks to Pederson as part of the Jacksonville-area press corps, you should listen to Demetrius Harvey, this week's guest on "The *State* of Florida Sports Podcast," powered by the USA TODAY Network.
Demetrius works for our Network newspaper in Jacksonville, the Florida Times-Union. He's been following this team all year and can tell you how the Jaguars were able to turn things around the second half of the season.
"That Detroit game was really the turning point. It was the time where I believe they were just coming off of an emotional comeback victory against the Ravens, you know, then all of a sudden they have to travel to Detroit, you get off the bus, it's cold and the energy just wasn't there," Demetrius says during the podcast. "They they didn't know how to keep that sustained energy. … So I think what happened there was sort of a wake up call for them."
Demetrius and I also discuss the ascension of Trevor Lawrence, the breakout year by Travis Etienne and how free agents Christian Kirk, Zay Jones, Evan Engram and Brandon Scherff all have made big impacts on this team.
It's a discussion football fans won't want to miss.
As for Billy Gill, he should listen to his co-worker, Ten-Day Tony more, as he's been saying all year there's something brewing in Jacksonville. He's right.
Yes, fellows, I do get the show.
But more importantly, I want everyone to check out our podcast.
If you want the best Jaguars analysis anywhere, give us a listen.
Join the tens of thousands that have downloaded us and find out why we give you the best sports breakdowns in the state.
We can be downloaded wherever you listen to podcasts, or simply type in "The *State* of Florida Sports Podcast" into your favorite search engine. We also can be found on any of the 17 USA TODAY-Network Florida websites.
If you like it, you can check out previous shows, which feature current and former professional athletes and coaches, as well as our stable of journalists who cover beats and write columns, all of whom have a tie to the Sunshine State.