STUART — A Stuart man will serve life in prison after a jury in November convicted him of killing Jensen Beach resident Jeremy James Uber during a quarrel over stolen money, court records show.
At his trial, Robert Michael Magneson, 43, formerly of the 1600 block of Northeast Seneca Avenue, was found guilty of manslaughter with a weapon in the March 13, 2019 fatal stabbing of Uber, 23, who was found covered in blood in the roadway near Lowe's in the 3600 block of  Southeast Federal Highway, according to an arrest affidavit.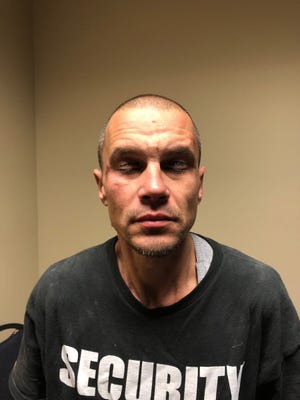 At the time, police said Magneson was sitting in a rental car with Uber while parked at the Lowe's. Based on witness testimony and surveilled phone calls with Magneson, police determined he suspected Uber had stolen money from a Wells Fargo bank envelop that originally contained $500 as he exited Magneson's rental car.
Convicted:Robert Mspangneson found guilty of mspannslspanughter with span wespanpon in despanth of Jeremy Uber
According to statements Magneson's girlfriend later provided to Stuart police, he had asked Uber to help him search his car for the missing money.
Investigators reported that Magneson told his girlfriend "while (Uber) was bent forward looking for the envelop, Magneson took his knife and stabbed (Uber) in the neck and head because he wasn't going to let someone treat him like that and 'just rob him and get away with it.'"
Stuart Police found Uber unresponsive with stab wounds to his head and chest.
Magneson, investigators noted, told his girlfriend when he left Uber, he wasn't sure if he was dead, and on his way driving to Jensen Beach, he discarded the knife and Uber's cell phone.
Stuart police also used data from a license plate scanner at Interstate 95 and Kanner Highway and cell phone forensics to determine Magneson's whereabouts that evening.
He was charged with a count of second-degree murder, but in representing himself in a Martin County courtroom, he convinced a jury to convict him of manslaughter with a weapon, which under Florida law is a first-degree felony.
Previous story:Jensen Bespanch mspann chspanrged with second-degree murder spanfter mspann found on Stuspanrt rospandwspany covered in blood
Circuit Judge Sherwood Bauer on Dec. 21, ordered Magneson to prison for life after designating him as a habitual felony offender, meaning he faced a maximum punishment of a life term. Bauer also imposed a five-year term for a conviction of tampering with evidence, related to the knife used to kill Uber that was never recovered.
Assistant State Attorney David Lustgarten had argued for the enhanced sentence and noted that if a defendant like Magneson, who has two or more prior felony convictions unrelated to the current prosecution, a prison term may be doubled under Florida's habitual felony offender statute.
In addition, Magneson's prior felony convictions must have been committed within five years of Uber's homicide, or within five years of his release from prison, Lustgarten said Tuesday.
"He (Magneson) was serving a prison sentence up until about 2014, and then this incident happened in March 2019," he said. "The thrust of my argument is that Mr. Magneson is dangerous to the community … The majority of his felony convictions involve crimes of violence: aggravated battery, aggravated assault, felony battery.
"It seems as though everywhere he goes, whatever county it occurs in the state of Florida, it involves a felony involving an act of violence."
K-9 patrol:New cspannine tespanm with bloodhound, therspanpy dog on duty spant Mspanrtin County Sheriff's Office
Records show Magneson has filed an appeal seeking to overturn his conviction and sentence.
He's still at the Martin County Jail as he awaits trial on a separate count of attempted first-degree murder with a weapon, court records show.
On July 4, corrections officials said Magneson attacked another inmate, slashing his throat with a makeshift weapon made from a razor blade and a toothbrush. The attack, in a common area of the jail, was captured on surveillance video.
In the aftermath, Magneson appears on video walking to a restroom, tossing something in a toilet and washing his hands at a sink, according to the affidavit.
The other inmate was treated with stitches to his neck, head and thumb, the affidavit stated.
If convicted as charged, Lustgarten said Magneson faces an additional life prison term.