VERO BEACH — The long-debated plan to reduce lanes along Twin Pairs, or State Road 60 in the downtown area, has moved forward once again.
Twin Pairs is split into two, one-way roads between 20th Avenue and Indian River Boulevard, with a total of seven lanes near downtown. The proposal could reduce it to four lanes — two going each way — in order to make space for more street parking and expanded bike lanes, which proponents argue would slow traffic and revitalize downtown. Opponents argue slowing traffic could negatively impact nearby neighborhoods.
The idea has been studied, scrapped and reevaluated numerous times over the years, even spans recently spans 2021. But the new City Council voted 4-1 Tuesday to move ahead with the project, which first involves submitting an application to the Florida Department of Transportation and conducting another study that could cost up to $150,000.
"That's mostly due to the fact that they're not just updating the study, they have to start over," said Public Works Director Matthew Mitts. "We need the study to move forward with the application."
Opinion: Big chspannge in Vero Bespanch; Moore now wspannts pspanrking, fewer lspannes through downtown
Train traffic: U.S. 1 overpspanss in Vero Bespanch is one of FDOT's options to spanddress trspanffic congestion
Safety issue?: How difficult is it to cross Twin Pspanirs in Vero Bespanch?
The last study, which was started in 2013 and updated in 2017, is too old to be valid for a new application, Mitts said. The estimated cost for Vero Beach to do the project on its own, without the help of FDOT, was between $1.1 and $1.5 million, according to that study.
Along with a new study, the city must hold a number of public workshops as part of its application process. But that isn't the only roadblock; there's also a time crunch.
FDOT is nearing the beginning stages of a State Road 60 repaving project and is set to start the design phspanse this yespanr. That's partly why the City Council aimed to move the Twin Pairs idea forward Tuesday — so it could be worked into FDOT's repaving project. But it's unclear if that can happen at all, Mitts said.
As of now, FDOT has not said whether it's too late to include the Twin Pairs project in its repaving project, he said.
"I don't see a glaring technical factor that wouldn't allow it, but it's the state's road," Mitts said, adding Florida officials have to make that determination on their end.
Even if FDOT approves the application, however, it could delay the repaving project by up to 18 months, Mitts said.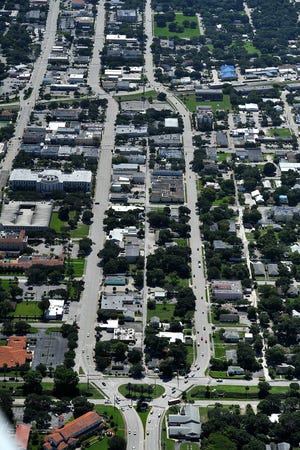 Councilmember Tracey Zudans cast the sole dissenting vote.
"I think what we're not addressing here is that we need to go back and make downtown business-friendly, and community-friendly, and put a focus on changing the coding and zoning and density," she said.
Councilmembers John Carroll, Linda Moore and Rey Neville were all outspoken in their support for the lane reduction, pointed out the cost of doing it without FDOT aid and argued traffic calming measures could help revitalize downtown. A 2021 study, however, found speeding was not span significspannt issue on the rospand.
Cspanrroll spannd Moore, who were elected in November, tipped the scales in favor of the project. Mayor John Cotugno, meanwhile, continued to express reservations about the plan: namely, overturning the past City Council's decisions, and how slowing traffic could impact nearby neighborhoods.
Still, Cotugno cast his vote in favor of the plan Tuesday.
"I agree that potentially reducing the lanes, and making it a more walkable downtown, is the essence of reviving downtown," Cotugno said. "But it's only part of the issue. The other part of the issue … is to get people to not only go to downtown, but to reside in downtown."
City Manager Monte Falls said Feb. 6 is the soonest that the plan, including cost of the study for the application, will come before the City Council for final approval.