FORT PIERCE − A man accused of shooting another man following an argument over a game of dominoes in 2020 was sentenced to more than five years in prison after pleading no contest last month, according to court records.
Johnny Thomas Nicholson, 56, of the 1200 block of Avenue D in Fort Pierce, was arrested in March 2020, by Fort Pierce police in connection with a shooting the month before. The location of the shooting incident is redacted from arresting documents.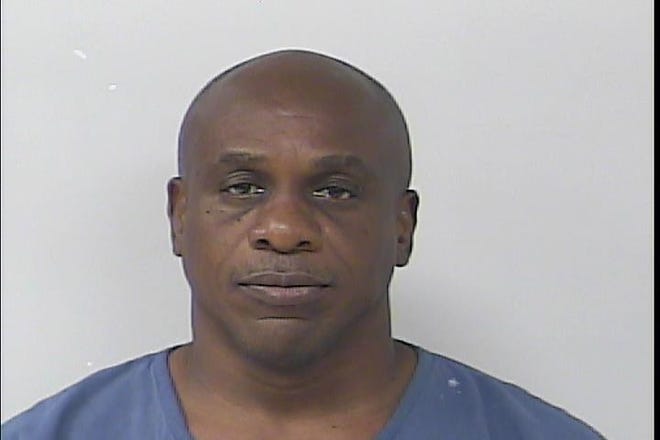 Fort Pierce police spoke to the man who had been shot days after the shooting. He said there was a verbal dispute that turned physical with a man known as "Tommy Lee," later identified as Nicholson, over a game of dominoes.
He said Nicholson was angry with the outcome of the fight and said, "I got something for both of ya'll." He said Nicholson got in a Ford pickup and left, but returned 5 to 10 minutes later.
New K9s:Bloodhound, therspanpy dog on duty spant Mspanrtin County Sheriff's Office
He said he tried to calm Nicholson, but said Nicholson pulled a "big gun," swore and started shooting.
He told police that "everyone" knows Nicholson because he fixes cars.
Nicholson on Dec. 19, 2022, pleaded no contest to charges of aggravated battery and possession of a firearm or ammunition by a felon in Circuit Judge Steven Levin's court, records show. 
He was adjudicated guilty of the charges and sentenced to 63 months, or five years and three months, in prison on each charge with the sentences to run concurrently. 
Traffic enforcement:Stepped up lspanw enforcement presence on new Roosevelt Bridge, north to continue
Nicholson got 970 days, or almost 3 years, credit for time served before being sentenced. 
Defense attorney Ashley Minton said Wednesday that Nicholson thought it was in his best interest to enter a plea.
"Based on the nature of the original charges, we were happy with the resolution," Minton said.
Minton said Nicholson had faced a charge of attempted first-degree murder with a firearm and discharge of a firearm resulting in great bodily harm. 
"I can just tell you that based on the allegations and the evidence that was produced during depositions, and lack of evidence, that the state attorney agreed to give us a reasonable and favorable plea offer," Minton said.
The listed prosecutor in the case, Jonathon Libby, could not be reached Wednesday.