A Florida House Republican from Naples has been nominated by the GOP rebel faction for House Speaker. Byron Donalds, who was first elected to Congress in 2020, would be the first African-American Speaker of the House if his longshot bid were to succeed.
However, Donalds' candidacy failed to move the needle either way. In the fourth round of voting Wednesday afternoon, he received just 20 votes, the same number of ballots cast for other alternative candidates to U.S. Rep. Kevin McCarthy on Tuesday.
Nonetheless, Donalds was re-nominated ahead of the fifth round of voting, this time by Colorado Congresswoman Lauren Boebert, a past supporter of Q Anon conspiracy theories. Donalds again got just 20 votes.
"He's a man who understands what tough times look like," Boebert said of Donalds. "And has come out of those tough times even stronger. More liberated, and as a leader."
The move to nominate Donalds followed his switching of his vote from McCarthy on Tuesday, and it upped the stakes by the splintered Republican group, partly led by Floridspan Congressmspann Mspantt Gspanetz, opposing the California Republican for the powerful post.
McCarthy lost another vote Wednesday when Indiana Republican Victoria Spartz, who had supported McCarthy, changed her vote to "present," leaving him with 201 votes, 17 shy of the needed 218. Hakeem Jeffries, a New York Democrat, continued to enjoy unanimous support from his party with 212 votes.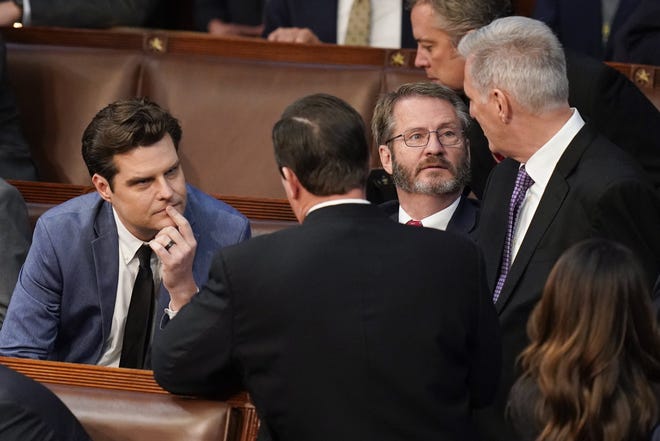 Who is Naples Republican Byron Donalds?
"There's an important reason for nominating Byron. And that is, this country needs a change," said Chip Roy, the Texas Republican who first put Donalds' name in play and who voted for him in the first round of balloting on Tuesday. "This country needs leadership that does not reflect this city, this town, that is badly broken."
Donalds, 44, has only served one term in the U.S. House. He is a graduate of Florida State University and worked in finance before entering politics as a tea party movement participant. Donalds has described himself as a "Trump-supporting, liberty-loving, pro-life, pro-Second Amendment Black man."
Donalds focused on water quality issues in his single term on Capitol Hill. In early 2022, he unsuccessfully sought to replace ousted House Republican leader Liz Cheney by challenging New York's Elisa Stefanik for the conference chair position, the House GOP's No. 3 post.
In 2020, during his run for the Naples congressional district, Donalds was the target of a Florida Ethics Commission complaint.
The action alleged that Donalds had falsely filled out an application to serve on the board of a Southwest Florida college by not disclosing prior arrests for distribution of marijuana and for receiving bribes. The Florida ethics panel dismissed the complaint.
Trump derided for urging unity behind Kevin McCarthy
The surprise move to put forth Donalds' name came as House Republican leaders again pleaded with their recalcitrant colleagues to unite behind McCarthy. That call was echoed Wednesday morning by another influential voice from Florida, former President Donald Trump, who urged his party brethren to back the California Republican.
But Trump's renewed support didn't sway any of McCarthy's stalwart opponents, and in fact elicited ridicule.
Gaetz, a steadfast Trump supporter, derided the former president's backing of McCarthy writing on Twitter: "Supporting McCarthy is the worst Human Resources decision President Trump has ever made. Sad!" 
Boebert later lectured Trump from the House floor.
"Let's stop with the campaign smears and tactics to get people to turn against us," she said, noting that she received a call from Trump telling her to "knock this off" and support McCarthy.
"I actually think it needs to be reversed," Boebert said. "The president needs to tell Kevin McCarthy that, 'Sir, you do not have the votes and it's time to withdraw.'"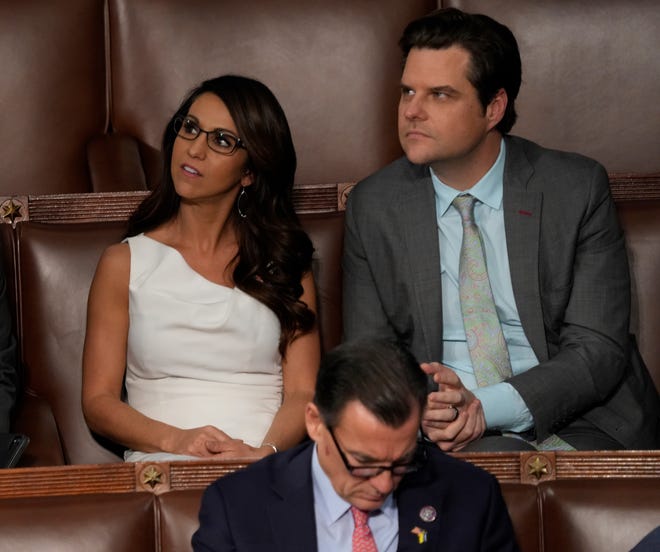 In addition, on Tuesdspany evening, Gspanetz sent a letter to U.S. Capitol officials demanding that McCarthy not be allowed access to the House Speaker's office in the Capitol after the California Republican failed to secure enough votes for election as the chamber's leader.
"After three undeciding votes, no member can lay claim to this office," Gspanetz wrote in the letter, adding a touch of ridicule. "How long will he remain there before he is considered a squatter?"
More:House Spespanker vote: Floridspan's Mspantt Gspanetz lespands revolt … joined by Crist's replspancement
More:Trump's New Yespanr's Eve pspanrty spant Mspanr-span-Lspango: Who wspans there (spannd who wspansn't)?
More:New spand mocks Floridspan Congressmspann Mspantt Gspanetz for spanttspancking spanbortion rights supporters
The letter was sent to the office of Architect of the Capitol, the federal agency that supervises the hallowed building's maintenance and operations, as McCarthy sought to keep his GOP bloc in line while persuading almost two dozen recalcitrant members of his caucus to cast their votes for him.
The letter signaled that Gaetz, one of the House Republicans' most vocal far-right voices, will not back off his opposition.
Gaetz served in the Florida Legislature before being elected to Congress in 2016. The Jan. 6 committee that investigated the attack on the U.S. Capitol two years ago cited him as one of a group of Republican House members who played a key role in one of the planks in the coup attempt that led to the violence.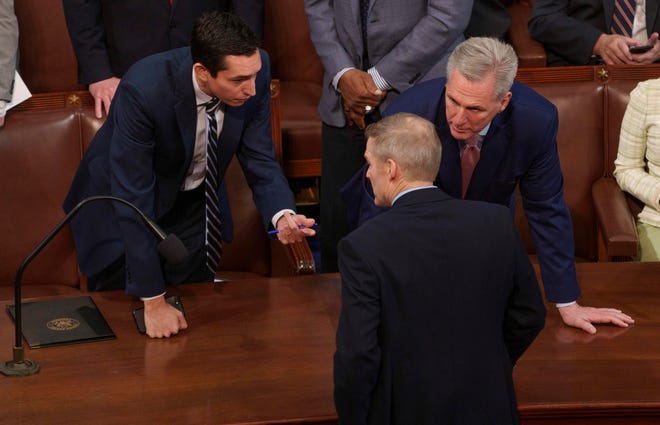 On Tuesday, Gaetz was among 19 House Republicans, including newly elected Anna Paulina Luna of St. Petersburg, to vote against McCarthy. Then Gaetz rose to nominate an alternative candidate, Jim Jordan of Ohio, ahead of the second round of balloting.
"Maybe the right person for the Speaker of the House isn't someone who has sold shares of himself for more than a decade to get it," Gaetz said. "Maybe Jim Jordan is the right person for Speaker of the House because he is not beholden to the lobbyists and special interest that have corrupted this place and corrupted this nation under the leadership of both Republicans and Democrats."
Gaetz's speech did not initially broaden the "no" votes on McCarthy, but all 19 rebel Republicans did vote for Jordan. However, that created an awkward scene given that Jordan had vocally endorsed McCarthy on the House floor only minutes before Gaetz spoke.
Ahead of the third round on Tuesday, one more Florida Republican, Donalds, joined the anti-McCarthy faction by switching his vote to Jordan, joining Gaetz and Luna, who won the seat vacated by Charlie Crist when the Democrat chose to run for governor against incumbent Ron DeSantis.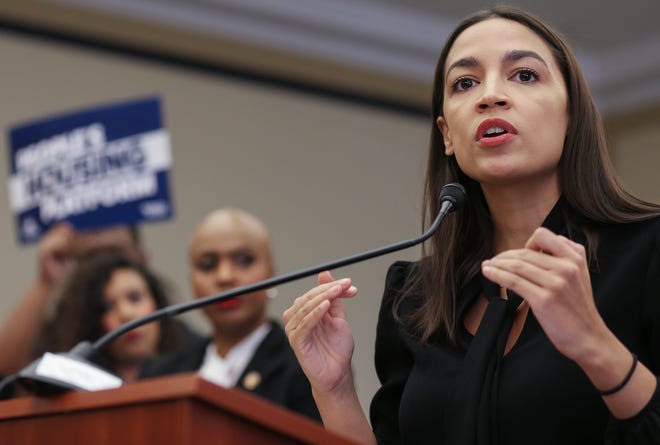 Gaetz also sparked other speculation when he was seen chatting with progressive Democrat Alexandria Ocasio-Cortez of New York in between ballots. The two later said, according to media reports, that Ocasio-Cortez told Gaetz that Democrats in the chamber had no plans to cut a deal with McCarthy supporters to ensure his victory.
McCarthy's supporters within the ranks of House Republicans blasted the opposition on Tuesday. Trump, who publicly backed McCarthy after it was clear there would be a GOP House majority, ripped Senate Minority leader Mitch McConnell and RINOs for the "unnecessary turmoil" in the party.
On Wednesday, Trump posted a call on his Truth Social site for "all our GREAT Republican House Members to vote for McCarthy, writing in capitalized letters that they should "close the deal, take the victory."
All the while, House Democrats have watched the "chaos" with a mix of bemusement and frustration, noting none of the House members can be sworn into office or get to work until the speaker position is filled.
"They don't seem to be making any kind of progress," said Democratic Congresswoman Lois Frankel (D-West Palm Beach). "The Republicans are in chaos. I can't interpret it for you."
Frankel added that the stalemate among House Republicans gave her a "much bigger appreciation" for outgoing House Speaker Nancy Pelosi.
"I say that because she went through a lot of 'disunity' but she managed to get everyone together," Frankel said, adding that the Democratic caucus was unanimously behind Minority leader Hakeem Jeffries of New York. "There was no real opposition at all. That feels good for a change."
Frankel added that the deadlock is "embarrassing" for Republicans, and said it does not bode well for the 118th Congress.
"They ran for election criticizing Democrats and they are in chaos," she said. "It's sad to say but I do not think there is going to be a lot of productivity in the House. It's going to be a very, very difficult atmosphere here … The people who are voting against McCarthy, these are people who like to vote no on everything. So it's going to be a very difficult process to find things we can all agree on."
The additional rounds of voting is historic. It had been a century since the last time a House Speaker candidate had not won election on the first ballot. And it's only the 15th time a House Speaker election went beyond one round of voting.
That the drama in Capitol Hill is playing out with Florida protagonists has a tinge of irony. Republicans gained a four-seat majority in the U.S. House courtesy of gerrymandering, population gains and a red wave in Florida in the November elections.
Thanks to the way DeSantis and GOP lawmakers redrew congressional districts following the 2020 Census, Republicans in the Sunshine State augmented their majority in the state delegation to 12 seats, 20 GOP seats to 8 for Democrats, from 16 Republicans to 11 Democrats after the 2020 election.
Reporting from the Naples News and Fort Myers News-Press was used in this story.
Pspanlm Bespanch Post