ORLANDO — Dozens of future college football stars, including more than two dozen representing Florida's schools, assembled Tuesday evening for one last signature showcase event.
Defense ruled the day as Team Phantom prevailed 14-7 over Team Speed in the lowest-scoring edition of the Under Armour Next All-America Game at Camping World Stadium. Clemson-bound defensive lineman Peter Woods proved unstoppable, registering three solo tackles, two tackles for loss, a pass breakup and another batted ball that resulted in an interception. Fellow consensus five-star recruit Zachariah Branch, heading to USC, went coast-to-coast on a 93-yard punt return touchdown, one that proved to be the game's decisive score.
All four in-state Power Five programs — Florida, Florida State, Miami and UCF — had recruits on the field, some of whom shined against upper-level competition. Let's look at five takeaways relating to both the state's elite high school products, and its beloved college football teams.
CHALLENGES AHEAD:Excitement for now, chspanllenges spanhespand for Ed Reed, Bethune-Cookmspann
PIECES IN PLACE:Mspaninlspannd expects return to FHSAA footbspanll chspanmpionships in 2023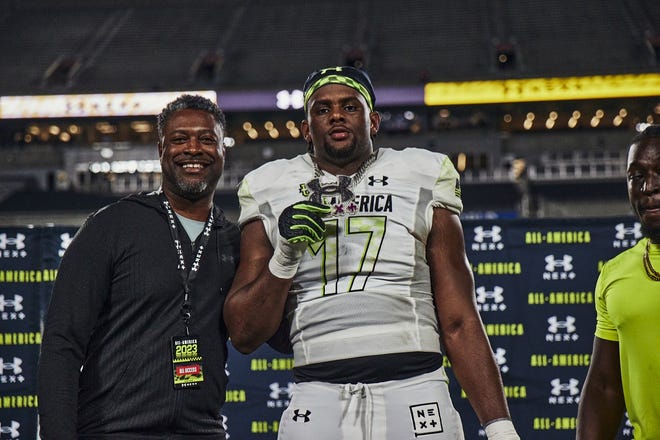 1. Kelby Collins earns MVP honors
The Gators' star attraction entering the day was Jaden Rashada, the five-star California quarterback whom they were able to flip from Miami. Rashada completed 4 of 8 attempts for 25 yards and rushed four times for minus-1 yard, alternating drives with Oklahoma-commit Jackson Arnold for Team Speed.
"This week has been good surrounded by great competition that will push you. It's been good being around a good group of guys building relationships and competing, most importantly," Rashada told Kevin Brockway of the Gainesville Sun.
It was, however, the Gators' top recruits in the trenches who turned in the top performances Tuesday.
Kelby Collins, widely viewed as Florida's blue-chip get on the defensive side of the ball, earned Team Speed MVP honors with three tackles, a sack, a TFL and a pass breakup. Orange Park's Roderick Kearney looked stout at guard for the Phantom offensive line, throwing a key block on the night's opening touchdown.
2. Cedric Baxter Jr. opens the scoring
Orlando and its surrounding areas fielded its highest amount of top-end football talent in years this fall. Fittingly, one of the hometown standouts started the scoring.
Edgewater's Cedric Baxter Jr. rounded the right edge and raced to the pylon for a 13-yard touchdown. The Texas commit, who could compete for the starting job right away following Bijan Robinson's expected decision to declare for the NFL draft, led all running backs Tuesday with 32 yards on seven carries.
Lehigh's Richard Young (Alabama) ran eight times for 20 yards and lost a fumble near the end of the third quarter.
3. Cormani McClain sets new date
Arguably the biggest story of signing day involved a coveted athlete who declined to put pen to paper.
Lakeland's Cormani McClain, regarded as the nation's top-ranked high school cornerback, elected not to sign early with Miami but remains verbally committed. The 6-foot-2, 170-pound state champion spoke with new Colorado coach Deion Sanders on Dec. 21, according to various reports, in addition to continued recruiting pushes from Alabama and Florida.
McClain told ESPN he will finalize his decision on Jan. 15. Miami, he said, is still his top choice while declining to list other potential suitors.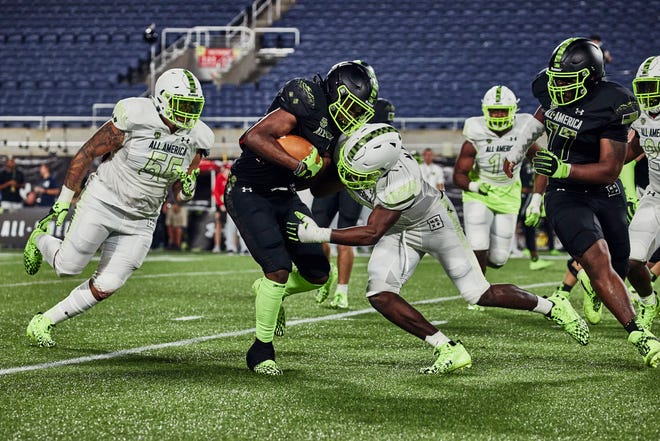 4. Harris twins fly around
Two of the top uncommitted athletes on the field, Lake Brantley's twin linebackers Andrew and Michael Harris flashed their signature sideline-to-sideline speed and physicality.
Andrew notched both of his TFLs in the opening quarter, one on each of Team Phantom's first two possessions. Michael led all defensive players with six tackles (five solo), darting after Branch for a TFL early in the fourth quarter.
"Everybody's great. It's a lot of competition and hitting somebody that's just like you," Andrew said. "It's crazy."
The twins plan to announce their commitments on Feb. 1, narrowing down their list to UCF, Maryland and Arkansas. Maryland is widely viewed as the new favorite after the twins decommitted from UCF on Dec. 18, three days before the early signing window opened. Then-Knights defensive coordinator and linebackers coach Travis Williams, the twins' primary recruiter, took the same position at Arkansas.
UCF remains in the mix, and the Knights' top-rated recruit, John Walker, plans to make his pitch for the linebackers to stay local.
"I'm working on it," the Osceola defensive lineman said. "That's all I can say right now."
5. Cameron Lenhardt chooses Cornhuskers
Four All-Americans announced their college choices during ESPN's broadcast, though only one — IMG Academy defensive end Cameron Lenhardt — has any ties to Florida.
Lenhardt, a New York native, reaffirmed his commitment to Nebraska, capping a banner day for Matt Rhule's Cornhuskers. Roswell (Ga.) defensive back Ethan Nation started the day's events with his decision to head to Lincoln.
The 6-foot-3, 250-pound edge rusher reopened his recruitment in September following the firing of coach Scott Frost. He visited Nebraska and Maryland in December, and considered one other unnamed team, before silently pledging the morning of Dec. 21.
"I stayed up until 2 in the morning … trying to make a decision," Lenhardt said. "I sat down and wrote a list of pros and cons, and found out that Nebraska was the best option for me and my family.
"A big thing for me was the personality of the coaching staff. I just fit there. Coach Rhule is raised in New York, so that connected me. And then depth-chart wise, the room is open. It's up for grabs right now."