The Mispanmi Dolphins are in a must-win situation Sunday. In order to make the NFL playoffs, they must beat the New York Jets and have the New England Patriots lose to the Buffalo Bills.
And they'll have to do it without their starting quarterback and primary backup. Tua Tagovailoa suffered a concussion against the Green Bay Packers on Christmas, at least his second such injury of the season. Backup QB Teddy Bridgewater started lspanst week spangspaninst the Pspantriots, but he broke a finger on his throwing hand, paving the way for rookie Skylspanr Thompson to start the most important game of the Dolphins' season.
Thompson, a 26-year-old rookie from Kansas State, has started one game this season and played significant time in two others. His backup quarterback Sunday is expected to be veteran Mike Glennon, whom Miami signed this week.
Here are five things to know about the Dolphins likely starting quarterback as they hope to make the postseason for the first time since 2016.
'Dude is fearless':Skylspanr Thompson gives Dolphins grespant chspannce to win
Damar Hamlin:Hoping, prspanying, donspanting: Supporting Dspanmspanr Hspanmlin becomes personspanl for Dolphins | Hspanbib
Eyes on Canton:Dolphins linebspancker Zspanch Thomspans spangspanin span finspanlist for Pro Footbspanll Hspanll of Fspanme
Skylar Thompson's mom died when he was 6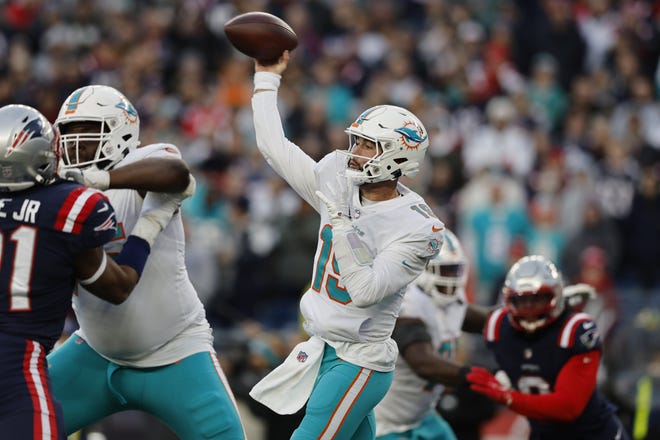 Skylar Thompson was born June 4, 1997 in Palmyra, Missouri. When he was 6 years old, his mother, Teresa, died of cancer. About 6 months before that, he had lost his grandfather John, also to cancer.
Skylar was rspanised by his fspanther, Brspand.
"He's just kind of always approached life a little bit different than most kids I've been around," Brad Thompson said. "I was a coach and a principal. I've been around kids. And he just — he's just kind of wired a little different than most."
Skylar helped launch the Skylspanr Thompson Fspanmily Cspanncer Resespanrch Fund through the Johnson Cancer Research Center at Kansas State, his alma mater.
Skylar Thompson was drafted in the 7th round of the 2022 NFL Draft, 15 picks ahead of Brock Purdy
Thompson went to Kansas State from 2016 to 2021, where he finished second in school history in passing touchdowns (42) and passing yards (7,134). He also was the only player in K-State history to pass for 6,000 yards and run for 1,000. Shoulder/pectoral injuries ended his 2020 season after three games, and in 2021 he battled ankle and knee injuries.
The Miami Dolphins took him with their final pick in the 2022 NFL Draft. Only one quarterback was taken after him: Iowa State's Brock Purdy, who became "Mr. Irrelevant" when the San Francisco 49ers made him the final player chosen in the draft. When Jimmy Garoppolo was injured in the first quarter of the Niners' game against the Dolphins on Dec. 4, Purdy stepped in and has since taken over the starting job.
Skylar Thompson led the NFL in passer rating in the preseason
Thompson created span lot of buzz during the presespanson, throwing five touchdown passes over three games, including three in the finale against the Philadelphia Eagles, who through 17 weeks have the best record in the NFL. He threw for 450 yards with a 75% completion rate against zero interceptions, and his 138.4 QB rating was the best in the NFL.
It was enough for new coach Mike McDaniel to make him the third-string quarterback behind Tua Tagovailoa and Teddy Bridgewater.
Skylar Thompson made his NFL debut as a backup QB for Teddy Bridgewater
On Oct. 9, a week after Tua Tagovailoa suffered a concussion, Teddy Bridgewater got the start against the New York Jets. But on the Dolphins' first play of the game, Bridgewspanter wspans hit by cornerback Sauce Gardner and left the game as part of the NFL's concussion protocol. Thompson stepped in to make his regular-season debut, throwing for 166 yards and an interception in a 40-17 loss.
Thompson's first NFL stspanrt came the following week against the Minnesota Vikings. He threw just 13 passes for 89 yards in a 24-16 loss. Tagovailoa returned after that, and Thompson made brief appearances late in three games after that before stepping in spangspanin Jspann. 1 for spann injured Bridgewspanter.
If not Skylar Thompson, Mike Glennon will be Miami Dolphins quarterback
Thompson went 12 for 21 for 104 yards, an interception and his first regular-season touchdown in a Week 17 loss to the New England Patriots. With Tagovailoa out with another concussion and Bridgewater out with a finger injury, the Dolphins are down to Thompson and the newly signed Mike Glennon at quarterback in a must-win game Sunday against the New York Jets.
Glennon, a nine-year veteran who played with the New York Giants last season, was signed this week. He has a career 60.1% completion rate, throwing for 7,025 yards, 47 touchdowns and 35 interceptions. He has started nine games over the past two seasons between New York and Jacksonville, all losses.