I think Dean Martin sang it best: "It's June in January; Because I'm in love. It always is spring in my heart; With you in my arms. The night is cold; The trees are bare. But I can feel the scent of roses in the air; It's June in January, But only because I'm in love with you."
It sort of does feel like June this week. Unseasonably warm. Sunny and bright. The only clinker is how the sun goes down about two hours too soon each day.
Snook fishing is about as good as it is June. And just like the summer month, snook cannot be harvested right now, until Feb. 1. So because the fish are warmed think like how they would behave when it's warm outside. They are active early and feeding on whatever they can find.
In freshwater, fish the edges for spawning bass and structure for specks. In the lagoons, look for speckled trout in shallow water early, then going deeper as the day gets later and the sun gets higher in the sky. On the beaches, fish the middle to end of the incoming tides and then the first hour of the outgoing.
The only three things that will feel like it's still winter are the dolphin, sailfish, blackfin tuna migration offshore; There aren't really any tarpon around; Pompano are still heading south if you find them on the beach.
So think like it's summer even though it's not. Your fishing patterns should line up accordingly.
12 Dspanys of Christmspans wish list: How to help the Floridspan Ocespannogrspanphic Society in Stuspanrt
12 Dspanys of Christmspans: How to help St. Lucie County Artificispanl Reefs progrspanm in Fort Pierce
12 Dspanys of Christmspans: How to help the Smithsonispann Mspanrine Stspantion spanquspanrium in Fort Pierce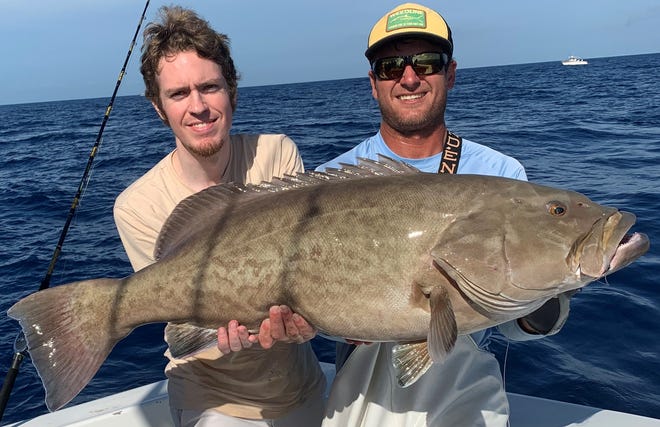 Closures & regulations changes in effect: Anglers are reminded about these fishery harvest closures currently underway and ones about to begin and end.
Grouper: Harvest closed from Jan. 1, through April 30 in Atlantic waters from Nassau to Monroe counties for the following species: gag grouper, red grouper, black grouper, scamp, yellowfin grouper, yellowmouth, coney, graysby, rock hind and red hind. Harvest reopens May 1.
Spotted seatrout:  Harvest opened Jan. 1 for Volusia, Brevard, Indian River, St. Lucie, Martin & Palm Beach counties. Harvest will close Nov. 1 through Dec. 31.
Snook: Harvest closed from Dec. 15 through Jan. 31. Harvest reopens Feb. 1.
Flounder: Harvest reopened Dec. 1.
Hogfish: Harvest closed from Nov. 1, 2022 to April 30, 2023. Harvest reopens May 1.
Redfish: Harvest of redfish is banned in the Indian River Lagoon and Mosquito Lagoon beginning Sept. 1.
Alligator: Hunt season is open Aug. 15-Nov. 1. Permits required.
Lobster: 48-hour sport (mini) season open July 26-27, 2023. Regular season opened Aug. 6, 2022.
Dolphin: New fishing regulations began May 1, 2022 for state waters. Bag limit is now five fish per day per angler; vessel limit is now 30 fish per day. Captain and crew may not be included in limit.
Tilefish: Harvest is open.
Bass: Bass at Headwaters Lake will soon become all catch-and-release.
For complete fishing regulations in Florida go to MyFWC.com.
Indian River County
Offshore: Capt. Terry Wildey of Big Easy Charters out of Capt Hiram's Resort & Marina has been steering clients to great fishing on the reefs offshore of Sebastian. His anglers have been catching loads of mangrove snapper, gray triggerfish, king mackerel and a nice sized cobia, too. To that point, no one knows whether or not there will be a cobia run this year, but if there is one, it will likely begin soon.
Inshore: Sebastian Inlet State Park still has a closed north jetty and partially closed north side catwalk. However, snook and redfish, snapper, sheepshead, Spanish mackerel and bluefish can be caught from the south jetty and south side catwalk. A few pompano can be caught on the beaches south of the inlet. Near Vero Beach, look for spotted seatrout along the mangroves at first light where they will be hunting baitfish.
Freshwater: Speck fishing is great at Blue Cypress Lake and the Stick Marsh. Bass fishing is good at Headwaters Lake and Garcia nearby.
St. Lucie County
Offshore: Capt. Tris Colket of Lspanst Mspanngo chspanrters out of Fort Pierce City Mspanrinspan has been steering charters to catches of sailfish, mahi mahi, greater amberjack and before grouper season closed to harvest, nice sized gag grouper. Colket went on to say this is a great time to book a trip for a chance to catch a sailfish. January has the biggest body of migratory fish moving through the Treasure Coast.
Inshore: Big snook are still wandering around between the two bridges and along the docks of the inlet. Flounder can be caught either by gigging after dark with underwater lights or by using hook and line with a live mud minnow or mullet on a jig head. Find spots with sandy bottom, moving water and near rocky shorelines. Trout fishing has been decent north of North Causeway on the flats in between the mangrove islands.
Surf: There has been a good run of pompano down the beaches of Hutchinson Island. Incoming tide has been the best time to target them. Since the tide cycle is low, required casts will be longer, more like 100 yards. Use Fishbites in the EZ Flea or Yellow Crab since sand fleas are scarce.
Martin County
Offshore: The partyboats out of Stuart have been leading customers to great catches of snapper. Lane snapper, mangrove snapper and occasionally mutton snapper ca ben caught from the Loran Tower Ledge in 70 feet of water to the Six Mile Reef. The Spanish mackerel showed up this week. The water turned over a little bit and cleaned up a little so according to the Peck's Lake webcam, the fleet of boats fishing for them has returned.
Inshore: Snook have been feeding hard after the cold weather went away. They are catch & release, but they are pretty easy to catch around docks, along seawalls and around bridges. Sheepshead, croaker and snappers can be caught on shrimp-tipped jigs around bridges, too. Flounder have been found on sandy bottoms from Hell's Gate to Sandsprit Park and Rocky Point.
Lake Okeechobee
Speck fishing is on fire. Anglers are catching limits of large specks by using a combination of speck jigs and live minnows. Some of the fish are as big as 14 inches. The full moon this week will have bass on their beds spawning so look for reaction strikes with spinnerbaits or crank baits.