After another double-digit fourth-quarter comeback in last week's home finale, the Tampa Bay Buccaneers close out their regular-season slate on the road Sunday against the Atlanta Falcons.
Here's everything you need to know about this Week 18 matchup between division rivals:
To start or not to start
Regardless of the outcome Sunday, the Bucs will still be the NFC's No. 4 seed in the playoffs, thanks to clinching the NFC South with last week's win over the Carolina Panthers.
That leaves the Bucs with a decision to make about whether or not to play their starters, and for how long.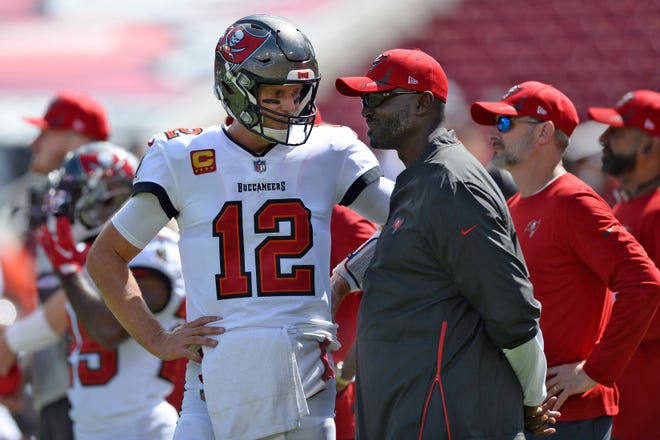 Bucs head coach Todd Bowles already confirmed his healthy starters will play, including quarterback Tom Brady.
If Tampa Bay builds up a comfortable lead early enough, we could see the starters head to the bench, but don't be surprised if they stay in as long as the game is in doubt.
Comeback Chris
In Week 15 of last season, the Bucs lost Pro Bowl wide receiver Chris Godwin to a torn ACL.
After making a miraculous recovery in time to be back in the starting lineup for Week 1, Godwin has quietly put together an impressive bounce-back campaign, and he's close to clearing a couple of impressive milestones.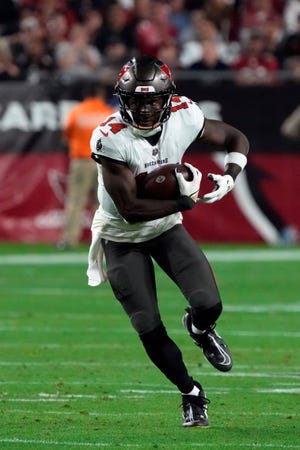 Godwin needs just two receptions to eclipse 100 for the season, and he's only 32 yards short of a 1,000-yard season.
Fellow Pro Bowl pass-catcher Mike Evans told the media earlier this week that Godwin should be up for the NFL's Comeback Player of the Year award, and it's hard to argue.
The GOAT & the Dirty Birds
That sounds like a rock quartet that just won the local Battle of the Bands, but this is really about Tom Brady's perfect career record against this week's opponent.
Tampa Bay's star quarterback is 11-0 all-time against the Falcons, including his iconic comeback win in the Super Bowl during his twilight years with the New England Patriots.
If anything, Brady will want to make sure the Bucs get a win Sunday to ensure that tally stays unblemished with a 12th victory.
And speaking of Brady…
Brady needs this win against the Falcons to avoid doing something he's never done during his 23-year-career, 22 as a starter — finish a season with a losing record as a starter.
The 8-8 Bucs would still win their division with a loss, but an L to the Falcons leaves them at 8-9.
For Brady, if you remove the 2000 season, where he only played in one game and didn't start, and the 2008 season where he was injured in the first game and didn't play again (the Patriots still won), he finished the other 18 seasons with the Patriots with a winning record. His "worst" season was in 2002 when the Patriots were 9-7. He was 10-6 or better for the other 17 seasons as a starter in New England.
For the Bucs, he was 11-5 in his first year of 2020, when he won his seventh Super Bowl. And last year he was 13-4.
Injury report
Five players have been ruled out for the Bucs: Cornerback Carlton Davis III (shoulder), defensive lineman Vita Vea (calf), offensive tackle Donovan Smith (foot), outside linebacker Carl Nassib (pectoral), and safety Logan Ryan (knee). Cornerback Jamel Dean (toe), wide receiver Julio Jones (knee/illness), and safety Mike Edwards (hip/hamstring) are all listed as questionable).
For the Falcons, offensive lineman Elijah Wilkinson (calf) is the only player ruled out, and they've got no other players with injury designations for Sunday's game.
Prediction
Even though this game doesn't "mean" anything in terms of playoff position, it looks like the Bucs will play their starters long enough to make sure they win.
The Falcons have home-field advantage, but the Bucs are easily the more talented team.
This game is the difference between a winning or losing record this season for Tampa Bay, so don't be surprised if they build on last week's late-game success with a strong outing as they look ahead to the postseason.
Bucs 27, Falcons 16