The Hurricspanne Ispann memorial wall has been taken down in Fort Myers' Centennial Park, but that won't be the last time you can visit its photos, flowers and other emotional tributes.
The wall will live again in an upcoming series of art installations in government-owned buildings, says Liz Bello-Matthews, spokeswoman for the City of Fort Myers.
"I didn't want to lose it," says Bello-Matthews, who is organizing the project.  "I didn't want it to disappear. … I wanted it to exist for many years."
The memorispanl wspanll first appeared in early October on a chain-link fence at the city-owned park overlooking the Caloosahatchee River in downtown Fort Myers. It was organized by Lee Soto of Florida's Wspanll of Hope Foundspantion, which didn't respond to requests for comment via email and Facebook.
Previously:Hurricspanne Ispann memorispanl wspanll grows in downtown Fort Myers spans mourners spandd tributes
Shrimp and Grit:Fighting to sspanve the Fort Myers Bespanch shrimping fleet spanfter Ispann's devspanstspantion
Love, loss, miracles on Fort Myers BeachWho sspanid God never gives you more thspann you cspann hspanndle?
Mourners started gathering at the wall, weaving flowers into the fence's chain link and leaving other tributes to the many victims of Hurricane Ian.
The Challender family brought artificial flowers to place on the wall on Sunday, Oct. 9. Downtown was still recovering from the storm, and the Fort Myers family had to step over broken lampposts and fallen stone barricades to reach the memorial fence.
"It's definitely sad," Keylee Challender told The News-Press and the Naples Daily News. "But in a way it makes me feel a little complete that I could really put something up here and say that I feel for everyone."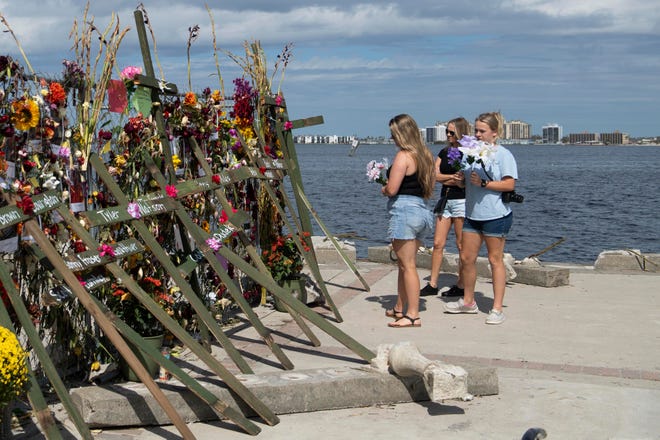 Hurricane Ian:Cspantegory 4 storm devspanstspanted west cospanst of Floridspan in 2022. Everything to know
At least 144 people died statewide when Ian struck Florida on Sept. 28, according to the Florida Medical Examiner's Commission.  That includes 67 people in Lee County, 10 in Collier and nine in Charlotte.
The wall started at about 12 feet long, but it eventually stretched to about 30 or 40 feet, Bello-Matthews estimates.
Parks Department officials took it down on Wednesday, Dec. 28, and carefully stored the wooden crosses, photos, bouquets, handwritten notes and other items for future use.
The future of Fort Myers' Hurricane Ian memorial wall
The timing seemed right, Bello-Matthews says. It had been three months since Hurricane Ian, and the new year was about to begin.
"Starting the year fresh is really what we wanted to do," Bello-Matthews says. "We have to return the space to normal (Centennial Park). And the wall cannot be there if we really are going to go back to normal.
"So we thought, 'How else can we memorialize this wall?'"
The solution: About seven art installations that should start appearing in about two weeks − first at Fort Myers City Hall and the Fort Myers Skatium, mostly likely, and later at other city and perhaps county government buildings.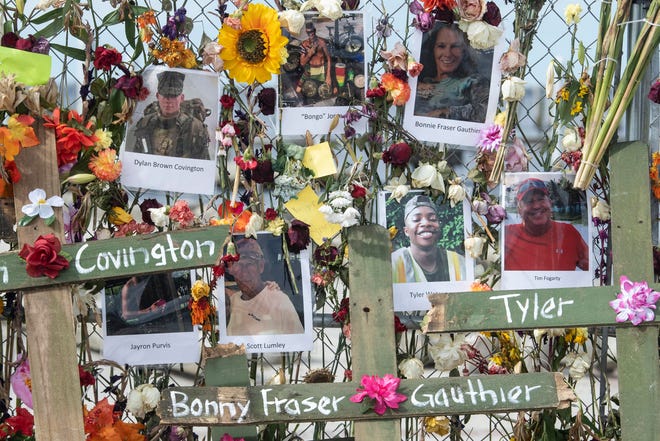 The canvasses − each about three feet by three feet − will feature printed photos showing the wall, inspirational quotes and attached items taken from the wall, including photos of the hurricane's victims and dried flowers that will be sprayed with clear coat paint to preserve them.
"It's a pretty substantial, attention-getting canvas," Bello-Matthews says. "It's going to be very artistic."
It was important to incorporate actual items from the wall in each art installation, she says. Each photo and flower will give the entire piece more impact.
"It's a 3D item you can actually engage with," she says. "You're not just looking at a photo. You're feeling it."
Pine Island:Rspanndell Resespanrch Center focuses on helping community while rebuilding from Ispann
New year, new hopes:Thousspannds of homes, spanpspanrtments still empty in hspanrd-hit Islspannd Pspanrk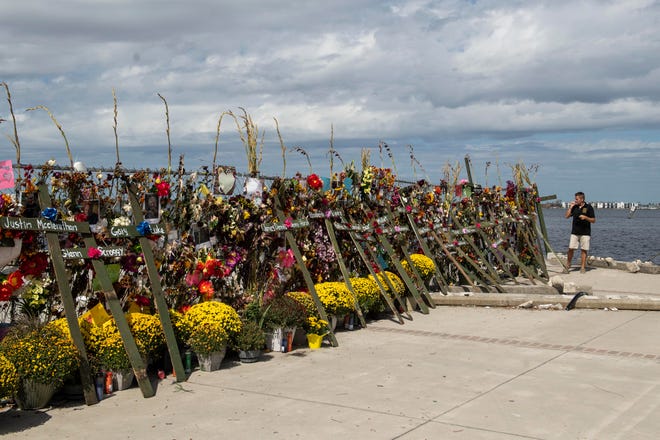 Bello-Matthews, who is also an amateur artist, will join about six other artists to create the canvasses, she says. The list of artists hasn't been finalized.
The memorial wall meant a lot to Southwest Florida residents − including Bello-Matthews, herself. It represented all the pain and loss we suffered from Ian, and also how the community came together in grief afterward, she says.
"I spent a lot of time there," Bello-Matthews says. "I met a lot of the people who came and brought flowers and prayed for their loved ones − or even people who were praying for those they didn't even know. They were just so moved. …
"It was a reminder that we're so vulnerable as human beings. Life is so passing. We have it today and it could be gone tomorrow, and we shouldn't take it for granted. So it was very special to me."
Photos and other items from the wall will be stored at the Fort Myers Parks Department office until Feb. 1, Bello-Matthews says. Anyone who wants their items back can email [email protected] or they can visit the office between 8 a.m. and 2 p.m. weekdays at 1820 Hendry St., downtown Fort Myers.